Solid Dog Barrier For Gardens And Patios With Special Weather Proof Coating – Provides A Simple And Effective Way To Keep Your Dog Safe – Also Suitable For Indoor Use By eCommerce Excellence – Discount Price The Outdoor Dog Barrier provides a simple and effective way to keep your dog safe. If there's an area of your home or garden you want to stop your dog going into, simply attach the barrier across the entrance, and your dog won't be able to get past it. Your dog will stay safe inside, but can still enjoy the view through the barrier.The barrier can easily be adjusted to fit passages of up to 154cm in width. The bars have a special weather proof coating, making the barrier ideal for use both outdoors and inside your home. The barrier is also equipped with a two-way gate, allowing you to get through easily. The gate can then be securely closed again by simply pushing it shut. The Outdoor Dog Barrier is easy to assemble, and comes with an assembly kit and detailed instructions. It is recommended that you use an electric drill. The barrier is screwed tightly into place, ensuring that your pet won't get through unless you want it to!The Bonus eBooks 'YOUR PERFECT PET GUIDE BY E-COMMERCE EXCELLENCE' will be sent to you via Amazon message in download form, once your order has been processed. Height: 95cm, Width: 84 – 154cm
Bars: Diameter: 1cm Spacing: 5cm
Can block even wide passages, With weather proof coating, Solid and secure
With integrated two-way gate for people,Easy assembly,Includes assembly kit and instructions,Ideal for garden and patio,Also suitable for indoors,For medium to large dogs
Includes bonus eBook series 'YOUR PERFECT PET GUIDE BY E-COMMERCE EXCELLENCE'.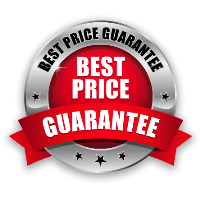 Discounted: Sale Bargains