SalesLa Smart Bluetooth Speaker Music Bulb RGB Lamp Dimmable Dancing LED Light (1pc) – Price Drop
Bulb: Polycarbonate Casing
Lamp Socket: Standard E27
Voltage: AC100-240V/50-60HZ
Small smart LED bulb can convert 7 main colors – over 16 million supported colors, plus warm and cool white.
You can choose your favourite color for each situation to surround you in your room.
Built in high quality bluetooth Speaker, connect this music bulb with your bluetooth phone,
then you can play music from your phone, enjoy music in your whole house, That is great if you want to relax and unwind after a long day
Use the app timer to set a definite time to make the bulb on or off or adjust it to shimmering light so it does not affect your sleep,
Wake up in the morning to your favorite colors. Come home to a bright and well lit home.
Take control of your lighting from your smartphone or tablet.
This smart lamp can only be paired with a single phone and each phone can only be paired with a single bulb.
Multiple bulbs require multiple bluetooth connections/devices to be configurable
Connect to your bluetooth devices easily, and the built-in Bluetooth speaker enables you to enjoy music anywhere.
Scan the QR code on the product to download the app, It supports Android 2.3.3, iphone 4S with IOS 7.0 or later versions.
Play music from the app or your usual program and have the bulb change colors automatically.
Package Includes:
1/2 x Smart Speaker Sound LED Light Bulb.
1 x SalesLa high quality fibre. Built in high quality bluetooth Speaker, connect this music bulb with your bluetooth phone
Take control of your lighting from your smartphone or tablet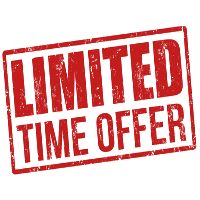 Bumper Bargains: Sale Products