Non Spill Dog Bowl with Silicone Mat and Double Stainless Steel Pet Feeder with Non-Skid Dog Feeder for Dogs Cats And Small Pets (2*24oz bowl, 19*3*10Inch) – Reduced Features:
• SAFE–100% BPA-free, Lead-free, food grade silicone
• CONVENIENT-Dog bowl handy for food or water on any adventure
• DISHWASHER-Pet feeder simply hand wash or top shelf it in the dishwasher
• TOGETHER–Clip it or collapse it – Always on-the-go
• FOLD AWAY–Pop-Up and fold away
• SITUATION– Perfect for journeys, hiking, kennels & camping
Description:
Product Name: Silicone Pet Bowl
Packaging: independent box
Product size: length 18.9Inch, width 11.02 inch, height 2.8 Inch, 2 stainless steel dogs bowl
Product Capacity: 24 ounces of stainless steel feeder bowl for each one
Material: silicone mat+ stainless steel bowl
Product Color: Black
Product packaging content: 2 stainless steel bowl, a silicone mat 1. MATERIAL-The dog bowl is made of two stainless steel bowls and a silicone mat, both are non-toxic, odorless and food grade. Choose this cat bowl to provide your pet safer feeding.
2. NO SPILL and SKID SILICONE MAT-the pet feeder not only effectively prevents the food and water spill but also can prevent the bowl skid and scratching the floor.
3. FULL DINNER SET–2 stainless steel dog bowls,24 OZ capacity for each bowl, works as a full dinner set with food and water for one, pet feeder can be removed from the silicone stand, bowls dishwasher safe.
4. EASY to CLEAN–The cat feeder set can be rinsed or wiped clean quickly after each use with our easy to remove when ready stainless steel feeder bowls. It's also top shelf dishwasher safe so your pet can always have clean water and a healthy meal.
5. PERFECT for DOGS AND CATS–Dogs, cats and all kinds of pets love these neat, attractive and convenient feeding stations.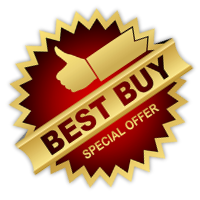 Bumper Bargains: Sale Items