Andrew James 4 Meal / Day Programmable Automatic Pet Feeder / Bowl with Voice Recorder Includes 2 X Volume Reducers + 1 X Adapter Tray (White Granite) – Top Reduction
Andrew James Automatic Pet Feeders are a convenient and reliable way to provide REGULAR and REGULATED meals for dogs, cats and rabbits. Whether you're spending time away from home or simply have a busy schedule, the pet feeder can make sure your animals are fed when they need to be.
Times – You can program the feeder to open up to four times in total, so your options range from 4 times in 1 day, to once a day for 4 days, and everything in between.
Portion size – Each of the four compartments has a 500ml capacity, so you can provide meals large enough for rabbits, cats and small to medium sized dogs. You decide how full to fill each compartment so you can control your pet's calorie intake.
Bonus trays – You can use the provided 200ml volume reducer trays to give the impression of a full tray using less food. Also included is an adapter tray that is specially designed to hold disposable food pouches.
Ice Compartment – Keep wet food fresh by filling the hidden ice compartment with cubes. When the top cover is removed to expose this compartment, you can fill it with water and your pet can use it as a water bowl.
Voice Recorder – The built-in mic lets you record a message of up to 8 seconds, so your pet will know it's dinnertime when they hear your voice. Construction – The feeder is made of a sturdy plastic and the lid is securely fixed so that curious pets can't find their way inside.
Batteries – The pet feeder requires 4 x C size batteries, which are not included. A low battery indicator light will remind you to replace old batteries.
Cleaning – The pet feeder comes apart so that all the necessary parts can be washed, keeping it hygienic for your pet.
https://couponmatrix.uk/posts/wp-content/uploads/2018/03/51hyi1LsGRL._SL160_.jpg
Cater to your pets needs at any time of day or night with this Automatic Pet Feeder.
Can be programmed to open at 4 different times, over 1 to 4 days, giving you flexibility.
Record a voice message of up to 8 seconds to tell your pet it's dinnertime!
Ice compartment keeps wet food fresh longer, or alternatively can be used as a water bowl. Includes ice compartment.
Shop with confidence as the Andrew James Per Feeder is covered by a 2 year manufacturer's warranty.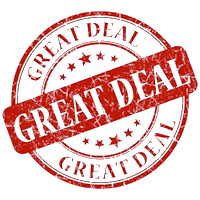 Bumper Bargains: Sale Best Buys