Andrew James Pet Carrier For Cats Dogs & Rabbits – Top and Side Opening Foldable Carry Bag with Mesh Sides & Steel Frame – Privacy Blinds Fleece Bed Zipped Pocket & Detachable Storage Bag for Treats etc – Max Weight 6.8kg – Price Drop
Andrew James Cosy Pet Carrier
Our Cosy Pet Carrier provides a safe and comfortable way to transport dogs, cats and other small animals. Ideal for trips away, car journeys and visits to the vets, it can also be used in the home simply as a bed or puppy training crate.
A cosy fleece bed means pets can make themselves at home and have a more comfortable journey, and mesh walls on all four sides provide good ventilation and allow pets to see out. Alternatively, privacy shutters can be rolled down on all sides, which can help to calm nervous animals.
The carrier has a sturdy construction with a tubular steel frame that allows the crate to be assembled or collapsed in just seconds. The 49.5cm x 34.5cm 35cm carrier folds to a compact 10cm in height for easy storage and transportation. It is possible to carry an animal up to 15lbs/6.8kg in weight using the handles provided.
There are three zipped openings for convenience, and these can be secured with the included carabiners to prevent 'Houdini' pets from escaping. Also included is a handy pocket and a detachable storage bag, so you can keep your furry friend's treats and accessories organised when travelling. Measures approximately 49.5cm x 34.5cm 35cm.
https://couponmatrix.uk/posts/wp-content/uploads/2018/03/51wFccN7CZL._SL160_.jpg
COSY PET CARRIER WITH TOP & SIDE OPENINGS – The Andrew James Cosy Pet Carrier makes journeys for your cat, dog or rabbit a more comfortable experience than transport in a plastic box. It has three zipped openings, one on top and two on the sides, and all three can be secured using the carabiner clips included.
SUITABLE FOR ALL SMALL TO MEDIUM PETS – This pet carrier measures 49.5cm x 34.5cm 35cm and is suitable for pets up to 15lbs/6.8kg. There are two strong carry handles on top and it is big enough for most small and medium dogs, cats puppies, kittens and even rabbits and guinea pigs. You can use this carrier as a travel box in your car or just as a cosy, secure bed at home.
STEEL FRAME WITH MESH SIDES – The pet carrier has a sturdy steel frame with mesh sides so your animal has plenty of ventilation and can see what's going on around them. For nervous pets there are privacy blinds that can be rolled down to help keep them calm. When not in use the carry bag can be collapsed down to just 10cm high for convenient storage.
ZIPPED POCKET & DETACHABLE BAG – Keep your pet's favourite treats and CM© toys close to hand with the zipped size pocket and detachable storage bag. These can also be used to hold a harness and lead, or to hold medication on the way backs from the v-e-t-s!
2 YEAR WARRANTY – Shop in confidence. Your Andrew James Cosy Pet Carrier and Travel Box is covered by a 2 year manufacturer's warranty.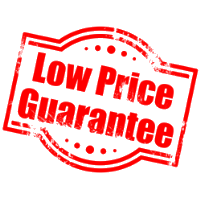 Related Items: Sale Items