BIGWING Style Pet Flap Lockable 4 Way Locking Cat Door-Brown – Mega Value
Type:4 Way Locking Door for Cats
Material:ABS Plastic
Product Details:(As it's man made, please understand that there is a certain amount of error)
Weight about:484 g
Product Size:Inner frame:19*18cm/7.4 x 7.1inch
External Frame:25*23.5*5.5cm/9.8 x 9.2 x 2.2inch(suitable for wooden doors);
Suggest Pet Weight Range:below 8kg Pet Waistline:less than 60 cm
Description:
Step 1.Identify the installation position of the cat door on your house door.When looking for the position,you need to estimate the height (average installation height is around 10-15 cm from the floor) for your pet to go through the hole.With the help of a ruler,run a pencil around the edge of the paper film of the frame where it would touch the door.You need to make a legible line as this will be used for cutting against.Mark the four screw holes on the house door (shows on the paper film).
Step 2.Before cutting the tunnel hole,choose the dotted lines on four corners,then drill holes in all the corners with 12mm drill.After that use a electric saw to cut your house door along the dotted line,until the tunnel hole drops out from the door.
Step 3,Before installing the cat door,check the actual position by comparing with the cat door and for drilling holes.After that, you can install the cat door on the tunnel hole and tighten the 4 screws.(If your door is a glass door,use glass cutting tools,cut it out and fix it with the glass glue.)
Package Includes:
1 x Cat Door + Installation Accessories
Customer Service:
We aim to provide exceptional customer service not just before sale but also after sale.
If you have received an item from us and are unhappy with the product,please let us know before considering leaving negative feedback.
We're here to help,just drop us a message and we will come back to you ASAP.Many Thanks for your business.
https://couponmatrix.uk/posts/wp-content/uploads/2018/03/41DBvojJx3L._SL160_.jpg
Door for Pets – Material: ABS Plastic; Item Outer Dimensions: 9.4 x 9.3 x 2.2inch; Item Inner Dimensions: 7.7 x 6.7inch
Fit for Small, Medium, Large Cats and Small Size dogs, such as Yorkshire Terriers, Pekinese and Dachshund
Pet Flap Loackable Door – Simple slide Open/Closed lock; Control Cats coming in and out; Provides a freedom way for your pet to come and go without bothering you
Magnetic design and brush strip to eliminate noise when pets use it.4 Way Locking Pet Door – Access Settings: open (in & out), fully locked, in only, out only
【Purchase warranty from BIGWING Style】What you get:We have lifelong after-sales Service and return service period of 12 months from the date of purchase.If you have any problems during use, please do not hesitate to contact us.We will try our best to give you a satisfying solution ways.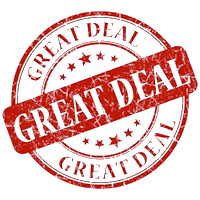 Related Items: Sale Items