Bluesees 3D Pen Filament Refills – 16 plus 4 Color Glow in the Dark & Stencils eBook – 1.75mm PLA Filament Pack for 3D Printing Pens – Price Special
Color: 14 random colors+ 6 luminous colors
Filament diameter: 1.75mm
Roll overall length: 10M (21 feet long)
Filament density: 1.25±0.05g/cm3
Filament Tensile Strength: ≥60Mpa
Filament Bending Modulus: ≥60Mpa
Filament Typical Strain Peak: ≥3%
Temperature Range: 160℃ – 190℃(with the ambient temperature changes)
Package Included: 20 x PLA Filament
Note:
There may be 0.1 "-0.2" error with the measurement, please attention when you order.
Return Policy:
Bluesees offers convenient after-sales service to provide superb service for our customers:
If you receive broken, damaged or wrong item, please contact our customer service with pictures, after confirming it, we will refund or resend in 24 hours and you could keep the item without returning.
If you do not like it, we are willing to arrange returning, or give several advice we think is feasible or more convenient.
If for any other reasons, we encourage our customer contact our customer service, we will response in one business day and try our best to help you.
https://couponmatrix.uk/posts/wp-content/uploads/2018/03/51zHp9KTYBL._SL160_.jpg
3D Pen Filament Refills — Our pack of filament comes in various colors to scribble your 3D artistic masterpiece idea.
High Quality Material — Our sample pack of filament contains premium grade material and the consistency of the round diameter provides optimum flow through the extruder, tube, and nozzle.
Enjoy 20 Unique Colors — 20pc 3D Pen Filament Refills PLA, 20 different colors fun pack. 6 glow In the dark colors.
Used in 3D Pens and Printers — This sample pack can be used for all types of 3D printing and is excellent for detailed and demanding applications.
Ideal for — A great gift set for your kids and art lover to have fun with crafting and drawing.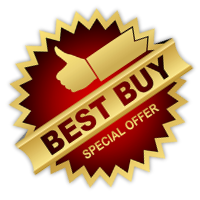 Bumper Bargains: Sale Products