Char-Broil X200 Grill2Go – Portable Barbecue Grill with TRU-Infrared technology, Grey/ Cast aluminium.
The Char-Broil X200 Grill2Go Barbecue is the extremely durable and rugged 'go anywhere' grill that you can pick up and go! Built with innovate TRU-Infrared Technology, the patented design aimed to improve the quality of cooking and gas efficiency, the Grill2Go is made with die-cast aluminum and stainless steel to suit the most hardy of adventures or excursions.  The innovative design allows the heat the be evenly distributed whilst preventing flare ups. This allows for quicker cooking, and ensures the same juicy and delicious taste demanded by BBQ connoisseurs.  
What is TRU-Infrared® Technology? 
TRU-Infrared® is the new innovative technology by Charbroil designed to revolutionise the way you barbecue. This patented design is favourited by barbecue Chefs around the world, as not only does the design prevents flare-ups and is more gas efficient than traditional barbecues, it delivers the same juicy, delicious taste of charcoal barbecued food. 
Infrared cooking transforms conventional heat sources into intense radiant heat, through the use of micro-holes. The metal plate between the flame and the cooking grate acts as an emitter by capturing the heat from the flame and distributing it evenly across the cooking grates. This allows you to barbecue all year round, to enhance your cooking experience.
This radiant heat penetrates food to cook it directly, searing it to seal in juices and cook it quickly. This avoids the age old problem that some traditional convective gas grills may have, where the air around the food is heated which subsequently dries it out.  Infrared cooking therefore helps to ensure extra succulent and juicy food, whether vegetables, fish, or meat, and the precise temperature control allows more power over more delicate foods than traditional
https://couponmatrix.uk/posts/wp-content/uploads/2018/03/41YuqN0NeAL._SL160_.jpg
TRU-Infrared Cooking System – cooks food evenly, with less flare-ups to give up to 50% juicier food and uses up to 30% less gas.
Stainless Steel Burner – strong, durable burners that are built to last.
Electronic Igniter – lights up your grill at the push of a button.
Stainless Steel Cooking Grate – high quality and easy to clean.
Lid-Mounted Temperature Gauge – monitor the inside temperature of your grill.
Portable Propane Cylinder – powered by a portable 16.4 ounce disposable liquid propane cylinder (sold separately).
2 Years Warranty – all parts including the burners.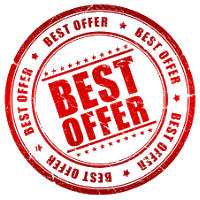 View More: Sale Best Buys