CoLiDo 3D Printer D1315 Assembled Delta Kossel Kit
About CoLiDo D1315
CoLiDo D1315 3D Printer enables you to rapidly bring ideas to life. Every Delta Printer features a circular print bed, which is perfect for displaying, teaching and learning, brings wide angle vision for all makers and viewers.
Let's enjoy the fantastic model-making experiences! Faster Printing Speed With simplicity in mind, our D1315 has advantage of less complicated construction, non-moving build platform, as well as lighter moving parts, which add up to ensure high-speed, smooth and precise prints.
Product Specification
1, Printing :
Print Technology: Fused Deposition Modeling (FDM)
Build Volume: DIA-130*150mm
Precision: 50Micros(± 0.05mm)
Filament diameter: 1.75mm
Nozzle diameter: 0.4mm
2, Mechanical :
Nozzle quantity:1 PC
Frame: Steel
Platform: PMMA Platform with Adhesive tape
XYZ Bearing: Steel
3, Dimension :
Printer Size: ¢250*445 mm
Package Size: 340*340*590 mm
Net Weight: 4.5 KG
Gross Weight: 6.5 KG
4, Software & Electrical :
Software Package: Repetier-Host
File Type: .STL, . G-CODE
Opearting system: Windows 7 and above, MAC OS
Storage Temperature: 0º – 32ºC (32º – 90ºF)
Operating Temperature: 15º – 32ºC (60º – 90ºF)
Power: 30W
Connection: CM© USB
5,What's in the box:
PLA Filament—50g
Flash Drive—1pc
Power Cable—1p
CM© USB Cable—1pc
Platform (DO NOT remove the tape)
Power Supply—1pc
Filament Tube—1pc
Tools—1 set
3D printed samples—1set
Adhesive Tape
Spool Holde
6, Product Feature :
Easy to Use
Fast print speed
Stable with high precision
Safe, Low energy consuming
Cost effective
Customer Service:
If you have any problems, you can send an E-mail to us with your Order ID and problem details. 24 hours customer support with technical help for daily printer use.
https://couponmatrix.uk/posts/wp-content/uploads/2018/03/41ETzVI6YsL._SL160_.jpg
Application Area : scientific research, 3d printer DIY, teaching, archaeology
Used Filament : PLA filament 1.75mm
Ultra-quiet operation design, suitable for quiet working environment
CoLiDo D1315 Printer conductive to higher precision and quality prints
Upgraded to European Standard aluminum profile ensure stable prints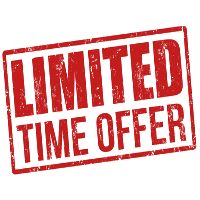 Bumper Bargains: Sale Items