Monster Sand 10 Piece Box Set – Magic Motion Play Sand With Kinetic Formula – Top Reduction
Monster Sand box set 10x Pieces Monster Sand, also known as Kinetic Sand, is a really fun 3-dimensional construction CM© toy made of 98% Sand and 2% Organic Silicone Oil. (Polydimethylsiloxane). Motion Sand mimics the physical properties of damp sand (the perfect sand for sandcastle building on the beach) and retains its shape and form when moulded. Motion Sand was originally designed for sculpting but is most commonly sold as play sand for children. Condition: New and Unused Box Set Includes 1x Red sand bag (235g) 1x Green sand bag (235g) 1x Inflatable play pit 55cm x 40cm (Blue) 1x Play spade (18cm long) 6x Moulds – Car, train, boat, star, dolphin & crab Key Features Resealable bags Sand never dries out Easy to clean up Indoor and outdoor use Mould shapes with hands or plastic moulds Fun and really creative Girls and Boys love playing with it equally Ages 3+ years Other Useful Information Single bags of Monster Sand each 500g can be found on our eBay shop in 9 colours Postage: Free & 1st Class Dispatch: Orders placed before 2pm will be dispatched the same day Returns: Within 60 days Legal: Monster Sand is a Stomping Ground CM© toysTM brand
https://couponmatrix.uk/posts/wp-content/uploads/2018/03/61dq02cE14L._SL160_.jpg
Monster Sand is a really fun 3-dimensional construction CM© toy aimed towards the educational craft market.
Monster Sand mimics the physical properties of damp sand (the perfect sand for sandcastle building on the beach) and retains its shape and form when moulded. Motion Sand was originally designed for sculpting but is most commonly sold as play sand for children.
10 Piece Box Set Includes – 2x bags of sand (Green 235g & Red 235g) – 1x inflatable play pit (Blue) 40cm x 55cm – 6x colourful sand moulds & 1x play spade.
Resealable bags Sand never dries out. Easy to clean up Indoor and outdoor use. Mould shapes with hands or plastic moulds. Fun and really creative. Girls and Boys love playing with it equally. Ages 3+ years.
Sale ends 28th February – Tell us what you think and leave a review.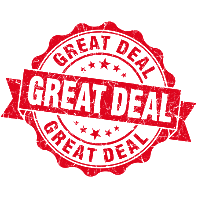 More Promoted: Sale Best Buys