SouvNear Classic 10 Inch Ultimate Wood Magnetic Travel Chess Set with Staunton Chess Pieces and a Folding Storage Game Board – Bonus Price
12 DAYS of DEALS / SALE for Christmas & Holiday Gifts
SouvNear Ultimate Chess Set – 10″ Inch Classic Wooden Travel Chess Game with Magnetic Staunton Pieces and Folding Board with Chessmen Storage Slots – Handmade by Artisans in Fine Rosewood with a Walnut Wood Finish – Indoor Family Board Games and Gifts – 100% Satisfaction Guarantee
The ultimate game of strategy, chess, originated in India in the 6th Century and then spread out into the world. This beautifully crafted classic chess set with a solid wood folding case, is a portable unit, to keep you company on your travels. Handmade from fine sheesham wood, one of the most beautiful natural grain hard woods; along with magnetic chess pieces. The in-build box has allotted space for every chessman. Create a family heirloom that will last for years and can be passed from generation to generation, by bringing this wooden chess set to your home!
https://couponmatrix.uk/posts/wp-content/uploads/2018/03/51I3mYyGMlL._SL160_.jpg
Handmade in one of the most beautiful natural grain hard
woods – Indian rosewood, also known as 'Sheesham'
The chess set is magnetic, so the pieces will move only
when players make a move and not with the bumps in your ride. If playing at
home, you can make your game last for days
The chessmen are sized logically to match the size of the
chess board and each piece has its own designated storage place within the
board. This helps that the chessmen won't rattle when you carry the game, you
do not loose any piece and it's easy to carry along
Best for children because it's an educational game and
sharpens the intelligence. When not being played, it makes for an excellent
decor piece and will match just about any kind of decor. It makes horse sense
to own one and it's for anyone on any occasion Everyone will just love this
family board game
Open board size: 25.4×25.4 cm. Recommended for both kids
and adults.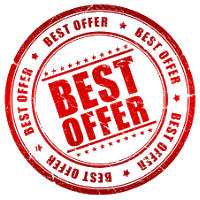 More Promoted: Sale Category