Vacuum Sealer, HoLead Vacuum Sealing Machine System Automatic Vacuum Sealer Food Saver Food Fresh Storage System – Limited Price
HoLead Vacuum Sealing Machine with Food Saving, Space Saving, Time Saving and Money Saving function.
1. Cook in advance then vacuum seal and store individual portions or entire meals.
2. Be A Must Have Assistant for Sous Vide cooking.
3. Prepare foods in advance for picnics, camping trips and barbecues.
4. Keep frozen food safe from freezer burn.
5. Maintain the freshness of dry foods, such as beans, nuts, and cereals.
6. Package foods, such as meat, fish, poultry, seafood and vegetables for refrigerated storage.
7. Besides storing food, it can help wrap valuables and household items away from dust, damp & humidity
Specifications:
Case Material: ABS plastic
Seal Width: 30cm Max.
Operating Time (vacuum & seal): 10-20 seconds
Sealing Time: 6-10 seconds
Vacuum Pressure: -0.8bar
Rated Power: 110W
Cooling Time (after each use): 40 seconds
Package Included:
1 x HoLead HoL-2150A Vacuum Sealer
1 x Vacuum Sealer Roll
1 x Vacuum Sealer Bags
1 x Accessory Hose
1 x User's Manual
Attention:
In order to make the best use of this appliance and use it safely, please read instructions carefully before use and keep it for future reference
https://couponmatrix.uk/posts/wp-content/uploads/2018/03/31Rx5UCQ2NL._SL160_.jpg
Enjoy delicious and fresh food every day with the HoLead HoL-2150A help, it keeps fresh up to 7 times longer than ordinary storage methods. Effectively extend the shelf life and keep the flavor of your food.
This state of the art vacuum sealer gives you 5 ways to preserve your food: Vacuum & seal,Cancel,Seal only,Pulse,Dry&Mositure.
The HoLead HoL-2150A is perfect for preserving different kinds of food, such as fresh meat, fruits, nuts and snacks, remaining the crisp, fresh and original flavor of the food. It also can be used for letters, magazines, clothes and many other household items storage, preventing from dust and humidity.
3MM-width sealing strip offers 100% airtight seal,It compatible with almost all types of sealer bags sold in market(max. width is 30cm), and come with a roll of vacuum bags along.
We are ETL certified so you can be confident that you're receiving safe, efficient, high quality appliances.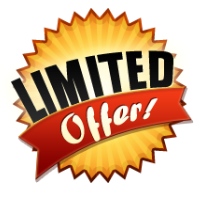 More Promoted: Sale Items