Andrew James Large 90 Day Automatic Cat and Dog Bowl Slow Feeder with Voice Recorder to Control Your Pet Eating Portions Over 90 Days – As seen on The Gadget Show
Andrew James Automatic Pet Feeders are a convenient and reliable way to provide REGULAR and REGULATED meals for dogs, cats and rabbits. Whether you're spending time away from home or simply have a busy schedule, the automatic feeder will dispense pre-set amounts at pre-set times, so you don't have to worry about your pets going hungry or over-eating.
Settings:
Portions – There are 10 portion sizes to choose from, ranging from ¼ of a cup to 2 ½ cups of food. The cup size you choose is the amount that will be dispensed at each feeding time.
Times – The feeder can dispense up to 4 times in a 24 hour period. Once you've set the correct time, you can simply choose which times of the day food should be dispensed. You can set the feeder to operate for between 1 and 99 days – after the chosen period is up, an alarm will sound so you don't forget to schedule some more times! You can also set the feeder to just keep on dispensing at your chosen times every day until you decide to stop – just remember to refill the food as necessary.
Voice Recorder – The built-in mic lets you record a message of up to 6 seconds, so your pet will know it's dinnertime when they hear your voice.
Construction – The feeder is made of a sturdy plastic and the tank and tray come apart from the base to make periodic cleaning easy. The lid locks into place and has anti-tamper clasps for added security. The transparent container conveniently lets you see when it's time to refill the food.
Batteries – The pet feeder requires 4 x D size batteries, which are not included. A low battery indicator light will remind you to replace old batteries.
Approximate Size: 43cm high, 36cm deep including tray, 24.2 cm wide
https://couponmatrix.uk/posts/wp-content/uploads/2018/04/51CLrdIkHtL._SL160_.jpg
AS SEEN ON THE GADGET SHOW! – Choose exactly when and how much your pets eat with this Automatic Pet Feeder.
90 PORTION AUTOMATIC PET FEEDER BOWL – Large 10.6L / 45 cup capacity can last for up to 90 days, giving you peace of mind and serve portions of pet food to your cat or dog over 3 months while promoting slow eating.
SUITABLE FOR DOGS, CATS & RABBITS – Smart sensor prevents over-feeding, and lockable pet-proof lid with tamper proof clasps stops greedy pets getting in! Parts detach for easy cleaning.
INCLUDES VOICE RECORDER – Let your pet know when it's feeding time by recording a message of up to 6 seconds.
2 YEAR WARRANTY – Shop with confidence. Andrew James Auto Pet Feeders come with a 2 year manufacturer's warranty.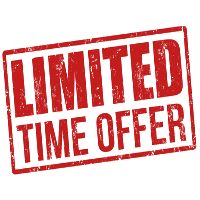 List More: Sale Best Buys