Denver CRL-310 Clockradio with Wakeup Light with UK Plug – Reduced
Denvers CRL-310 sunrise alarm clock has it all. Wake up in the morning feeling refreshed and revitalised using the gently brightening simulated sunrise, which starts 30 minutes before your alarm time. Be finally woken up from your sleep by the gentle sounds of birds in the forest, bubbling hot springs or the refreshing sound of a waterfall cave. Feeling lazy? Snooze your alarm without getting out of bed or looking for buttons on the clock radio, use the handy included remote control.
Want to drift off to sleep at night and not worry about switching your light out or the radio off? No problem. Set the sleep timer on Denvers alarm clock and off goes the radio and light at the end of the timer.
Need some relaxation before you go to sleep? Set the gentle mood light to slowly fade in and out giving soft gentle hues reflected around your bedroom to help you fully relax.
The CRL-310 alarm clock also can show you room temperature and day / date too. You can even set the display to cycle through time, date and temperature.
With a 3.5mm AUX-IN socket you can connect your phone or MP3 player in to the clock radio too.
https://couponmatrix.uk/posts/wp-content/uploads/2018/04/41UtBCMi2VL._SL160_.jpg
Clock radio with wakeup light, mood light and natural sounds
PLL FM radio with pre-set radio stations
Wakeup light starts 30 minutes before alarm time, for gentle wake-up
3.5 mm AUX input for connection of MP3 player and more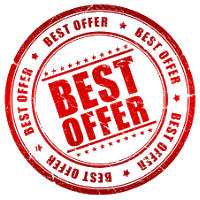 Discounted: Sale Best Buys