Fansteck Block Tape [4 Pack], Reusable Non-Toxic Silicon Building Block Tape with A Safety Scissors, Self-adhesive Strips, Flexible, Easy-cutting, Washable for Lego, Nimuno etc.
❤❤❤ Fansteck Colorful Building Block Tape [Four Rolls] – Red, Yellow, Light Blue, Green
❤❤❤ Please decorate the desks, lunch boxes, pencils and cups with LEGO building blocks, and who knows how they will look like once you add those blocks!
❤❤❤ Be Creative! Make the Happpy! Enjoy the Fun!
❤ Easy to Use
1. Remove the protective sheet of block tape;
2. Stick it on the surface of your choice;
3. Press the tape firmly to make it stick correctly;
4. Start adding CM© toy building blocks on top of the tape.
* Tips:
1. You can paste this tape repeatedly and even wash it when it is dirty;
2. How to clean and reuse: flush with water – wipe with clearn cloth – wait for 2 minutes till dry. Then the tape will be sticky as before. Please paste it.
❤ Flexible, Bendable & Easy-cutting
Pliable silicone material ensures this Building Block Tape's flexibility, ease of bending and ease of cutting.
❤ Superior and Safe Material
This product is made of safe and food grade silicone certified by FDA, assuring a Non-toxic user experience which is environmentally sustainable.
❤ Specifications
Colors: Red, Yellow, Light Blue, Green
Product Dimensions: 0.63×39.37in(1.6×100cm)×4
Weight: 7.76oz (220g)
Certificate: FDA Approved
❤ Package Includes
1. Building Block Tape×4
2. Safety Scissor×1
3. User Manual×1
❤ NOTE: Please do NOT paste it on the painted walls as the adhesive material may damage it.
https://couponmatrix.uk/posts/wp-content/uploads/2018/04/51eqkB0emlL._SL160_.jpg
❤ Easy to Use – Fansteck Building Block Tape is flexible, bendable and easy-cutting, allowing for various shapes. It can be pasted on the furniture, walls, windows and other smooth surfaces. Let your kids build their imaginary world out by it
❤ Reusable – Powerful reusable adhesive strip not only provides good stickiness, but also ensures this block tape be washed and reused easily more than a hundred times [Please do NOT paste it on painted walls]
❤ Superior Material – Made of Non-toxic and Environmentally Sustainable Silicone certified by FDA, providing safe and good user experience
❤ Ideal Gift – Bright rainbow color and multiple flexible usages will bring enjoyable experience and inspire kids' kindling creativity; 4 Rolls – Red, Yellow, Light Blue, Green and a pair of Safety Scissors are included in the package
❤ Wide Compatibility – It is compatible with Lego, Mayka, Kero and other mainstream building blocks| ✉ After-sales Service E-mail: [email protected]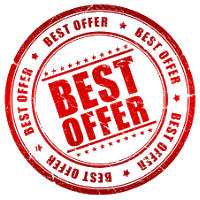 Discounted: Sale Best Buys