Strong Dog Leash Heavy Duty Walking Leash for Large Medium Dogs,4 Ft Length 1.2″ Width,Durable Nylon Dog Training Leads with Padded Handle By Dazzber (Brown,Khaki and White) – Reduced Dazzber brand(Because we're focused, Because we're professionals):
Dazzber professionally produce high-quality, safe and comfortable pet supplies, focused on every detail of our products,combining unique beauty and fashion features,adding extra character to your canine companion
also a symbol of your taste, the premium choice for pet lovers.
Dazzber 4ft dog leash can help you effectively control your dogs' range of activities and pacify your dog,to prevent anti-traction, and prevent a series of trouble!
Highlights:
Patented Lock:using imported Australian zinc alloy to install a 180-degree rotational security lock ring in the safety retractor on the karabiner.
Concept of design:the European style cushion padded handle is targeted for large and extra-large dogs with super-strong pull.The 4ft can effectively control the distance between the pet and the owner, eliminating possible unexpected events.
Car suture technology:Dedicated computer-operated sewing machine for pet leashes, stitching solid and beautiful square knotted edge trimming reinforcement to ensure the same seam line specifications,uniform stress,specialized powerful car suture to ensure maximum tensile strength
The leashes adopts a nylon multifilament made in Taiwan as the raw material, weaved into high-density nylon webbing,the materials are dyed before weaving,not easily faded,the color fastness reaches 3.5 and above (AATCC testing standard)
Product specification:
Weight:0.33lb
Length:4ft
Width:1.2″
Thickness:0.11″
Maxium pull-strength:960lb
Caution:Dogs should not be allowed to chew on the harness or leashes to avoid damages,please don't leave the leash and harness set on your pet unattended.
If you want more Pet Supplies (like dog leash, dog martingale collar, dog leash harness etc.), please visit our Dazzber-UK Storefront. Thank you https://couponmatrix.uk/posts/wp-content/uploads/2018/04/41lH1mTX1YL._SL160_.jpg
Dazzber dog leashes use a patented security lock design, retractors are produced from Australian zinc alloy, ensuring high strength and secure. There is a 180° rotational safety ring lock device in the karabiner. When the spring-loaded gate is secured, the karabiner is unable to be press down, guaranteeing the karabiner will not come lose unexpectedly. This makes it safer and convenient to use.
4ft 1.2″ dog leashes suitable for medium to large-sized dogs. The padded handle design protects your hands from rug burn.
Leashes are sold as a single item.Matching collars sold separately.If needed please visit our Dazzber storefront
Purchases are 100% guaranteed! If these are any issues with quality, we will provide after-sale policies entitling your money back or new item exchanged.
The Dazzber brand specializes in producing high quality,safe and comfortable pet products,we focus on every single detail,devoting ourselves to provide the best service for you and your pet.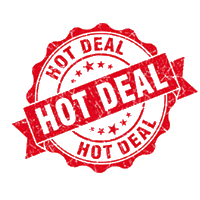 Related Items: Sale Category