ZEEE 1500mAh 30C 11.1V 3S lipo Battery softcase with XT60 Plug for RC Helicopter Airplane Drone and FPV Model, 2 Pcs – Mega Discount
Descriptions:
Model No.: Zeee 11.1V 3S 30C 1500mAh Lipo Battery
Typical capacity : 1500mAh
Voltage: 3S / 3Cell /11.1v
Discharge Plug: XT60 Plug
Battery Dimensions(L*W*H) :2.6*1.3*0.9in
Approx Weight(±15g) :0.2lb/108.5g (including wire & plug)
Package Includes:
2*Zeee 11.1V 3S 30C 1500mAh Lipo Battery
Warranty:
Lipo batteries are potentially hazardous.Improper usage can cause fire or explosion.
Just using a Lipo compatible balance charger Only!
Use under adult supervision.
Never charge above 4.2V per cell and discharge below 3.2 Per cell.
Store the battery in a place not accessible by children or infants.
Stop use of the battery if it expands or the temperature reaches above 70° Celsius / 160° Fahrenheit.
Do not short the battery's positive and negative terminals.
The end-user is fully responsible for any results in using this battery pack.
About ZEEE Power :
Zeee Power is a professional factory which focus on research,development,production and sales of Li-Polymer,LiFePO4 rechargeable batteries, Jump Starter and accessories.
We are warranted against failure for a period of 6 Months from the date of purchase. Misuse, abuse, or neglect by customer is not covered in this warranty. After the 6 Month warranty period, the Lifetime Replacement Plan takes effect.
https://couponmatrix.uk/posts/wp-content/uploads/2018/04/51Q2HWfU4ML._SL160_.jpg
Material: Li-polymer; Battery voltage: 11.1V; Cell: 3S Capacity: 1500mah, Discharge:30C, Discharge plug: XT60
Dimension:Dimensions:l*w*h:2.6*1.3*0.9,Weight:108.5g(0.2lb)
Application for RC airplane, RC helicopter, RC car, RC truck, RC boat, drone, FPV, Skylark m4-fpv250, Mini Shredder 200, Indy250 plus mojo 280, Qav250, Vortex and Emax nighthawk 250 (Only if the voltage, dimension and the plug match, then it will fit).
Notice:Please check whether the battery is alright when you get it.Cell voltage is between 3.2V~4.2V,the voltage will be 4.2v when it is full of charge, and then 3.2V when it is out of charge.
What you get:2 pack of Zeee Professional 3S 11.1V 30C 1500mAh with XT60 plug lipo battery&Best customer sales service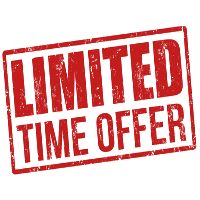 Special Offers: Sale Offers