Aicok Electric Kettle 3000W Fast Boiling Tea Kettle Stainless Steel Retro Kettle Cordless Dome Kettle with Large Spout, Auto Shut Off & Dry Boiling Protection, 1.5 Liter – Mega Value
Aicok electric cordless fast boil kettle with 3000W fast boiling power and the strix thermostat can provide the best temperature control, 1.5 liter stainless steel kettle ensure a healthy daily life for family. The automatically shut off and boil-dry protection system keep safety.
Features:
✔ Stainless steel material – Completely BPA free and keep healthy, suitable to making baby food like milk, soup.
✔ 1.5L capacity – Suitable for whole family, equal to 7.5 cup 200ml water.
✔ Wide spout – Can fill water directly from the spout and pour water out smoothly.
✔ 3000W rapid boiling power – Get boiled water in a few minutes to save more time.
✔ Water indicator – Let you know how much water filled or left in the kettle clearly.
✔ 360 degree rotate base – Convenient for each customer, whether you are used to right or left hand.
Notes:
1)Recommend to clean your kettle before use by boiling the max level of water twice and then discarding the water.
2)Please do not fill water over the max level, as the water may spill out of the spout when boiling.
3)You can use lemon juice or vinegar to clean if the kettle has some stains that difficult to clean.
Specification:
Material: Stainless steel
Capacity: 1.5L
Voltage: 220-240V
Power: 3000W
Package content:
1 * Aicok electric cordless kettle
1 * Manual https://images-eu.ssl-images-amazon.com/images/I/41sVRfYXFjL._SL160_.jpg
Fast boiling electric kettle – With 3000W high heating power, the kettle boils up water quickly, it helps you save much time and energy. And it made of British Strix thermostat, this tea kettle shuts off automatically when water boils or no water inside, safe and convenient to use.
Large spout for pouring and filling – The spout of kettle is large enough to help you pour water safely and accurately, no worries of splashing. The lid never really needs to come off as it can easily be filled via the pouring spout.
Durable stainless steel kettle- This electric kettle is made of durable food grade stainless steel, stainless steel body, stainless steel bottom, stainless lid, stainless spout. The stainless steel of kettle is sturdier than other kettle, you can feel free to use it for a long time.
Clear water gauge and removable filter – There is a clear water level window in the body of kettle, you can see clearly how much is inside. And our spout has a removable filter, it's good for you to clean it easily.
Stylish looking water kettle – The stylish looking is designed for people who love retro style, it meet all your needs with stylish looking and modern function.Our product has 2-year quality warranty, we are always online to offer better service for you.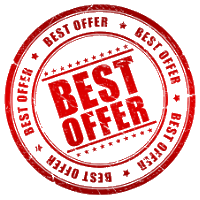 More Promoted: Sale Best Buys