Puppy Pee Pad, (pack of 2) 50% OFF SALE will last on average 6 MONTHS.!! We all know house training your puppy or canine can prove to be a strain on both owner, puppy and of course, the carpet! Occasionally all dogs have to be left indoors while you go out. The Nugi Indoor Dog Toilet and Nugi Pee Pads are a unique solution that provides an environmentally clean and efficient answer to your dog's indoor toilet needs. This offer is for a pack of 2 Nugi Pee pads, that traditionally you would place within the Nugi Tray. Once your Pee pad is full, usually a day's usage by puppy or canine , simply rinse off under the shower bath or outside and stick to a suitable drying area. The back of the Nugi Pee Pad grips wells to most surfaces and simply rotate with your second dry Nugi Pee Pad. At Nugi Dog we do understand that, up until now, you have not had the option of a green choice in dog toilets, so we are very proud to be able to provide you with the Nugi Pee Pad, which lasts for 100 uses, meaning in our experience, about 100 days; What a relief for your dog and you! Please also review our Indoor Nugi Trays which the Nugi Pee Pads also work with. https://couponmatrix.uk/posts/wp-content/uploads/2018/05/41GzPhhqOiL._SL160_.jpg
Nugi Dog Puppy Pee Pad (pack of 2)
TWO Nugi PADS last 6 MONTHS..!!!!!!
No more wasteful Daily Pee Pads
Quick Draining Technology
SAVE MONEY and be GREEN..!!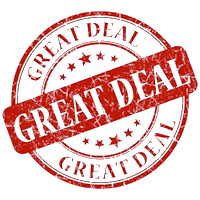 View More: Sale Offers