FERGÉ luggage set 3 piece carry-on large & XL CANNES bronze-metallic suitcase – Cut Price
PREMIUM QUALITY:
luggage set 3 piece carry-on large and XL by FERGÉ
Our 3-piece hardshell suitcase set presents itself in a unbeatable combination of high quality,
well thought-out design, low weight and robust longevity.
No matter for what occasion you need a suitcase , either for business or private use,
our trolley sets will carry your luggage safely to your travel destination.
DELIVERY
Trolley 20″"(carry-on bag)
Dimensions: 50 x 35 x 22 cm incl.Handles
Weight: 2,8 kg
Capacity: 45 L

Trolley 24″"
• Dimensions: ca. 65 x 42 x 26 cm incl. handles
• Weight: 3,5 kg
• Volume: ca. 75 L
Trolley 28″"
• Dimensions: 75 x 50 x 29 cm incl.Handles
• Weight: 4,2 kg
• Capacity: 110 L
DETAILS:
Interior
Net pocket and tension belts
branded Internal compartment with zipper
4 plastic feet on the long side

4 double wheels
Four 360° multidirectional smooth wheels

Handles
2 step height-adjustable ergonomic telescopic handle
extra soft Top and side carrying handles

Lock
3 Digit combination lock for additonal security & detailed instructions
for easy setting the combination locks

Space-saving
all three suitcases are stackable into each other
WORLD-CLASS CUSTOMER SERVICE
If you have any further question, please do not hesitate to contact us. We guarantee
that we will provide a quality and fast customer service.
If you are satisfied please leave us feedback and a great product review.
LUGGAGE PROTECTION
There is a thin transparent foil on the hard case for protection. Please simply remove this film before usage and you luggage is ready to go!

✅ LIGHTWEIGHT: Luggage made from extra strong durable ABS & PC material sealed with our matchless in-house DURE-FLEX procedure. Premium ABS material – tough and built to last, the blend offers strength and flexibility, so that it will not crack or smash. Perfect for: business and leisure travelers. fashionable traveler and for those who love travelling.
✅ ORGANISATION: Three pieces Suitcases Set: one 28 " suitcase, one 24″ suitcase and one 20″ carry on Luggage Set can be stored one into another and is fully lined with a interior zip compartment to keep each half separat.
✅ PROTECTED: This Luggage is secured with integrated Secure combination locks for added security and protection.
✅ CONVENIENT: Smooth and silent 4 spinner multidiretional wheels make traveling even with heavy luggage much easier
✅ ERGONOMIC: A two step-adjustable ergonomic aluminum telescopic handle allows comfortable pulling. On the long side, the case has four plastic feets for storage and soft carrying handles on the upper and the longitudinal side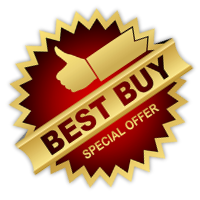 Special Offers: Luggage Sale Items