Glvanc, HOT Sale 3D Printer Guide Rail Sets T8 Horizontal 2mm Lead Screw Rod Length 250mm + D19L25 Flexible Shaft Coupling + 8mm Pillow Block Mounted Bearing KP08 + Nut housing + Brass Nut Set of 6 – Offer
Feature:
1. Stainless steel lead screw + brass nut, rustproof and long service life.
2. The item is low operation noise and low friction.
3. 3D engraving machine lead screw 250mm length with nut.
4. Applies to: Widely used in 3D Printer, stepper motor, machine tools, and other equipment.
Specification:
Color: Silver
Screw Material: Stainless Steel
Nut Material: Brass
Diameter: 8mm/0.31in
Nut Diameter: 22mm/0.86in
Length: 250mm/9.84in
Lead: 2mm/0.078in (nut revolution movement 2mm)
Type: Horizontal
Lead Screw's Lead: 2mm
Pillow Flange Inner diameter: approx. 8mm/0.32 inch
Pillow Flange Outer diameter: approx. 27mm/1.1 inch
Pillow Flange Length: approx. 48mm/1.9 inch
Pillow Flange Height: approx. 12mm/0.48 inch
Accessories:
1 x 250mm 8mm Dia Lead Screw 2mm
1 pcs 5x8mm D19L25 Flexible Shaft Coupling
2 x 8MM Pillow Block Mounted Bearing KP08
1 x Nut house
1 x Nut
1. Stainless steel lead screw + brass nut, rustproof and long service life
2. The item is low operation noise and low friction
3. 3D engraving machine lead screw 250mm length with nut
4. Durable and flexible performance
5. Applies to: Widely used in 3D Printer, stepper motor, machine tools, and other equipment
Glvanc, HOT Sale 3D Printer Guide Rail Sets T8 Horizontal 2mm Lead Screw Rod Length 250mm + D19L25 Flexible Shaft Coupling + 8mm Pillow Block Mounted Bearing KP08 + Nut housing + Brass Nut Set of 6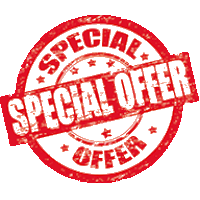 More Promoted: Sale Items