XXL Space-Saving Corner Cat Litter Tray – with A Removable Edge Suitable for Kittens or Elderly Cats – Great for Large Breed Cats – Mega Discount
This cat litter tray is space-saving and can be tucked into the corner of the room and it is very spacious. The protective edge stops the litter from flying out. Easy to remove when you want to change the litter or clean the tray. And if you have a kitten or your cat is getting old, you can simply remove it to provide your cat with low access. Total Dimensions: 70 x 56 x 23 cm (L x W x H)
https://couponmatrix.uk/posts/wp-content/uploads/2018/06/411VtNu6IpL._SL160_.jpg
This corner-shaped litter tray is space-saving and can be tucked into the corner of the room.
Suitable for large breed cats.
Comes with a removable edge so it is suitable for kittens or elderly cats.
It has a protective edge that stops the litter from flying out so your cat cannot track it around the house.
Provides your pet with low entrance simply by removing its edge.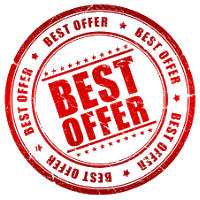 More Promoted: Sale Category