Digital Alarm Clock Projection Clock with FM Radio Bedside Projection Alarm Clock With Indoor Temperature Display Snooze Setting Battery Backup and Radio Sleep Timer Function – Cheap
Features:
Alarm Clock With 6inch Led Display Time offers time display, projection time/temperature,snooze, FM radio, radio sleep timer, and other features.
FM radio sleep time:
Alarm clock can remember up to 20 FM preset stations.
Listen to music, news, weather forecasts, you can set the sleep timer function.
Adjust between 10, 20, 30, 40, 50, 60, 70, 80, 90 minutes,
The radio will automatically turn off after the specified time
Dimmer button:
Level 3 adjustable screen brightness: Bright–Dim–Off, providing visual comfort to meet your different needs;
Triple alarm setting: It can set 3 independent wake-up times, while the snooze function allows 10 minutes of sleep time and then reminds you again.
Temperature display: The clock can monitor and display Fahrenheit or Celsius.
Projection alarm clock:
HD 6inch LED screen with large digital display
Suitable for families, bedrooms, kitchens, offices and conference rooms.
Specifications:
Input: 5V –500Ma
Package Size:22*10*3.8cm
Battery:3V (1.5v "AAA" size x2 Pcs, not included)
Radio frequency: FM87.5 ~ 108 MHz Power: 80 w
Time Format: 12/24 Hour Switchable
Screen Display Support Dimmer: Yes (OFF-Low Light(Default)-Medium Light-Bright Light)
Package include:
1* Digital Projection Alarm Clock
1*CM© USB Cable
1* User Manual
❤Projection Time/ Temperature & 110° Adjustable Angle:Projection ensures clear and cool time observation, projection on the wall or ceiling super clear time/temperature,Allows you to easily read time and temperature while lying in bed,projection distance 0.5 ~ 3m, the best projection distance 2 ~ 3m, You Can adjust the brightness according to your preferences
❤FM Radio Clock &Sleep Timer Function: Built-in FM tuner, you can choose from other free radio stations (87.5MHz – 108.0MHz), you can listen to music, news, weather and more. The antenna behind the clock can be expanded to enhance the radio signal. With the sleep timer function, you can set the sleep timer and the radio will automatically turn off after a specified time
❤6 inch LED Display Screen withTemperature Monitor: The vibrant 6 inch LED alarm screen allows you to choose between 3 projection brightness and 4 screen brightness settings (low, medium and highlight). For sleep, you can adjust the light to the darkest. And read the time from the big screen at night.
❤Triple Alarms&Snooze Function:Alarm clock can set 3 independent wake-up times, you can choose to wake up using radio station or standard buzzer.Snooze function allows 10 extra minutes of sleep before alerting you again.
❤Gift &Guaranty:Stylish led display design alarm clock, the perfect gift for wife, boy, girl, child or friend. We offer a 30 day refund, lifetime after-sales service, and contact us 24 hours a day.
Digital Alarm Clock Projection Clock with FM Radio Bedside Projection Alarm Clock With Indoor Temperature Display Snooze Setting Battery Backup and Radio Sleep Timer Function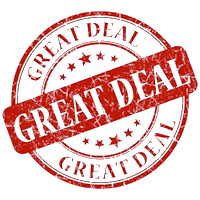 List More: Sale Items