 EMPO Kitchen Scale:
A compact accessory you wouldn't want to miss in a modern kitchen! Empo presents you with a digital food scale that saves your kitchen space, helps you get more precise ingredients and can be easily cleaned.
It's time to make life more convenient!
Features:
✔ Measures up to 10kg/22lb.
✔ Light weight and small size that allows you to put them anywhere in the kitchen.
✔ The TARE function makes it possible to weigh ingredients continuously (without getting the first one out before you weigh the second).
✔ The UNIT button allows you to change the unit you want, between g, Oz, lb/oz, ml.
✔ Powered by 2 AAA batteries, makes it easier to prepare power backup.
✔ Sleek design with a tempered glass platform. Wipe clean after use
✔ Big LCD screen with blue back light, indicates the number clearly.
We believe that you would be much satisfied with this product, and may wish to keep them accompanied for good. That is why when you order yours today, you are protected by a LIFETIME WARRANTY, no questions asked Product Replacement GUARANTEE!
Notes:
– Ensure the scale is on a flat, even and firm surface.
– Please remove the batteries if the scale is not to be used for a long time.
– When cleaning the scales, please wipe the surface with a piece of damp cloth. Do not put them under a running water tab or soak them with any kind of liquid.
Package Includes:
1x Digital Kitchen Scale
1x Lifetime Warranty Card
1x User Manual
2x AAA Batteries 🎁【PRECISE MEASUREMENT】 – Equipped with 4 modern high-precision sensors, the kitchen scale provides you with instant and accurate measurements from 5 grams to 10000 grams, with a division of 0.1oz/1g. It is an ideal gift for people who loves cooking.
🎁【EASY WEIGH】 – Features advanced touch sensitive buttons for easy operation, and large LCD screen that displays 4 units (ml/oz/g/lb.oz) of measurement to select on. Includes low battery indication and auto-off function after 60 seconds of inactivity, which helps to preserve battery power and efficiency; 2 AAA batteries included.
🎁【EASY TARE】 – The TARE function can reset the current weight on the scales to zero; this allows you to calculate the net weight of the ingredients (automatically subtracts the container weight to calculate the weight of the ingredients being weighed), while still providing a reading accurate to 1 gram. Suitable for both dry ingredients and liquids.
🎁【SAFE TO USE】 – The high quality glass platform is super easy to clean. The compact design makes it easy to store when not in use. Perfect for home baking and food portioning to help manage eating habits and dieting.
🎁【100% SATISFACTION GUARANTEE】 – EMPO Unconditional Lifetime Warranty. Your satisfaction is our number one priority! In the unlikely event that EMPO does not meet all of your needs, we will send you a replacement or refund you the full price with no questions asked. Lifetime Warranty Card included.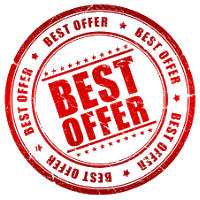 Special Offers: Kitchen Sale Bargains