Dash Cam WiFi, Car Camera Dash Cam W/Free 128GB SD Card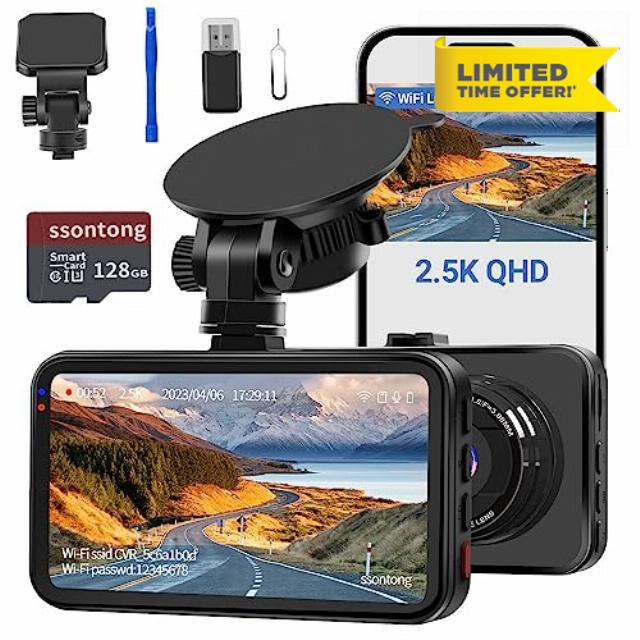 Dash Cam WiFi, Car Camera Dash Cam W/Free 128GB SD Card Dashcam 2.5K QHD 1440P Dash Cam Front, Dash Cameras W/APP, Night Vision, 170°Wide Angle, G-sensor, Parking Monitor for Cars, Max Support 256GB
【2.5K Quad High Definition WiFi Dash Cam】The car dash cam records a super QHD videos & images at 2560X1440P with 30fps, which is 2 times resolution of traditional 1080P dashcam. Car camera dash cam is equipped with a high-performance combination of SONY Chip, GC CMOS, and a 6G 170-degree wide-angle lens, ensuring clear capture of license plates and road signs during day and night. Whether you're driving a truck,car,van,taxi, or SUV, dash cam front provides robust evidence in case of an accident.
【Dash Camera Built-in WiFi & App Control】Easily connect car camera to your smartphone via the built-in WiFi functionality. Use FREE "Viidure" app, available for both iOS and Android, you can view, playback, manage recordings from front dash cam. Can download and edit videos, giving you freedom to customize your footage. With one-click sharing, you can share your travel scenery, memorable moments with friends and family. Note: Effective distance of 3-5 meters, remote connection is not supported.
【Loop Recording & G-sensor Dash Cameras for Cars】The dash cams will auto overwrite the oldest "unlocked" videos to ensure that the sd card has enough space to save the latest and emergency videos (128GB SD CARD INCLUDED) to achieve seamless loop recording; The car security camera will auto star recording a emergency locked video for 20s when shock occur or collision reaches the sensing level of the G-Sensor. Thus preventing any overwriting and your video evidence from being lost.
【Dash Cam Front with Night Vision】The dashcams for cars adopts f/1.8 aperture, 6-layer optical lens, and this dash camera is equipped with an upgraded high-performance CMOS sensor, which can achieve super night vision by automatically balancing exposure in extreme dark scenes, and the in car cameras can clearly display road details such as license plate numbers and road signs day and night. High-performance dashcam front bring safety and reliability to your driving in the dark.
【WiFi Dash Cam With Parking Monitoring】Whenever an impact is detected, the WiFi dash cam will automatically power on and start recording a protected video of 20 seconds, then automatically power off. If you want the car camera dash cam 2.5k to provide full 24×7 surveillance for your vehicle, ensuring your peace of mind, we recommend installing the dash cam with hardwire kit (Hardwire kit ASIN: B0C2TT8GJ1) and disabling the motion detection and parking monitor functions while you driving.
【Easy to Install Dashboard Camera】Dash cam pro has 3" screen, which perfectly hides dashcam with sd card behind the rearview mirror without blocking your view from driving; Easily attach the dash cams front to your car's windshield with included suction cups, it can be easily removed; Connect the dash camera front with car charger that plugs into your car's cigarette light, when star your car, dash cam for car will auto turn on and record. The car dashcam front is very friendly to new users.
【Car Dash Camera 12-month Warranty and Lifetime Technical Support】Our service tenet is to meet the needs of consumers as much as possible. We offer lifetime technical support and a 12-month warranty for this car on-dash mounted cameras with a 100% satisfaction guarantee. If any problems with your dash cam with sd card after purchase, leave us a message via Amazon or email our after-sales support team for assistance or a free replacement without worrying about the time-bound return window.
---
Product Description
SSONTONG 3 INCHES 2.5K QUAD HIGH DEFINITION 1440P DASH CAM FRONT WiFi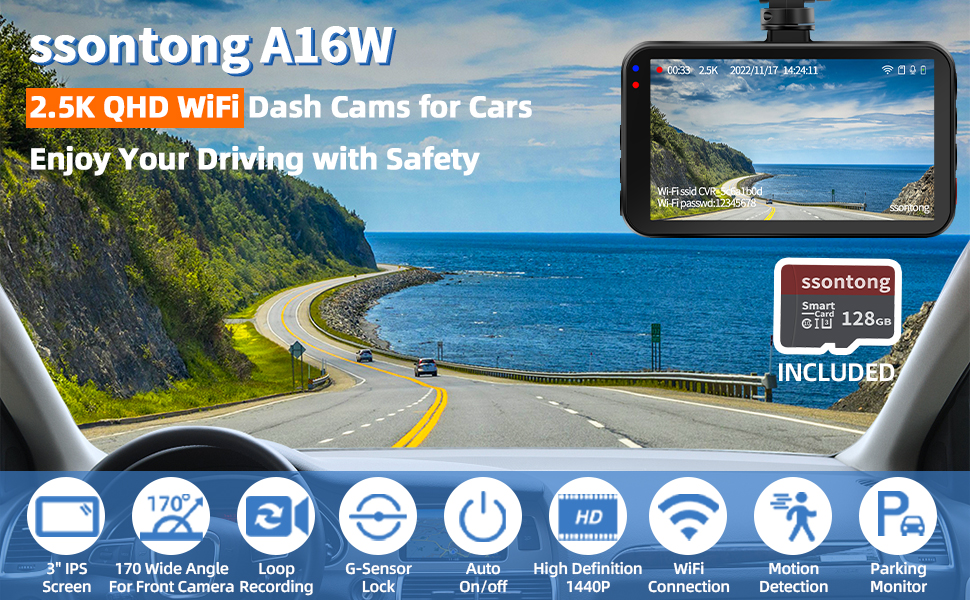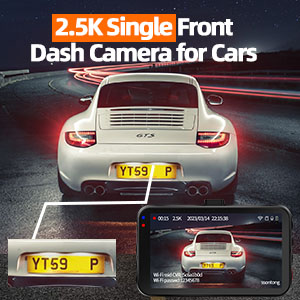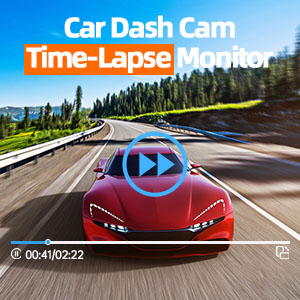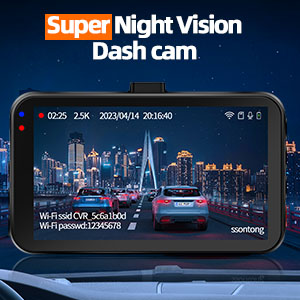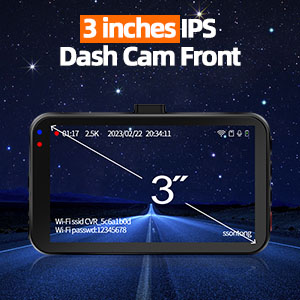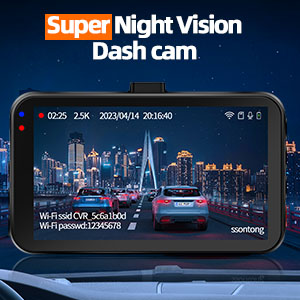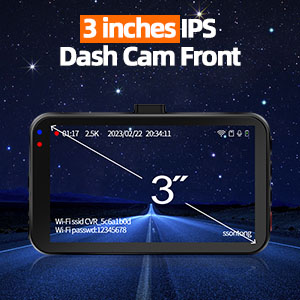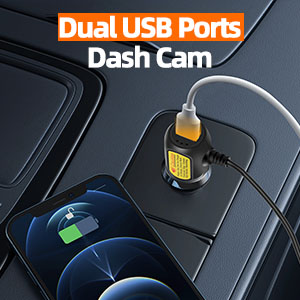 wifi dashcam
Car Dashcam With Motion Detection

Motion detection is an intelligent technology in the car dash camera front that automatically senses moving objects in the surroundings. Whether you are in a car park, outside your home or other parking place, as soon as a person or object approaches your vehicle, the car security camera will immediately trigger the recording and save the critical footage. This provides you with real-time security monitoring and protection, ensuring your property and driving safety.

The motion detection feature of our dash cam 2.5k will add a whole new layer of security to your driving experience. Place your order today and let this front car camera protect your vehicle and record exciting driving moments!

Car Camera Operating Temperature

With a wide operating temperature range, the WiFi dash cam is stable in all kinds of extreme environments. Whether it's a cold winter or a hot summer day, dash cam front with sd card will reliably record your driving journey.

With careful design and high quality materials, the dashcam pro works reliably in extreme cold winters, cold nights or hot summers in direct sunlight, ensuring you don't miss any important recordings of your journey.

The car camera dash cam front only also features excellent heat dissipation and an intelligent temperature management system to keep the device at a normal operating temperature. This design ensures that the dash board camera for car is reliable and durable in all temperature conditions, providing you with a long-lasting and stable driving recording experience.

Dash Cam Front Easy to Playback Videos

There have four ways to help you to playback this wifi dashcam front videos.

Way 1: You can playback the videos on dash camera.

You can press the "MODE" once enter the "playback" mode.

There will show the three icons on the left. ( You can press the "Down/up" to choose the unlock video files, locked videos files or the picture files )

The first on is the file video without lock. You can press "OK" button to choose and playback the video. Press down/up to see other videos. Press "Menu button" to quit this page.

Way 2: You can use the included the type C data USB cable to connect the car dash cam and your PC. Then you can see the videos on your PC.

Way 3: You can use the included the SD card reader to playback the videos.

You can insert the 128GB SD card into the SD card reader, then plug it into your PC.

Way 4: You can connect the dashcam WiFi function to playback the videos on your phone.