ABF is down 1.5% as upgrades fail to follow Primark's strong Christmas
– Primark saw 'very strong' festive sales – Associated British Foods delivers double-digit growth across the board – Conglomerate maintains full year guidance
Foods-to-fashion conglomerate Associated British Foods (ABF) reported a 'very strong Christmas period' for Primark, the jewel in its crown, as the discount clothing chain Primark bucked the cost-of-living squeeze in the UK. However, the shares cheapened 1.5% to GBP18.41 on profit-taking after a good run and the absence of upgrades, while Associated British Foods also warned tough economic conditions could 'weigh on consumer spending in the months ahead'. The FTSE 100 group left guidance for the year to September 2023 unchanged as it reported sales growth across the board in the early weeks of the financial year, with shoppers proving more resilient than feared and inflationary pressures easing.
In the 16 weeks to 7 January 2023, group revenue surged 20% year-on-year to GBP6.7 billion and Associated British Foods expects to deliver 'significant' annual sales growth, albeit with lower adjusted operating profit and adjusted earnings per share. PRIMARK PROVIDES CHRISTMAS CHEER Primark's revenue was 18% higher at GBP3.15 billion in the first quarter as sales in the week leading up to Christmas Day 'reached a new record', said Associated British Foods.
The budget clothing chain had 'a very strong Christmas period', said the company. 'We believe our proposition of great quality at affordable prices and attractive store experience is proving increasingly appealing to both existing and new customers. Early trading in this new calendar year has been encouraging but macro-economic headwinds remain and may weigh on consumer spending in the months ahead.' Primark's like-for-like sales were 11% ahead year-on-year, driven by volume growth as well as higher prices and a well-controlled level of markdowns.
Encouragingly, Associated British Foods said that footfall is now 'strong in major city centres as well as on high streets and retail parks'.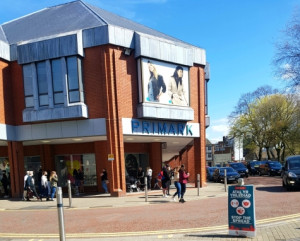 FOOD SALES FATTEN UP 23%
Aggregate revenue from the group's food businesses, which include brands such as Twinings-Ovaltine, Blue Dragon and Kingsmill, was 23% higher at almost GBP3.6 billion in the first quarter, thanks to price rises to recover cost inflation and higher sugar prices. 'Input cost inflation is becoming less volatile and recently some commodity costs have declined,' explained Associated British Foods. 'However, all our businesses continue to work hard to restore margins which have been and remain under pressure.' THE EXPERT'S VIEW
Russ Mould, investment director at AJ Bell, said that while Associated British Foods failed to produce any upgrades, the mood around the company is one of optimism. 'Talk of resilient consumer demand and inflationary pressures settling is telling and its Primark retail chain had a good Christmas. 'Its reliance on physical stores meant the pandemic was a big issue for Primark and a festive period without restrictions clearly helped get shoppers through the doors.'
Mould added: 'The fact this has not resulted in a change in guidance reflects continuing pressures on margins across all parts of the group which may have proved a bit of a disappointment to investors. 'Having avoided any meaningful web-based presence for so long, Primark is stepping up its click and collect trials. There's logic to this approach as it allows Primark to benefit from impulse purchases as customers are still visiting the stores and avoids incurring big costs around delivery and returns of what tend to be very cheaply priced products.'
Mould explained that Primark's budget proposition could help it secure new customers as cost-of-living pressures bite, 'particularly in areas like children's clothes where parents make frequent purchases and the longevity of what they buy might be less of a consideration'.
Disclaimer: Financial services company AJ Bell referenced in the article owns Shares magazine.
The author of the article (James Crux) and the editor of the article (Tom Sieber) own shares in AJ Bell.
---
Issue Date: 24 Jan 2023