happylegs 2021 Silver Plus – Passive Gym Exerciser Legs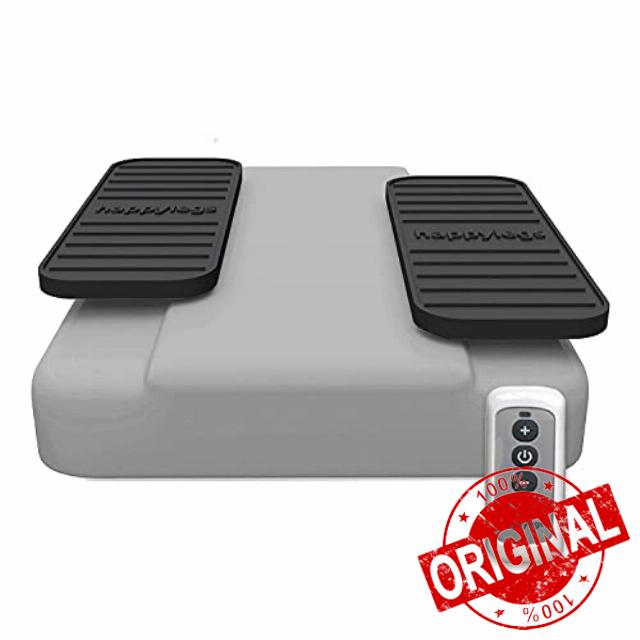 happylegs 2021 Silver Plus – Passive Gym Exerciser Legs with Wireless Control | +25% Speed | Sitting Rehabilitation and Tired Legs | Improves Blood Circulatio
Happylegs: The seated walking machine, official patented system with 3 speeds (9-12-15V). Steps in the 3 speeds per 1 hour: Speed in 9V: 3120 Steps x 1 hour; in 12V: 3960 Steps x 1 hour and in 15V: 5040 Steps x 1 hour. Award winning product in UK and USA, Happylegs is the quietest and the fastest system worldwide. Poor circulation can have a detrimental effect on your health. Moving and exercising the body, particularly the lower limbs, is vital to ensure good blood circulation. Happylegs helps visibly, swollen legs, ankles and knees Vascular ulcers Diabetic neuropathy Joint and muscular problems Thrombosis (DVT) Arthritis Alzheimer's disease. Only Happylegs is endorsed by cardiologists and vascular surgeons. It has the only one machine medically proven by doctors to alleviate pain legs, diabetes or overweight. Happylegs is certified safe for use by people with pacemakers and chronicle vascular diseases without contraindications. Happylegs has the best and quietest motor and the double fast machine with 3 speed settings. Only Happylegs is made in Spain and has 5 years of guarantee. Mail Contact: [email protected]
STRONG LEGS WITHOUT EFFORT | Happylegs is the most powerful and effective passive gymnastics system, improvement in their vascular health and quality of life. Includes NEW Transformer with 16-speed remote control
FOR PEOPLE WITH REDUCED MOBILITY | Sit on your chair or sofa and let the automatic movement with up to 16 regulated speeds with adjustable button exercises and strengthens and tones legs effortlessly. Its constant use will increase your muscle mass. You will save on the consumption of medicines and anti-inflammatory.
HOME AND OFFICE USE | With a constant daily use, you will see the progressive disappearance of pain and inflammation in the legs, knees, ankles and feet. Indicated for people with heavy, tired, asleep or restless legs.
CONFIRMED EFFECTS | Happylegs is the only device on the market with clinical medical studies that confirm its effectiveness against diabetes, hypertension, osteoarthritis, overweight and a sedentary life. It will improve your cardiovascular health.
WHO MOVES THE LEGS MOVES THE HEART | The machine that moves the legs, twice as fast, silent, comfortable and resistant with a 5-year warranty. The only one of this category Made in Spain. Sustainable innovation without planned obsolescence: ISSOP Seal . #I'm original.
| | |
| --- | --- |
| SKU: | B09HV8G3S3 |
| Brand: | happylegs |
| Origin: | Spain |