NORTHCLAN Mini Fridge for Bedrooms 10L/11 Cans with AC/DC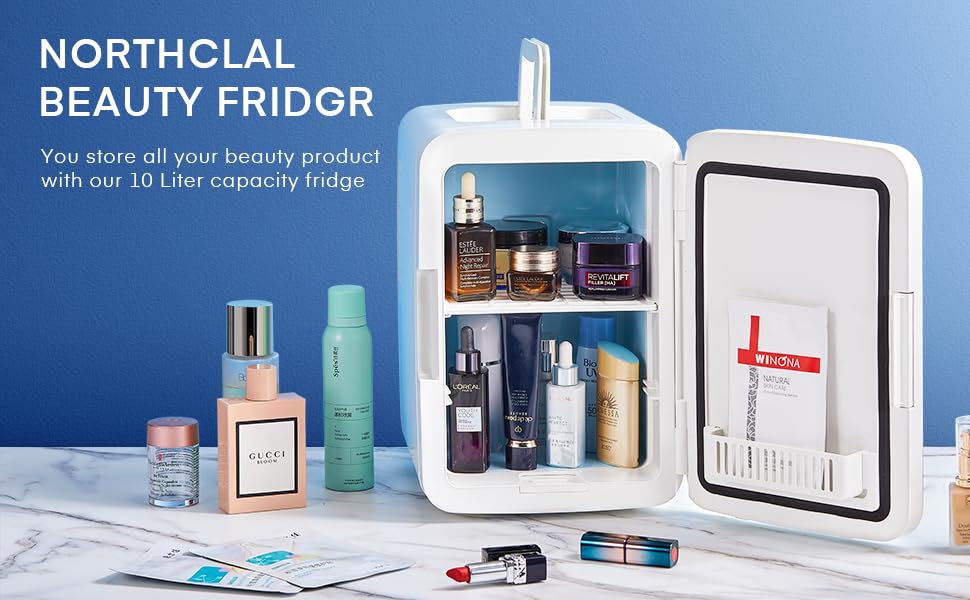 NORTHCLAN Mini Fridge for Bedrooms 10L/11 Cans with AC/DC Powered, Quite Mode, Small Skincare Portable Beauty Fridge with LED Makeup Mirror, for Cosmetic, Office or Ca
.
.
10L Drink Fridge: Our 10L mini fridge is suitable for storing drinks, fruits, cake, yoghurt etc. Without the shelf, it can hold up to 11 Cans for your daily beverage needs. Suitable for bedroom, office or car, you can enjoy the cool drink anytime, anywhere.
Cold & Warm: The mini fridge has heating and cooling modes, which can be 10-15°C higher or lower than the ambient temperature. In addition to refrigerating drinks, it can also keep your lunch warm. During normal cooling, fan noise will be louder, so please set the mode to "MUTE" when resting.
AC & DC adapters: The small fridge is equipped with 2 power plugs, so you can use it at home and in a car. Condensed water will be generated after the air enters the refrigerator, it's normal and you just need wipe it up in time.
Skincare Fridge with LED Lighted Mirror Door: A cosmetic mirror that contains adjustable LED lights (3 brightness levels) and a touch sensor switch makes your makeup and skin care more convenient. Not only a beauty fridge, but also as a night light, cosmetic mirror, etc.
Easy to use: There is an operation panel on the back of the refrigerator. When COOL and MAX/MIN are selected, the indicator light turns green and the machine starts to cool. If you have any questions, please contact us through the order.
| | |
| --- | --- |
| SKU: | B09NW5THLZ |
| Weight: | 4.27 kg |
| Dimensions: | 24 x 29 x 34.5 cm; 4.27 Kilograms |
| Brand: | NORTHCLAN |
| Colour: | White |
| Batteries Required: | No |
| Batteries Included: | No |
| Manufacture: | NORTHCLAN |
| Colour: | White |
| Origin: | China |
---
Product Description
YOUR PERSONAL MINI FRIDGE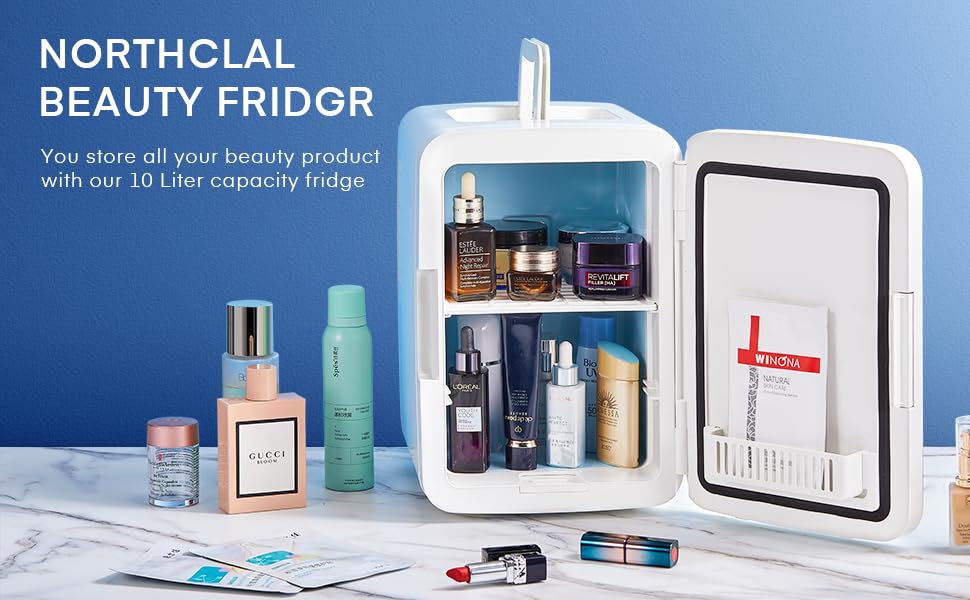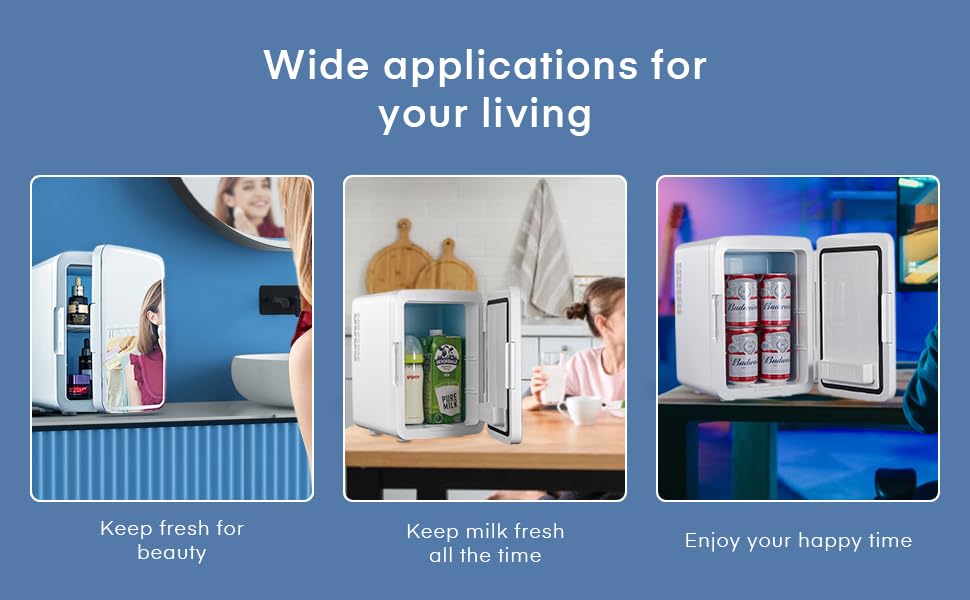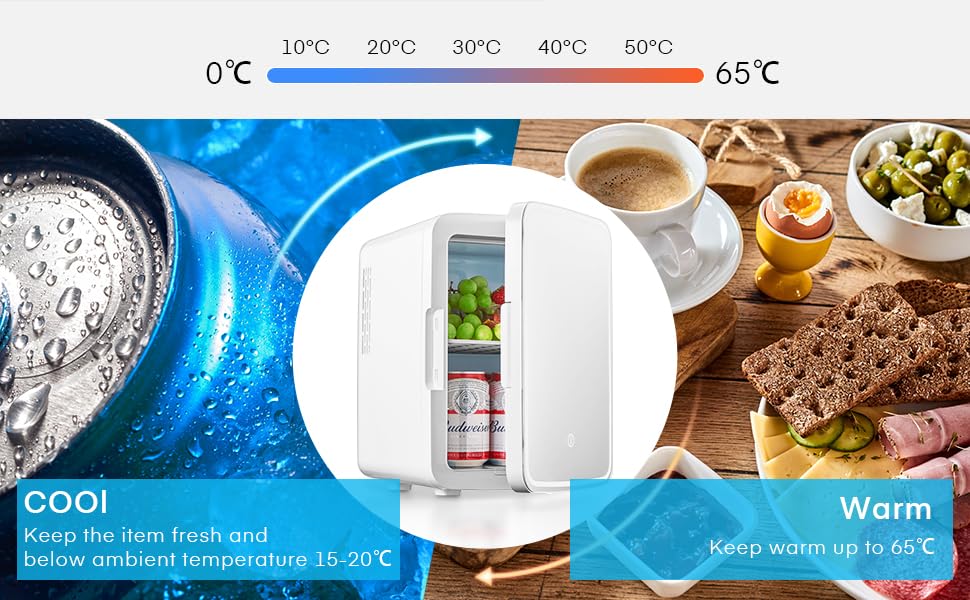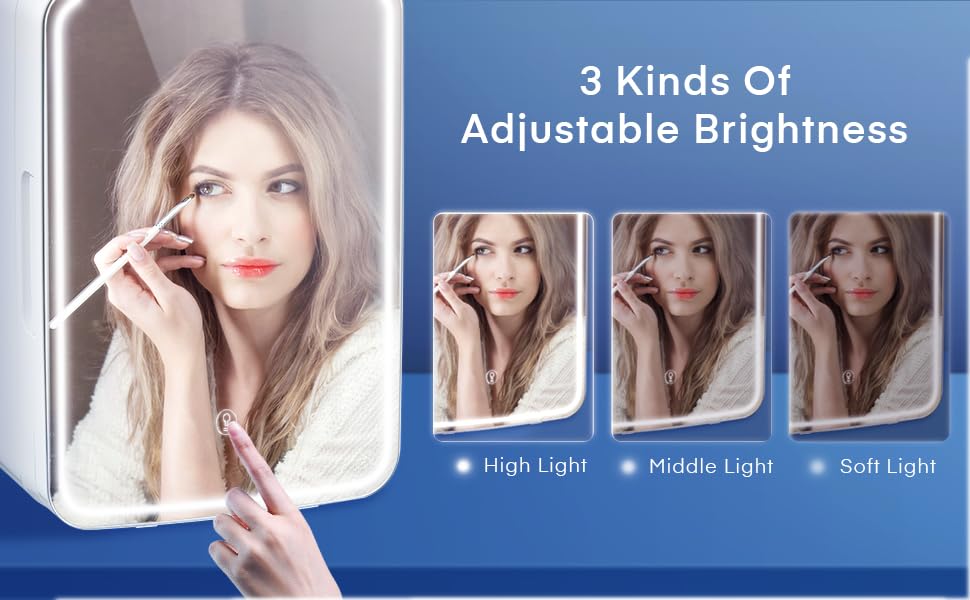 FAQ
1.-Why is my mini fridge packaging intact but not working?
-Make sure the plug is inserted correctly first. The 2 function buttons on the back of the refrigerator are Cold/Warm and MUTE/Normal. Both buttons are choosed, then the light comes on and the fan starts spinning.
2.-What should I do if there is stagnant water at the bottom of the refrigerator?
-It is a normal phenomenon. When the refrigerator is turned on and off, air enters the refrigerator, then condensation water slowly forms, just wipe in time.
3.-Why is my refrigerator not cooling well?
– The ventilation place on the rear side of the refrigerator needs to be 30cm away from the wall to ensure the normal operation of the fan, so as to provide better cooling.
Color

white

pink

black

Capacity

10L

15L

15L

Capacity for cans

11 cans max

21 cans max

21 cans max

Dimension of fridge

‎29 x 24.5 x 34 cm

46.9 x 35.6 x 31.4 cm

46.9 x 35.6 x 31.4 cm

Net weight

3.6kg

3.91kg

3.91kg

Internal Dimension

18.6×16.8×27.9cm

17.5×20.7×18.5+24×20.7x15cm

17.5×20.7×18.5+24×20.7x15cm

AC&DC adapter

✓

✓

✓

Fonction cool & warm

✓

✓

✓

Fonction Low noise

✓

✓

✓

Features

Door with LED Makeup Mirror

Door with window

Door with window