Abs Trainer, Muscle Stimulator, EMS Training Device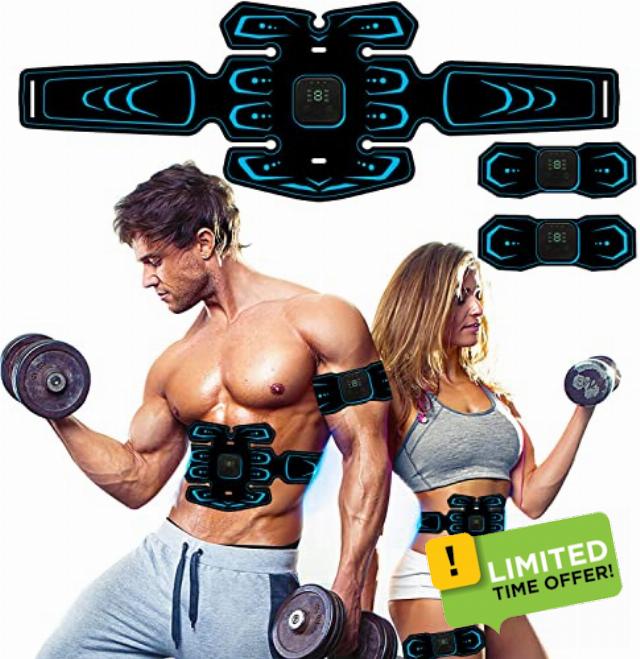 Abs Trainer, Muscle Stimulator, EMS Training Device, Abdominal Muscle Trainer, Abdominal Trainer with 6 Modes & 9 Intensities, Portable Muscle Stimulator, for Abdomen, Arm, Leg Fitness Training
Note: The machine can only work when it is attached to the skin tightly. Or it will auto-off after few seconds If not in working state.
EMS (Electrical Muscle Stimulation) through current stimulation, directly send signal to muscles, and promote muscle movement. All you need to do is to fit the pads to your body enjoy this scientific and safety fitness workout equipment.
How to Use the ABS Stimulator?
1. Fix the controller to the patch
2. Remove the backing film
Note: Do not dispose the backing film and replace it after each use.
3. Apply the patch to your body
Note: Always wash the area of your body before you apply the patch.
4. Turn the device on and choose a suitable intensity
Note: Recommend to use low levels for first time.
5. After exercise for 12 minutes, the device will switch itself off automatically. Then peel it off from your body
Note: For best efficiency, use the device 1 to 2 times a day.
Tips:
1. Do not use the device on neck, head, face, spine, chest, shoulder blades and other parts around heart, especially broken skin
2. To ensure the device working normally, please apply it to your body before turn it on
3. Avoid contact the hydrogel pad with your dry hand
4. The controller is not waterproof. Please use wet cloth to wipe off any dirt from it
5. Recharge the controller every 3 months if it's not in use for a long time
6. Avoid direct sunlight, hot temperature or humidity.
Package included:
1 * User manual
1 * Abs belt patch
2 * wing-shaped patches
3 * main devices
【 HIGH TECHNOLOGY 】Adopt EMS (Electrical Muscle Stimulation), can help to tighten and strengthen your body muscles.23 minutes of using per day is equivalent to 2000M running or 40 minutes of sit-ups, saving your time and energy for bodybuilding. (Note: The machine can only work when it is attached to the skin tightly. Or it will auto-off after few seconds If not in working state.)
【GREAT DEVICE AND FEATURE SET】 ABS for abdomen/arm/leg Training, body partial exercise or massage. Adopt different levels of intensity from warm-up to high-intensity exercise and relaxation:fat burning, relaxation and exercise.ONE KEY SET ,EASY TO OPERATE.Works as a POSITIVE addition to your workout program.
【USB CHARGING】The exercise apparatus uses USB charging and the exercise intensity of the machine increases by 50% than the similar products. The battery life of its is very long and it can do continuous physical exercise more than 60 times by charging only once.LCD Display — LCD Display can clearly show 6 modes and 9 levels. You can control the mode and level by 3 buttons at machine! Each EMS machine can be adjusted individually.
【EASY TO USE】It's super light, ultra thin, WEARABLE, and convenient to carry on.Designed with ergonomics targeting abdominal muscle exercise. Fix the fitness gear to the position where you want to strengthen your muscle. To power on, press "+" button for 3 seconds; to power off, press "-" button for 3 seconds. Fitness anywhere/anytime that you want.
【100% MONEY BACK GUARANTEE】 We hope that you are satisfied with your product experience; If this product does not fit for you, we offer you a 3 month guarantee and risk free within 30 days。We're SO confident that you'll love this muscle toner that it's backed by our 100% Money Back Guarantee. If you don't love it – *for whatever reason* – we'll replace it or give you back every cent.
| | |
| --- | --- |
| SKU: | B0BMG5QRZ9 |
| Size: | One Size |
| Dimensions: | 23.1 x 21.4 x 3.6 cm; 360 Grams |
| Brand: | WARDBES |
| Colour: | Black,Orange |
| Manufacture: | THE BOY KNOWS CLASS LIMITED |
| Colour: | Black,Orange |
| Department: | Unisex |
| Department: | Unisex |
| Size: | One Size |