ACMETOP Over Door Hooks, 2 Pcs Heavy Duty Over Door Hanger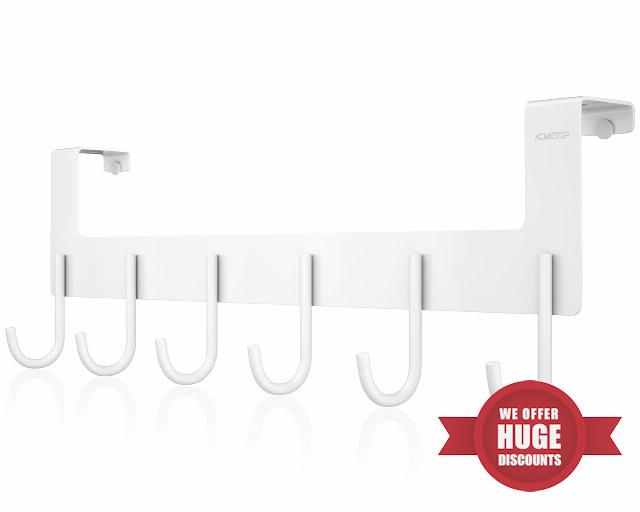 ACMETOP Over Door Hooks, 2 Pcs Heavy Duty Over Door Hanger, Aluminum Over Door Coat Hooks Storage for Coat, Towel, Bag, Robe, Brush Finish – 6 Hooks (Matter White)
Since the beginning of AcmeTop, we thought we could use technology to change lives, or at least we wanted to make our lives more convenient.
For this reason we chose many directions, until we found the direction of indoor storage, and we knew that we wanted to make products that would optimize people's life c storage space.
We understood that there were many over door coat hooks on the market, but customers still expected an affordable and high quality product, and many customers wanted a product that could withstand heavier weight, be easily installed behind the door and not slide. Of course it should fit most doors and not be installed so that the door won't close, w our product is only a coin thick.
What will you get?
A door hanger that keeps your coat, bag, keys out of the way at all times (just imagine coming home from work/school and wanting to take off your heavy coat or put your backpack or keys in an easy to reach place, and putting it behind the door is very convenient and you won't forget where you put it the next day.)
MAXIMIZE YOUR SPACE: Add convenient over door coat hooks to make use of un-used door space 𝙬𝙞𝙩𝙝𝙤𝙪𝙩 𝙖𝙣𝙮 𝙢𝙤𝙪𝙣𝙩𝙞𝙣𝙜 𝙝𝙖𝙧𝙙𝙬𝙖𝙧𝙚 required. Ideal for bedroom, bathroom, and closet doors to hang purses, scarves, clothes, jackets, and towels.It can be given as a gift to your mother.
PERFECT FIT: Our hanger hooks measures 𝟰𝟬*𝟭𝟱*𝟰.𝟱𝙘𝙢 and fits all standard doors up to 4.5cm thick. For the best experience, we suggest using doors from 3.5cm to 4.5cm thick.
SLEEK DESIGN: Our door hook hanger has a simple style and perfect details, with a neat appearance and brush finish. Our 𝙨𝙥𝙚𝙘𝙞𝙛𝙞𝙘 𝙥𝙧𝙤𝙘𝙚𝙨𝙨 keeps everywhere smooth, preventing scratches on your clothes.
HIGH-QUALITY AND DURABLE: Made from 𝟲𝟬𝟲𝟯 𝙎𝙋𝘼𝘾𝙀 𝘼𝙇𝙐𝙈𝙄𝙉𝙐𝙈 and anodic oxidation process, our door hook hanger is lightweight, sturdy, and never rusts. It can hold up to 25kg of weight, and we offer 𝟭𝟮 𝙢𝙤𝙣𝙩𝙝𝙨 𝙤𝙛 𝙛𝙧𝙚𝙚 𝙧𝙚𝙥𝙡𝙖𝙘𝙚𝙢𝙚𝙣𝙩 if you're not satisfied.
EVERYTHING YOU NEED: Our door hook hanger comes with 1 x over door hanger storage, 8 x round little sponge pads, and 4 x rectangle sponge pads. To ensure perfect closing of the door with this rack, make sure there is enough gap over your door (𝙖𝙗𝙤𝙫𝙚 𝟭.𝟱𝙢𝙢, 𝙤𝙧 𝙖 𝙘𝙤𝙞𝙣'𝙨 𝙩𝙝𝙞𝙘𝙠𝙣𝙚𝙨𝙨).
| | |
| --- | --- |
| SKU: | B0BWQM6TNM |
| Weight: | 280 g |
| Size: | 2 Pcs 6 Hooks |
| Dimensions: | 33 x 4.5 x 15 cm; 280 Grams |
| Colour: | Matter White |
| Batteries Required: | No |
| Batteries Included: | No |
| Manufacture: | ACMETOP |
| Colour: | Matter White |
| Size: | 2 Pcs 6 Hooks |