ReaderPen | C-Pen | Reading support | Human reader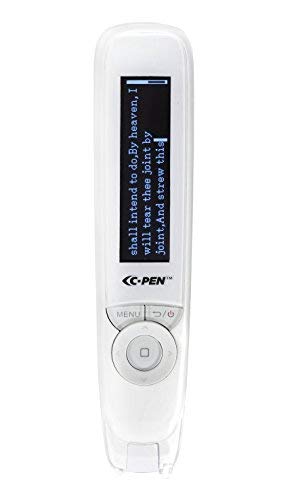 ReaderPen | C-Pen | Reading support | Human reader alternative | Classroom aid
Reads scanned text aloud or via included headphones, nurturing reading independence
Stores scanned data to your device with the scan-to-file feature
Saves audio to review later, helping people with a limited working memory
Includes multiple built-in dictionaries (including the Oxford Primary Dictionary)
Portable, with an 8-hour-use battery
No additional setup required | No computer or Wi-Fi required
Includes a ReaderPen (from C-Pen), USB cable, instruction manual, and earphones
| | |
| --- | --- |
| SKU: | B015OL7VNS |
| Weight: | 50 g |
| Dimensions: | 30.4 x 24 x 5.41 cm; 50 Grams |
| Brand: | C-pen |
| Model: | FBA_7350085370028 |
| Colour: | ReaderPen |
| Batteries Included: | No |
| Manufacture: | C-Pen |
| Colour: | ReaderPen |
---
Product Description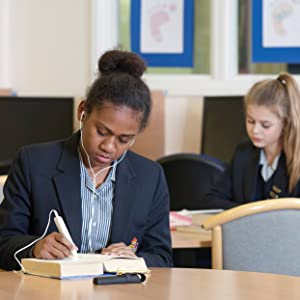 In-depth Feature Descriptions
Scan Printed Text & Hear It Aloud
The ReaderPen, from C-Pen, contains a high accuracy OCR that enables you to capture and save quotes and other text of interest instantly. The text is saved in text files which is then easily transferred to your computer. Extremely handy if you are a student, a researcher, or if you simply want to quickly take notes.
Use the ReaderPen to read printed text for you! The ReaderPen features a high quality naturally speaking voices with new accents being added to improve user familiarity. Use it to listen to pronunciations or to help you read in general.
Record A Reminder
Aside from everything else the ReaderPen can do, it also features a built-in microphone (and of course a speaker/earphones connector) allowing you to record audio. Like voice memos. The audio files are then saved in the device so they can be retrieved and listened to any time. You can also upload the audio files to your computer to review later.
As well as promoting Independent Reading this pen features:
A text-to-speech scanner,

a Collins English Dictionary,

Oxford French and Spanish Dictionaries,

a scanner that stores text to transfer to a PC or Mac,

a scan-to-file function to input scanned text directly to the cursor on a computer,

a voice recorder especially useful for people with limited working memory,

free future upgrades and training
Benefits of the ReaderPen:
Improves Reading Comprehension

Makes Curriculum Available To All

Allows Students To Reach Their Full Potential

No More Time Stretched Teachers

Supports EL/EAL Students
I have dyslexia or a similar reading difficulty and I am trying to read

English, Spanish, French

Italian, German, Russian, Chinese, Norwegian, Portuguese, Swedish, Dutch, Danish

Yes but requires 3rd party device

I work in a secure location, have dyslexia or a similar reading difficulty and I am trying to read

English, Spanish, French

I need help reading an exam paper and I am trying to read

English, Spanish, French, Italian, German, Russian, Chinese, Norwegian, Portugeuse, Swedish, Dutch, Danish

I have some sight loss* and I am trying to read

English, Spanish, French

Italian, German, Russian, Chinese, Norwegian, Portuguese, Swedish, Dutch, Danish

Yes but requires 3rd party device

I work in a secure location, have some sight loss* and I am trying to read in:

English, Spanish, French

I am learning English** and my mother tongue is:

Spanish, French, Italian, German, Russian, Chinese, Arabic | I am English and learning: Spanish, French, Italian, German, Russian, Chinese

Yes but requires 3rd party device

Standalone device

✓

✓

✓

✓

PC and/or Mac and/or Andoid and/or iOS and/or Chrome required

✓

Scannable Languages

English, French, Spanish

English, French, Spanish, German, Italian, Chinese, Russian, Norwegian, Portugeuse, Swedish, Dutch, Danish

English, French, Spanish, German, Italian, Chinese, Russian

English, French, Spanish

English, French, Spanish, German, Italian, Chinese, Russian, Norwegian, Portugeuse, Swedish, Dutch, Danish

Reads scanned language

✓

✓

✓

✓

✓
* Note: If you can use a yellow highlighter pen to highlight text in a book/on paper then you could get some use out of this Pen.

** Note: If you mother tongue is not listed above, the LingoPen will still help you learn English however it will not translate the word back into your language