ANYCUBIC Photon Mono X2 Resin 3D Printer, 9.1" 4K UV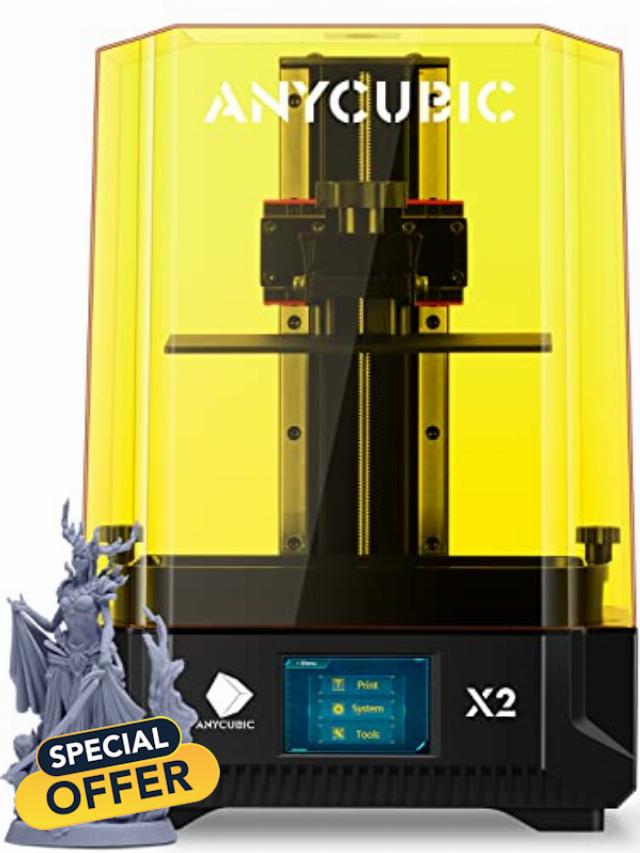 ANYCUBIC Photon Mono X2 Resin 3D Printer, 9.1" 4K UV LCD 3D Printer with 4098 x 2560 HD Monochrome LCD Screen, Upgraded Light Turbo Matrix Light Source & Dual Linear Rail, Printing Size 7.7"x5"x7.8"
【4K+ Higher Precision】Photon Mono X2 3d printer has 4K+ screen pixels with a resolution of 4,096 x 2,560px, the single pixel accuracy is able to reach 48um, which is 4% better than Photon Mono X, offering you a greater level of details.
【Dual Linear Rail】ANYCUBIC Photon Mono X2 3d resin printer uses a dual linear rail and POM clearance nut combined with a vibration absorption structure to ensure z-axis operation accuracy and allow users to effectively eliminate layer lines.
【Uniform Light Source】Equipped with an improved ANYCUBIC Light Turbo matrix light source, it can project the UV light both parallel and perpendicular to the LCD screen, offering a much more uniform light exposure, thus improving the quality of 3d printing models.
【Great Slicer Compatibility】ANYCUBIC resin 3d printer is fully compatible with ANYCUBIC Photon Workshop, Chitu and LycheeSlicer, support 8X anti-aliasing, very easy to use, bringing you a comfortable printing experience(this printer does not support Anycubic Cloud service).
【Laser Engraved Build Plate】ANYCUBIC Photon Mono X2 Resin 3D Printer adopts a laser-engraved build plate with textured checkerboard pattern, effectively increasing the adhesion of the model when printing and improving the success rate, making remove the model easier after printing. At the same time, anti-scratch film can reduce the screen damage caused by resin leakage and save the high cost of replacing the screen.
---
Product Description
Applicable Slicing Software
Anycubic Photon Mono X2 is compatible with it's own slicer Photon Workshop, as well as CHITUBOX, Lychee and other slicing softwares. If you use CHITABOX, it need to add a plugin in the current version 1.9.4. A newer version will be compatible with mono x2 soon
Dual Liner Rail
Dual linear rail and POM clearance nut combined with a vibration absorption structure to ensure z-axis operation accuracy, those can reduce delamination caused by vibration
Laser Engraved Platform
The build plate has a texturized checkerboard pattern that greatly improves adhesion and print success rate
Screen Protector
The screen protector comes with Photon Mono X2, so you won't accidentally scratch and ruin the screen, thus the LCD screen lifespan can be extended. 1pcs protection film and tools are included
| | |
| --- | --- |
| Machine Weight | 15.6lb. |
| Control Panel | 3.5″TFT touch-control |
| Machine Dimensions | 11.4 (L) x 10.24 (W) x 16.41 (H) in |
| | |
| --- | --- |
| Data Input | USB Type-A 2.0 |
| Power Supply | 100W rated power |
| Printing Speed | ≤6cm/hr.2.36in/hr. |
LCD Type

9.1'' Mono LCD

6.6'' Mono LCD

13.6'' Mono LCD

10.1" Mono LCD

10.1" Mono LCD

Build Area

7.7"x4.8"x7.8"

6.49'' x 5.62'' x 3.5''

11.7''x6.5''x11.81''

8.58" x 4.84" x 7.87"

8.58" x 4.84" x 7.87"

XY Resolution

5760*3600(6K)

4096*2560(4K+)

6480 x 3600(7K)

11520*5120(12k)

11520*5120(12k)

Z Axis Accuracy

0.01mm

0.01mm

0.01mm

0.01mm

0.01mm

Printing Speed

Max 60mm/h

Max 50mm/h

Max 60mm/h

Average 105mm/h

Max 50mm/h

Max Cure Size

190x245mm

Max Wash Size

192x120x290mm