Baby Monitor Floor Stand, Aluminium Alloy Camera Stand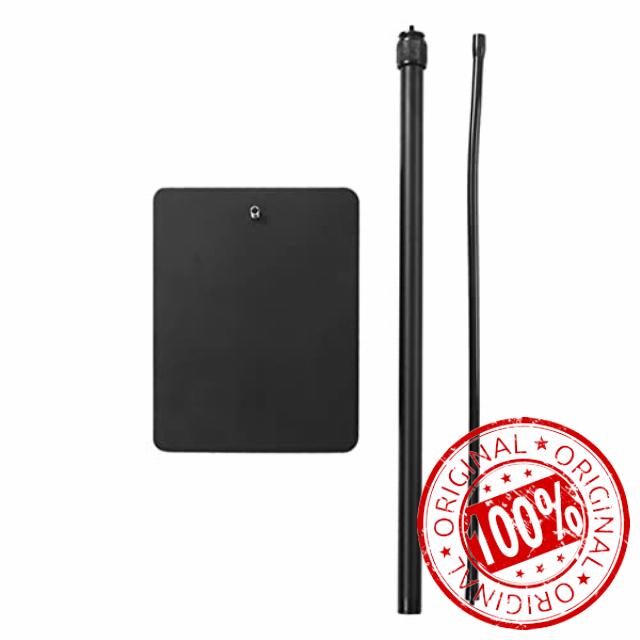 Baby Monitor Floor Stand, Aluminium Alloy Camera Stand Flexible Baby Camera Holder Baby Monitor Holder Infant Monitor Stand 180CM
Feature:
1. Highly Secure: In contrast to traditional baby monitor stands, this stand is often secured to the bed or pram and can easily be grasped by the baby, leading to potential falls and injuries, our floor stands are placed on the floor, well beyond the baby's reach, making them a much safer option.
2. Strong Stability: This baby monitor stand features a heavy duty metal base to make the floor stand more stable, a non slip pad under the base to keep your floor away from scratches, and the entire round tube section and the flexible gooseneck on top are also made of all metal for strength and stability.
3. Wide Versatility: This baby monitor mount is compatible with for Infant Optics DXR 8 or DXR 8 Pro, for Arlo, for VAVA, for Owlet, for baby monitor cameras and any camera with a 1/4 threaded hole.
4. Height Can Be Adjusted: The height of this baby monitor stand can be changed from 125 cm to 180 cm by assembling different numbers of metal tubes for the floor stand, in addition, by bending the flexible gooseneck arm, you will always have a perfect view of your baby monitor without any blind spots.
5. Exquisite Appearance: The finish of this baby monitor stand complements any nursery décor, making our floor stand a stylish and practical addition to your baby's room.


Specification:

Item Type: Baby Monitor Mount
Material: Aluminium alloy
Size:
Maximum Size: Approx. 180cm / 70.87in
Base Size: Approx. 29 x 22cm / 11.42 x 8.66in
Movable Size: Approx. 125 ~ 180cm / 49.21 ~ 70.87in

Package List:
1 x Base
2 x Bracket

Highly Secure: In contrast to traditional baby monitor stands, this stand is often secured to the bed or pram and can easily be grasped by the baby, leading to potential falls and injuries, our floor stands are placed on the floor, well beyond the baby's reach, making them a much safer option.
Strong Stability: This baby monitor stand features a heavy duty metal base to make the floor stand more stable, a non slip pad under the base to keep your floor away from scratches, and the entire round tube section and the flexible gooseneck on top are also made of all metal for strength and stability.
Wide Versatility: This baby monitor mount is compatible with for Infant Optics DXR 8 or DXR 8 Pro, for Arlo, for VAVA, for Owlet, for baby monitor cameras and any camera with a 1/4 threaded hole.
Height Can Be Adjusted: The height of this baby monitor stand can be changed from 125 cm to 180 cm by assembling different numbers of metal tubes for the floor stand, in addition, by bending the flexible gooseneck arm, you will always have a perfect view of your baby monitor without any blind spots.
Exquisite Appearance: The finish of this baby monitor stand complements any nursery décor, making our floor stand a stylish and practical addition to your baby's room.
| | |
| --- | --- |
| SKU: | B0C4PQC6YC |
| Dimensions: | ‎67 x 27 x 8 cm; 2.67 Kilograms |
| Brand: | ‎SALALIS |
| Pack Quantity: | ‎1 |
| Manufacture: | ‎SALALIS |
| Quantity: | ‎1 |
| Reference: | ‎SALALIS7yeubv64p21818 |