Bundle of Ninja Woodfire Electric BBQ Grill & Smoker, 7-in-1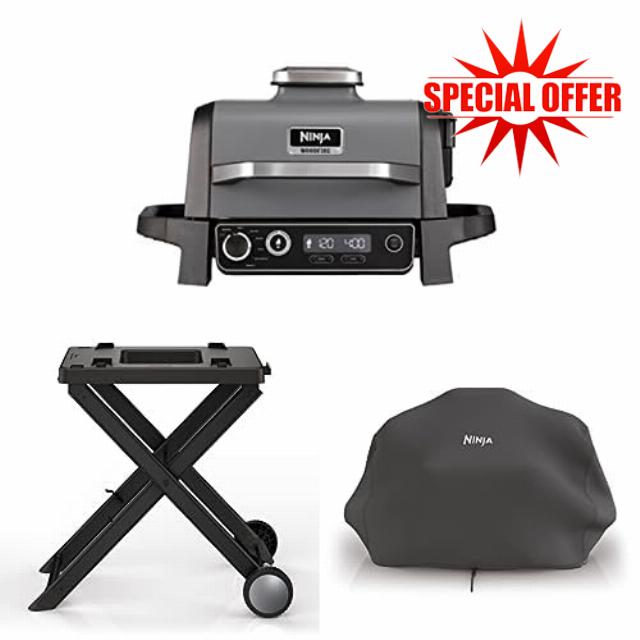 Bundle of Ninja Woodfire Electric BBQ Grill & Smoker, 7-in-1 Outdoor Barbecue Grill & Air Fryer OG701UK + Official Folding Grill Stand + Official Water Resistant Grill Cover Anti-Fade
DISCOVER A NEW WAY TO COOK OUTDOORS: All-in-one BBQ grill, smoker and air fryer with authentic woodfire flavours.
FOLDING GRILL STAND: Provides a stable surface for cooking with your Ninja Woodfire Electric BBQ Grill, then folds away for compact storage.
ALL-YEAR-ROUND OUTDOOR STORAGE: Built to protect your grill all year round, keep your Ninja Woodfire Electric BBQ Grill looking its best with this durable cover.
7 OUTDOOR COOKING FUNCTIONS: Grill, Smoke, Air Fry, Roast, Bake, Reheat, Dehydrate.
CUSTOM MADE: Designed to keep your grill in place. Easy to take anywhere with large wheels. Premium quality, official Ninja accessory.
DURABLE: Made from anti-fade, water resistant, lightweight fabric to keep the elements out.
ALL THE FLAVOUR WITHOUT THE FUSS OF CHARCOAL OR GAS: Powered by electricity, it's always ready to plug in and go.
UTENSIL HOLDER: Hang your cooking utensils on the handy hooks for easy access during your BBQ.
SNUG FIT: Elastic drawstring keeps the cover tight and in place
WOODFIRE TECHNOLOGY: Fire up the flavour. Integrated smoker box burns 100% real wood pellets for natural woodfire flavours.