CARPURIDE Wireless Apple Carplay & Android Auto, Portable 7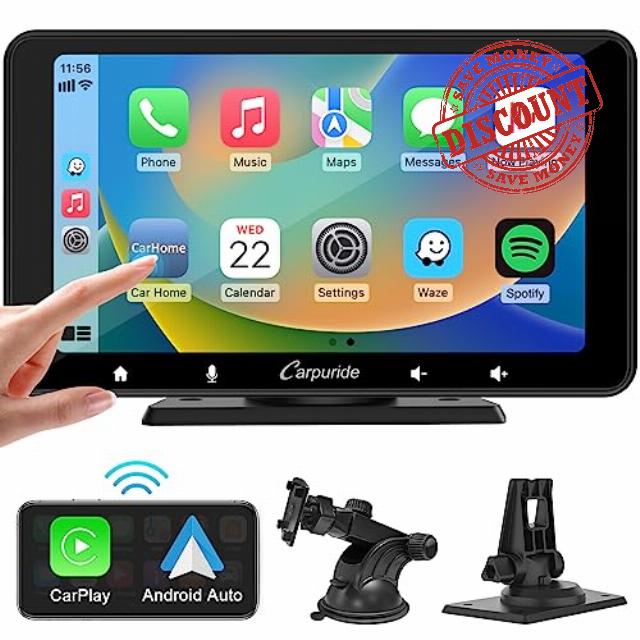 CARPURIDE Wireless Apple Carplay & Android Auto, Portable 7 Inch HD Touchscreen Car Stereo, Car Radio Receiver with AirPlay Mirror Link,Bluetooth 5.0,Navigation,Siri,Google,FM/AUX Transmitter.(WP708)
🚘【Wireless Carplay and Android Auto with Voice Control】: CARPURIDE 7 inch portable car stereo is compatible with Apple CarPlay and Android Auto, It has the latest voice control technology, just connect with your smartphone that makes it possible for you to access map navigation, phone contacts, email, music, notification,text messages, radio, podcasts, audiobooks and more with the help of Siri or Google assistant, Keep your hands free, so you can focus on the road and drive in complete safety.
🚘【7 inch HD Touch Screen and Bluetooth 5.0】: Carpuride W708 car audio receiver equipped with 7" HD capacitive touchscreen with resolution of 1024*600, more intuitive visuals and responsive touch. With Bluetooth 5.0 enabled for wireless hands-free calling and audio streaming, when paired with your smartphone. Connect your car speakers via FM/AUX, you can enjoy clear and stable stereo sound effect, the car multimedia player will give you a fantastic experience.
🚘【IOS/Android Mirror Link】: Our car multimedia system support mirror link function can sync audio,video,games and application content from your phone to the screen of the carpaly entertainment system in real time, providing a richer display space and functional experience. Compatible with most IOS/Android smartphones, IOS : Airplay Wireless/Wired Mirror Link,for iPhone 6 and above system,Android : Autolink Only Support Wired Mirror Link,for Android 11 or above system and 5GHz WF Android phone.
🚘【Sensor Light Design&Built in EQ】:The sensor light is specially design to protect your eyes while driving. As you drive through the tunnel, the sensor light automatically brighten the display. When you leave the tunnel, the sensor light automatically dims the display to prevent eye strain and ensure optimum visibility. built-in preset EQ and user-customized 16-band HD EQ with 12 adjustable frequency section, you can enjoy a wide range of music style, rock, jazz and other sound effects.
🚘【Three Audio Output Modes】: W708 Car stereo with an 8Ω2W local speaker, providing sound alone; Use AUX cable connects car and car stereo,hear sound from car's local speaker; Adjust car stereo's FM and car's FM to the same frequency, freely choose radio station, listen to real-time radio, weather forecast. External microphone (3.5mm jack), you can enjoy high quality conversation and music, Reasonable interface design, easy to hide cable wires, which looks more beautiful and saves space.
🚘【Ajustable Brackets & Easy to Installation】:Our portable Apple car player, which includes two adjustable brackets that can be lock fixed to your dashboard or windshield, has a full 360° rotation and swivel function and can be easily adjusted to the perfect viewing angle according to your personal visual habits, you don't need to disassemble your car's console, plug and play, so that you can save a lot of installation costs.
🚘【Support Rear Camera & Free Custom Boot LOGO & Screen】: Carpuride apple carplay radio stereo, support rear view camera with an automatic display of image when in reverse. (Backup camera not included). We also provide personalized customization of boot LOGO and screen for free. For example, you can set your boot logo to be consistent with your car model or set the boot screen to display your favorite personal photo or family picture.
🚘【Compatible with Most Models】: The Carpuride 7-inch car audio system is powered by a cigarette lighter and has a voltage range of 12-24V, making it suitable for almost all cars, RVs, SUVs, Pickups and trucks regardless of their year and model. Please note that Volkswagen owners need to install an extra relay to install the rear view camera, as the camera is not included in the package.
🚘【Carpuride Series Not Compatible with Polarized Glasses】: The Carpuride series is not compatible with polarized glasses and is not anti-glare. If you use polarized glasses when driving, please purchase anti-glare film in suitable sizes to prevent the screen from turning black and becoming difficult to see.
🚘【Customer Service & Products Included】: Carpuride customer service team will provide you with satisfactory after-sales service, if you have any problems in the process of using, please contact us by email or call the US customer service number, we will have professional staff to help you solve the problems. Products Included: 1x Car Stereo Radio, 2 x Adjustable bracket, 1x Car Charger, 1x User Manual.
---
Product Description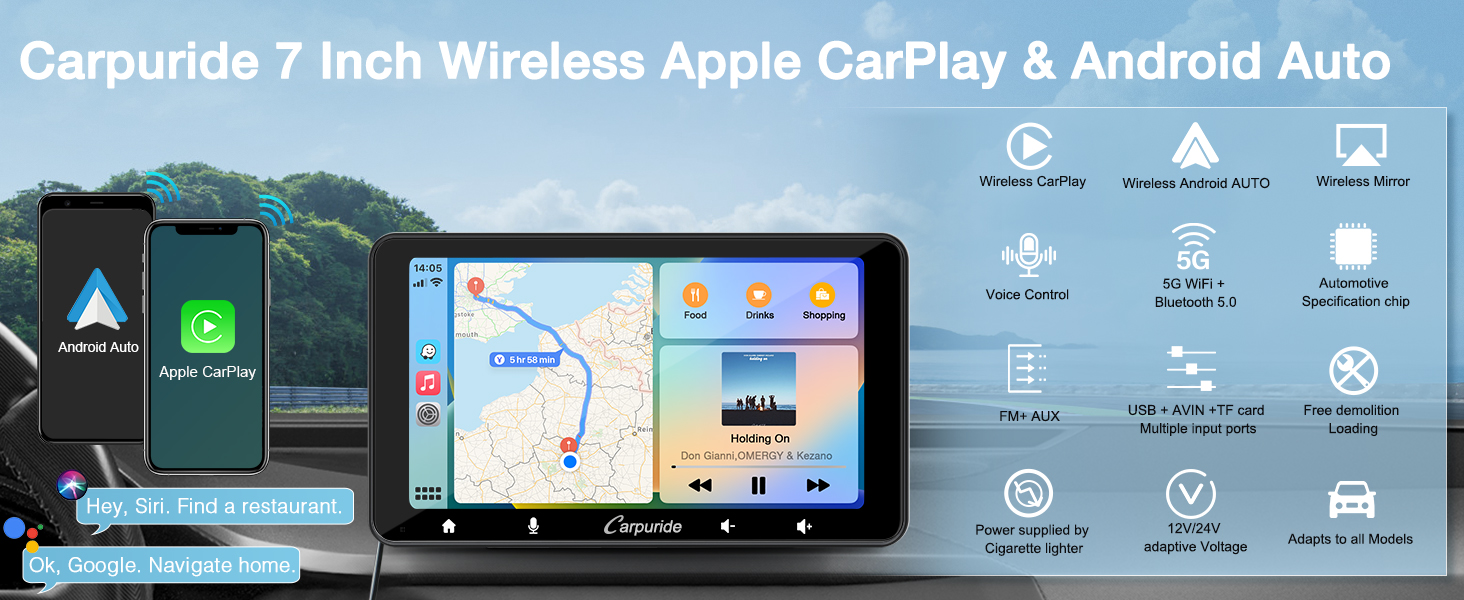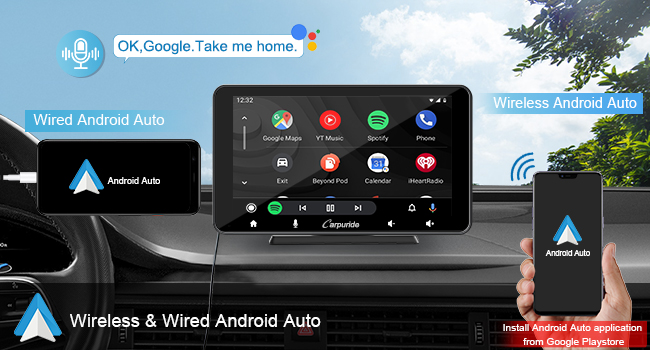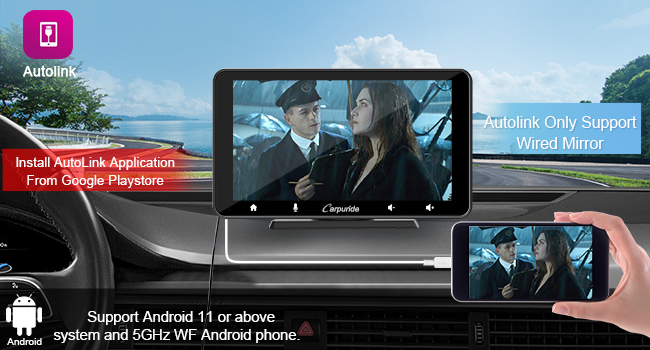 Autolink Only Support Wired Mirror Link
Autolink can sync audio,video,games and application content from your Android phone to the screen of the carplay entertainment system in real time, providing a richer display space and functional experience.

Android System: Support Android 11 or above system and 5GHz WiFi Android phone.
Bluetooth Music

Supports wireless Bluetooth for hands-free calling and enjoying music.

Map Navigation

With the map app on your smartphone, you can navigate using your car GPS.

Siri / Google Voice Control

With the help of Siri or Google assistant, free your hands , drive safety on the road !

Sensor Light Design

Automatically adjust the screen brightness according to the ambient brightness.

7 inch HD Touchscreen

2.5D glass HD touch screen brings excellent visual experience and responsive touch feeling.

Use Fm or Aux TO Get Better Sound Effect !

For better sound effect, it is recommended that use fm or Aux to connect your car speakers.
1
Three Audio Output Modes
2
Suit For Most Car Models
3
Customized Boot Logos
4
Product List
5
Easy to Install
Is there a paid software upgrade for this car stereo?
There is no paid. The software is constantly being optimised and upgraded,we can send you new free upgrades to the software. (Please send us your order number and version number).
How to customize the boot LOGO screen?
It is FREE. Send us the picture and the item vesion number (find in setting).
What should I do if I receive a broken car stereo or accessory?
If problem about cables, cigarette lighters, brackets, etc., please tell us, we can send you new replacements. In addition, the product provides 1 month free returns and 2 year repair.
What do I do if I can't connect to carpaly or other functions ?
Our car player is a complex functional product, which may be used incorrectly, resulting in failure to connect. You can read the information on product page or refer to User manual, or tell us for help.
How to install this Carplay?
Because it is portable and comes with two adjustable brackets, so easy to install ,it only takes about 3-5 minutes, not like traditional carpaly which has many wires,and save a lot of installation costs.
please refer to User manual.