Cast Iron Gas Burner Wok Stir Frying Triple High Power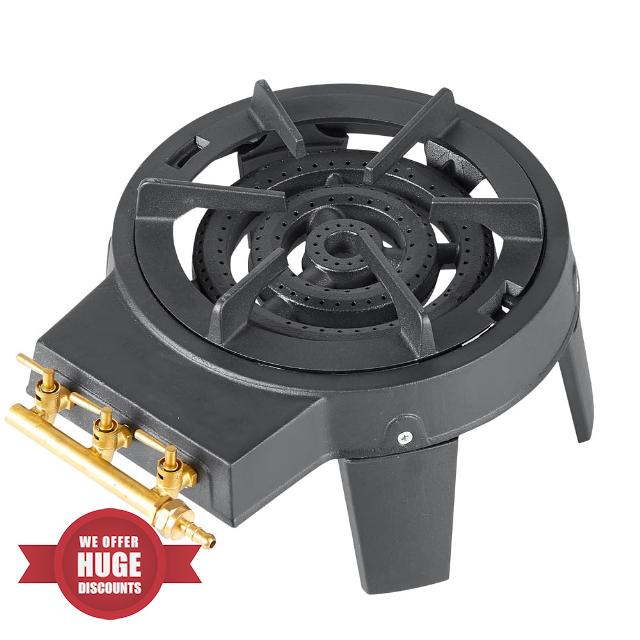 Cast Iron Gas Burner Wok Stir Frying Triple High Power Boiling Ring LPG 3 Burners Cooker Outdoor Catering Camping Stove Party Wedding
POWERFUL TRIPLE BURNER : Our LPG triple burner provides three high-performance flames for efficient and versatile cooking. It's perfect for large families, parties, or professional kitchens.
INSTANT HEAT CONTROL: With individual control knobs for each burner, you can easily adjust the flame intensity for precise cooking temperatures. From simmering to boiling, our triple burner offers excellent heat control
COMPACT AND PORTABLE: This triple LPG burner is designed to be compact and portable, making it convenient for outdoor gatherings, camping trips, or as an additional cooking option in your kitchen. It's easy to transport and store when not in use.
DURABLE CONSTRUCTION: Crafted with high-quality materials, our triple LPG burner is built to last. The sturdy construction ensures stability while cooking, and the burners are designed to withstand high heat and heavy use.
EASY TO CLEAN: The burner's surface is made of a non-stick material that makes it easy to clean after use. Simply wipe it down with a damp cloth or sponge, and you're good to go. Spend less time on clean-up and more time enjoying your meal.
SAFE AND RELIABLE : Our triple LPG burner is equipped with safety features such as flame failure protection and a built-in gas leakage prevention system. You can enjoy cooking with peace of mind, knowing that your safety is a top priority.
SLEEK AND MODREN DESIGN: The triple LPG burner features a sleek and modern design that complements any kitchen decor. Whether you have a contemporary or traditional kitchen, this burner will add a touch of elegance to your cooking space.
| | |
| --- | --- |
| SKU: | B0CB1TGSNM |
| Weight: | 7.8 kg |
| Dimensions: | 32 x 32 x 9 cm; 7.8 Kilograms |
| Brand: | RMW |
| Colour: | Black |
| Colour: | Black |
---
Product Description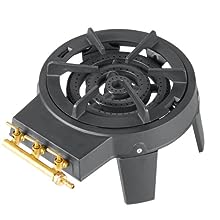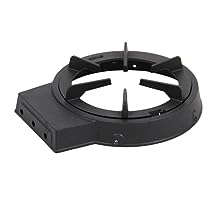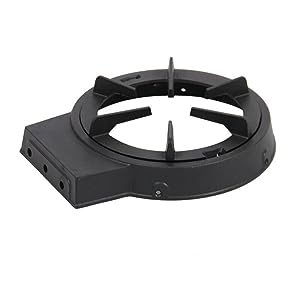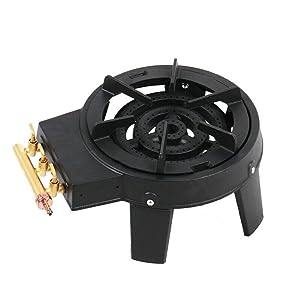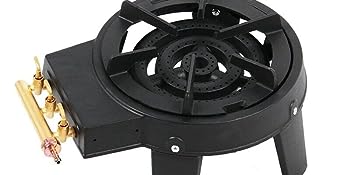 Box includes
1 x Gas stove

1 x Pan Stand

4 x Legs

1 x Valve

1 x Propane/Butane Gas Regulator
Make sure your gas regulator is compatible with your gas bottle
Propane 37mbar Screw-on – 13kg, 19kg, 3.9kg, 47kg, 6kg Propane

Butane 29mbar Screw-on – 4.5kg Butane

Propane gas 27mm Clip-on – 13kg Patio gas, 5kg Patio gas

Butane 21mm Clip-on – 15kg, 7kg Butane
For the installation of the appliance you will also need

Butane/propane gas Bottle

Low-pressure gas regulator; operating pressure: 28-30/37 mbar.

Standard gas hose (max. length 1.5 m) in compliance with relevant standard for the country of use

Please Note: Gas Cylinder is not included!