Celestron 21063 AstroMaster 90AZ Refractor Telescope & 93640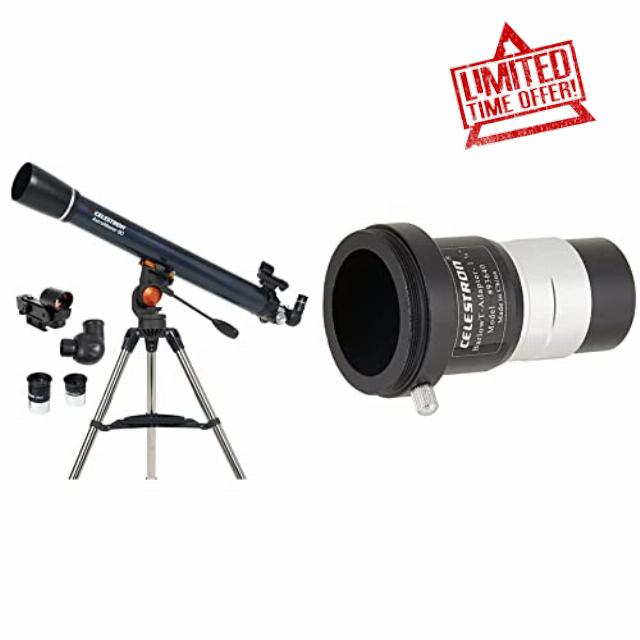 Celestron 21063 AstroMaster 90AZ Refractor Telescope & 93640 1.25 Inch Universal Barlow and T-Adaptor, Silver/Black
Celestron 21063 AstroMaster 90AZ Refractor Telescope
If you're looking for a dual-purpose telescope appropriate for both terrestrial and celestial viewing, then the AstroMaster Series is for you. Each AstroMaster model is capable of giving correct views of land and sky. The AstroMaster Series produce bright, clear images of the Moon and planets. It is easy to see the moons of Jupiter and the rings of Saturn with every one of these fine instruments. For views of the brighter deep space objects like galaxies and nebulae, we recommend the larger aperture and light gathering ability of the Newtonian reflectors.

Celestron 93640 1.25 Inch Universal Barlow and T-Adaptor, Silver/Black
Universal 31.7mm T-Adapter. Similar to #93625 but in addition includes an integral 2x Barlow lens which can be used visually or photographically
If you'd like some flexibility in your astrophotography set-up, consider the Celestron Universal Barlow & T-Adapter (93640). This 1.25" accessory can be used three ways: as a 2X Barlow for visual use, as a prime focus T-adapter, or as a "Barlowed" T-adapter for double the magnification and the benefit of extra inward focus travel. The Universal Barlow & T-Adapter can be used as a 2X Barlow right out of the box. Insert any 1.25" eyepiece into the chamber and you'll enjoy double the magnification, while retaining all the eye relief of the inserted eyepiece. The Celestron Universal Barlow & T-Adapter can also be used for prime focus photography, which means you use the telescope as a photographic lens—a very big photographic lens! Just unscrew the bottom section of the unit to remove the Barlow and slide the chrome barrel into the telescope's 1.25" focuser or adapter. Lock it firmly in place with the focuser or adapter thumbscrew. T-threads on the top of the adapter screw into a T-Ring (sold separately) that is designed to attach to the brand-specific mounting flange of your DSLR or SLR camera.
Product 1: Quick and easy no-tool setup StarPointer finderscope. Erect image optics – Ideal for terrestrial and astronomical use. Quick release dovetail attachment – no tool setup.
Product 1: Pan handle Alt-Az control with clutch – for smooth and accurate pointing. Rugged pre-assembled tripod with 1.25" steel tube legs – Provides a rigid and stable platform. All coated glass optics for clear, crisp images
Product 1: Deluxe accessory tray for convenient storage of accessories.
Product 1: BONUS Astronomy Software download with a 10,000 object database, printable sky maps and 75 enhanced images.
Product 2: The Celestron Universal Barlow & T-Adapter is three accessories in one
Product 2: 2X Barlow: Use during visual observing to double the magnification of every 1.25" eyepiece you own
Product 2: Prime Focus Photography: Use the T-Adapter portion of this accessory to transform your telescope into a giant telephoto lens
Product 2: Tele-Extended Photography: Use the T-Adapter with Barlow to get double the magnification of prime focus mode