Celestron 22460 StarSense Explorer DX 102AZ Smartphone
Celestron 22460 StarSense Explorer DX 102AZ Smartphone App-Enabled Refractor Telescope, iPhone/Android Compatible, Grey & 94307 AstroMaster Telescope Accessory Kit, Black
Celestron 22460 StarSense Explorer DX 102AZ Smartphone App-Enabled Refractor Telescope, iPhone/Android Compatible, Grey
Celestron has reinvented the manual telescope with StarSense Explorer, the first telescope that uses patent-pending sky recognition technology and your smartphone to analyze the sky and calculate its position in real time. Thanks to the app's user-friendly interface and detailed tutorials, it's like having your own personal tour guide of the night sky. Dock, Launch, Explore Leave complicated star charts, imprecise planetarium apps, and computerized mounts behind. With StarSense Explorer, locating objects has never been easier, faster, or more accurate. Within minutes, you'll be navigating the sky with confidence. Place your phone in the unique StarSense dock and launch the app. After a simple, 2-minute alignment procedure, StarSense Explorer generates a list of celestial objects currently visible. Make a selection and arrows appear onscreen, guiding you as you move the telescope. When the object is ready to view, the bullseye turns green. High Quality Optics and Altazimuth Mount With a large 102mm (4") objective lens equipped with XLT optical coatings, this telescope has enough light gathering ability to deliver impressive views, especially when you bring it to a dark sky location. Enjoy sharp, bright views of Jupiter's four Galilean moons, its cloud bands and Great Red Spot, the rings of Saturn, the trapezium in the Orion Nebula, and the beautiful Pleaides Open Star Cluster. An ultra-stable altazimuth mount with full-height tripod anchors the telescope. Slip clutches and geared slow motion controls in both axes help you scan the sky smoothly, following objects with just a turn of the knobs. The entire kit weighs just 14.2 pounds. Compatibility StarSense Explorer works with iPhone 6 and up and most devices running Android 7.1.2 or later manufactured since 2016. For a complete compatibility list, visit

Celestron 94307 AstroMaster Telescope Accessory Kit, Black
Get more enjoyment from your telescope with the Celestron AstroMaster Accessory Kit. Inside the plastic, foam-lined carry case you'll find these accessories:
(15 mm Kellner Eyepiece – 1.25", 6 mm Plossl Eyepiece – 1.25", 2X Barlow Lens with T-threads – 1.25", #80A Blue Filter – 1.25", #25 Red Filter – 1.25", Moon Filter – 1.25", and Microfiber Cleaning Cloth)
Eyepieces – The 15 mm and 6 mm eyepieces can be used in any telescope with a 1.25" focuser. Each eyepiece is fully coated to improve light transmission and protect the optics. The 15 mm Kellner eyepiece offers a nice medium magnification view in most telescopes, and the 6 mm Plossl provides high magnifications, great for the Moon and planets, especially when seeing conditions are good.
2x Barlow Lens – Insert the 2x Barlow Lens between the eyepiece and the telescope and it doubles the magnification of any 1.25" eyepiece. That means the 15 mm Kellner included in this kit will double in power, effectively becoming a 7.5 mm eyepiece, and the 6 mm will provide the magnification of a 3 mm. Any other 1.25" eyepieces you already have will also work in this versatile accessory, giving you even more magnification choices. Remember, high magnifications do not always produce clear, sharp results, especially on evenings of poor or moderate seeing conditions. Experiment to find the magnifications that are best for you and your telescope. T-Threads are machined into this Barlow lens, allowing a user to attach a DSLR camera with the addition of an optional T-Ring.
Filters – Colored filters can be used to bring out certain details on a planet's surface or its cloud structure. Both planetary filters, as well as the Moon filter, can be used on any 1.25" eyepiece with the proper filter threads, so they are very versatile. Just screw one onto your eyepiece of choice and slide it into the focuser.
The #80A is a medium-blue filter that enhances the contrast of the cloud belts on Jupiter and the polar ice caps on Saturn. It also can be used to increase contrast on the Moon if you don't mind the color shift.
The #25 filter is a deep red color and is a good choice when you want to define the polar ice caps on Mars. It's also fun to use this filter when observing Jupiter. The #25 Red filter blocks quite a bit of light coming through your telescope, however, so it is best used on bright objects with larger aperture telescopes.
The Moon filter is one of the first accessories most new amateur astronomers buy, and for good reason! It helps block out a portion of the light the Moon sends into your eyepiece so that you can see details better. You can also try this filter on Venus; it helps you see the planet's phases.
Cleaning Cloth and Case: Keep the micro-fiber cleaning cloth stashed in your AstroMaster Accessory Kit case so that it will always be handy. It's much better to use a micro-fiber cloth on your optics than other wipes or tissue, as it does not leave a residue, and can be reused. Remember to blow or brush any dust particles off of your optics before rubbing them with the cloth.
The black plastic carry case has die-cut foam inside to protect and cushion your accessories. Keep each one in its appointed place when not in use and you'll keep them looking and performing like new.
Product 1: SUPERIOR OPTICS: The Celestron 70mm Travel Scope features high-quality, fully-coated glass optics, a potent 70mm objective lens, a lightweight frame, and a custom backpack to carry it all; Its quality is unmatched in its class and against competitors
Product 1: POWERFUL EYEPIECES FOR UP-CLOSE VIEWING: Our telescope for astronomy beginners is equipped with two high-quality eyepieces (20mm and 10mm) that provide low- and high-power views of celestial objects at night and terrestrial objects during the day
Product 1: BONUS BAG, TRIPOD, AND SOFTWARE: This Celestron telescope and full-height tripod can be taken anywhere in the included travel backpack; Accessories also include a FREE download of one of the top consumer rated astronomy software programs
Product 1: UNBEATABLE WARRANTY AND CUSTOMER SUPPORT: Buy with confidence from the world's #1 telescope brand, based in California since 1960; You'll also receive a two-year warranty
Product 2: This economical eight-piece eyepiece and filter accessory kit enhances the performance of your Celestron AstroMaster, or most any other telescope. Includes two 1.25" eyepieces, a 2X Barlow lens, three filters, a cleaning cloth, and a case!
Product 2: With two extra eyepieces and a Barlow lens, you get four different magnifications to choose from.
Product 2: A Moon filter helps block out some moonlight so you can see more lunar detail, and the two color filters (Red and Blue) highlight features on Mars, Jupiter, and Saturn.
Product 2: A plastic, hard carry case keeps everything safe in the foam-lined interior.
| | |
| --- | --- |
| SKU: | B0C2YTLBTG |
| Weight: | 14.2 Pounds |
| Brand: | Celestron |
---
From the manufacturer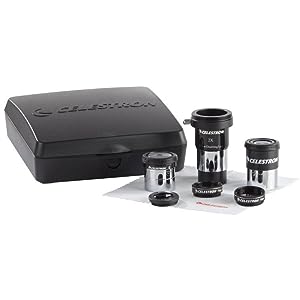 Celestron AstroMaster Telescope Accessory Kit
This economical eight-piece eyepiece and filter accessory kit enhances the performance of your Celestron AstroMaster, or most any other telescope

Includes two 1.25" eyepieces, a 2X Barlow lens, three filters, a cleaning cloth, and a case!

With two extra eyepieces and a Barlow lens, you get four different magnifications to choose from

A Moon filter helps block out some moonlight so you can see more lunar detail, and the two color filters (Red and Blue) highlight features on Mars, Jupiter, and Saturn

A plastic, hard carry case keeps everything safe in the foam-lined interior
Product Description
Get more enjoyment from your telescope with the Celestron AstroMaster Accessory Kit. Inside the plastic, foam-lined carry case you'll find these accessories:
15mm Kellner Eyepiece – 1.25"

6mm Plossl Eyepiece – 1.25"

2X Barlow Lens with T-threads – 1.25"

#80A Blue Filter – 1.25"

#25 Red Filter – 1.25"

Moon Filter – 1.25"

Microfiber Cleaning Cloth