Duronic Air Fryer AF24, 9L Large Dual Zone Family Sized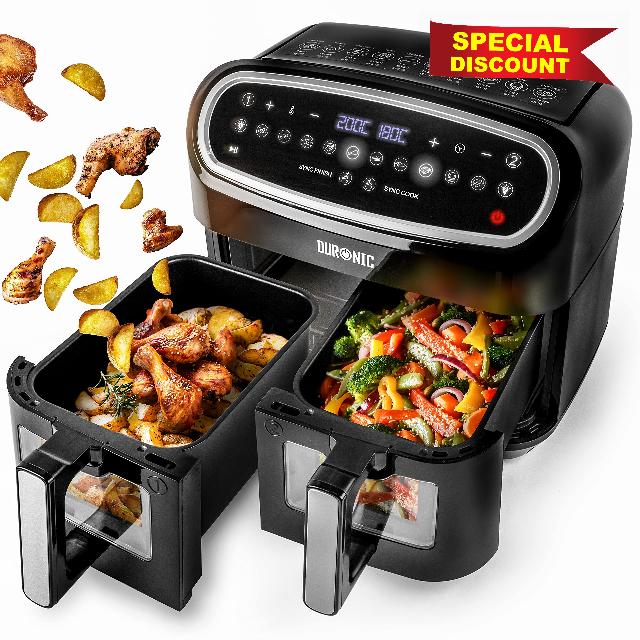 Duronic Air Fryer AF24, 9L Large Dual Zone Family Sized Cooker, Double Basket Frying Drawer, Sync Cook and Sync Finish, 10 Pre-Set Cooking Programs, Digital Touch Control, Fast Healthy Oil Free Frying
INTRODUCING THE DURONIC AF24 AIR FRYER: Experience a culinary evolution with Duronic's dual air fryer, equipped with advanced hot air circulation technology. Delight in healthier, tastier dishes by using little to no oil. Its formidable 2400W power guarantees efficient cooking, ensuring each meal reaches its optimal taste and texture.
DUAL 5L DRAWERS FOR EFFICIENT COOKING: The AF24 features two 5L drawers, each designed with a clear viewing window and an internal light, making it easy to monitor your cooking progress. Plus, the removable inner cooking trays make for fuss-free serving and cleaning.
INTUITIVE TACTILE CONTROL SYSTEM: Streamline your cooking process with AF24's user-friendly tactile control panel. Expertly designed for touch operations, this air fryer promises simplicity and sophistication in one. No more button fumbling, just smooth, intuitive cooking.
ORGANISED KITCHEN, STREAMLINED COOKING: Say goodbye to messy countertops with the AF24's built-in cable storage system. Ensuring no pesky dangling wires, this feature, coupled with the fryer's compact dimensions (39×37.7×32.5) and a 105 cm cable length, ensures a neat and organized kitchen space.
EXPLORE 10 PRE-SET COOKING MODEL: Ignite your culinary creativity with 10 diverse pre-set modes, covering everything from preheating and reheating to specific settings for fries, chicken, meat, fish and vegetables. Whether you're a newbie or a seasoned chef, the AF24 ensures consistent ninja fast cooking at perfection.
ADVANCED SYNCHRONIZED COOKING: The AF24's Sync finish and Sync cook features redefine multitasking in the kitchen. Whether you're preparing contrasting dishes or simply doubling a beloved recipe, its rapid air technology guarantees perfectly synchronized, mouth-watering outcomes every time.
FROM FROZEN TREATS TO GOURMET DELIGHTS: Rediscover the joy of cooking with the AF24's versatile range. From frozen favourites like nuggets and fish fingers to gourmet meals and desserts, this air fryer ensures consistent, flavour-packed results. Dive into a world of taste with each use.
PRECISION TEMPERATURE CONTROL: Never second-guess your cooking with the AF24's precise temperature range, stretching from a gentle 50º to a robust 200º. Whether you're crisping, baking, or dehydrating, rest assured your dishes will be cooked to perfection with ninja fast speed.
HEALTHY COOKING, EFFORTLESS CLEANING: Embark on a healthier culinary journey with the AF24. Indulge in oil-free cooking without compromising on taste or texture. And once your feast is done, the dishwasher-safe drawers and trays ensure cleaning up is just as stress-free as the cooking process.
ENHANCED COOKING OPTIONS: While the AF24 doesn't include the spacious 10L drawer, the separately sold model AFD1 is a perfect addition for those family-sized meals. With dimensions of 38.8x32x14, it's tailored for family cooking, providing flexibility with its 1 or 2 cooking zones.
| | |
| --- | --- |
| SKU: | B0BMGDZ3N1 |
| Weight: | 9.29 kg |
| Dimensions: | 39 x 37.7 x 32.5 cm; 9.29 Kilograms |
| Brand: | Duronic |
| Model: | AF24 |
| Colour: | Transparent |
| Colour: | Transparent |
---
Product Description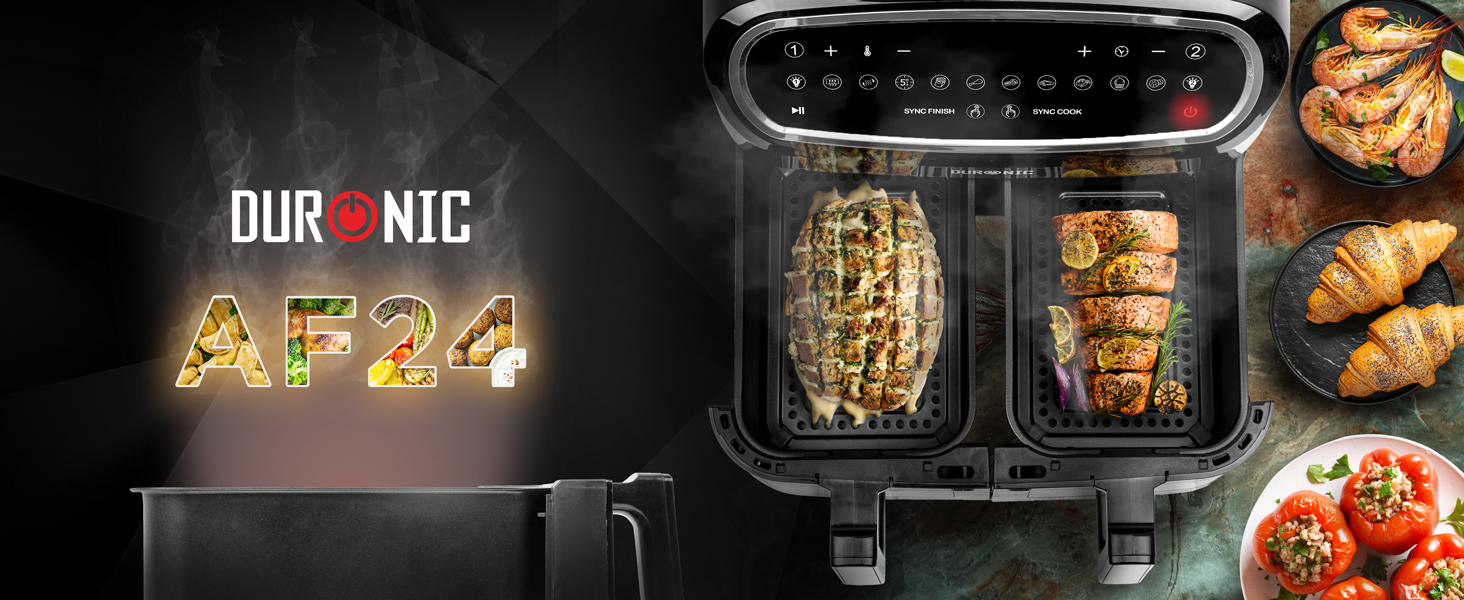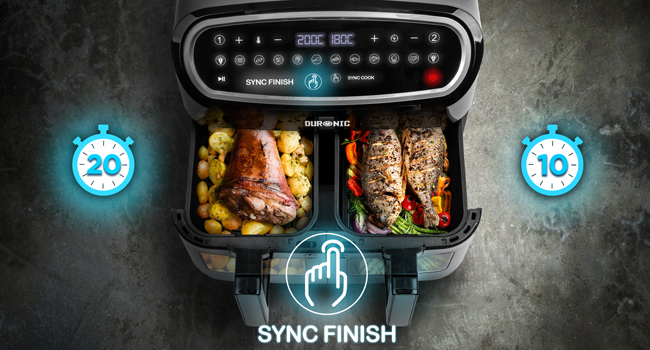 Sync Finish
The Sync Finish mode allows you to cook different foods in each Zone compartment which may require a different time or temperature to each other.
Quick Cook Function

Cook hot snacks in just 5 minutes!

Pre-Heat Function

Pre-Heat the trays to get frozen food off to a quick start

Reheat Function

Enjoy yesterday's leftovers with the reheat function

Dehydrate Function

Create healthy snacks with the Dehydrate function
1
Quick Cook
2
Pre-Heat
3
Reheat
4
Dehydrate
Additional Features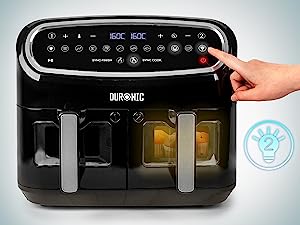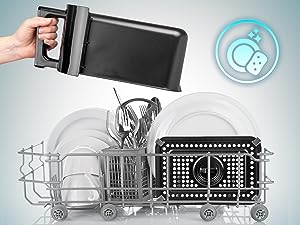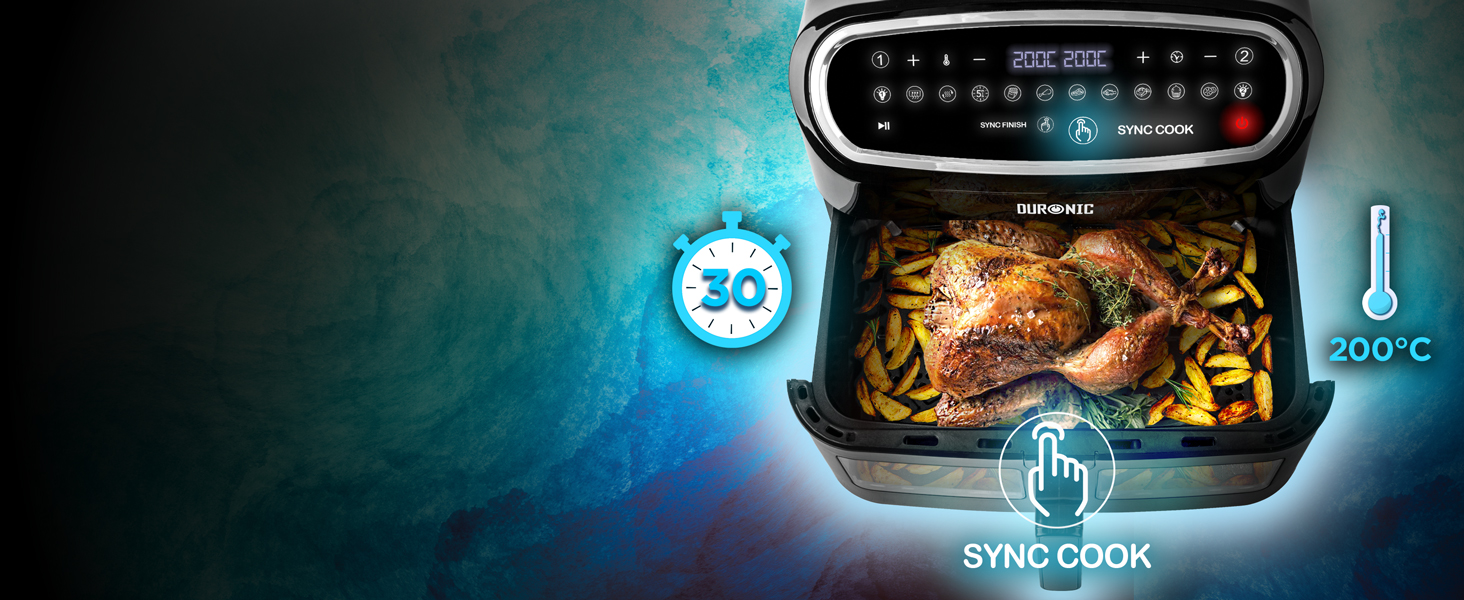 Cater for the whole family
AFD1 Large Drawer
AFD1 is a large cooking drawer that is compatible only with the Duronic AF24 air fryer. It has a large 10 litre capacity that allows you to cook a variety of foods quickly and healthily.
Just like the dual drawers of the AF24, the AFD1 has a non-stick inner tray that is removable and easy to clean