ECOVACS DEEBOT N8+ Robot Vacuum Cleaner 2300Pa
ECOVACS DEEBOT N8+ Robot Vacuum Cleaner 2300Pa with OZMO™ Mop (2.5L Auto-Empty Station, dToF Laser Detection, Carpet Detection, Multi-floor Mapping, Virtual Boundary, WIFI/Alexa/APP)
1.【Expert in robots & 2 years warranty 】 Ecovacs applies more than 23 years of expertise and innovation to researching robots. Over 20 million families who own Ecovcas robot vacuum around the world. Ecovacs' mission: a robot for every family. (Every DEEBOT comes with 2 years warranty and local hotline support.)
2.【Revolutionary Auto-Empty Station】The large volume of 2.5L can hold the dust and hair for over 4 weeks, 2 bags free your hands up to 60 days, dramatically reduces the need to frequently clean the dustbin. The Station can be smartly controlled by ECOVACS Home App, so you can also choose to turn off the "Auto-Empty" function.
3.【Precision Laser Mapping and Navigation】TrueMapping combines precision laser technology and advanced dTOF sensors to map your home 4X faster than standard laser mapping, with a 2X increase in detection distance, and the ability to detect objects down to the 2mm. With the detailed interactive map created, new levels of cleaning efficiency and customization are achievable using the ECOVACS Home App.
4.【Vacuum & Mop simultaneously】 With an innovative electronic water pump and reservoir, your robot will mop and vacuum at the same time, leaving your floor impeccably clean. Using precision micro-control water pump, the robot cleaner support 4 levels of water flow adjustment (ultra high/high/medium/low) for different needs and floor types.
5.【Max+ Mode with upgraded 2300Pa suction power】With the optimized suction channel material and design, the Revolutionary Pressure-Retention System optimizes energy efficiency and ensures high vacuum pressure, with a surprisingly low noise level. The suction power upgraded to 2300Pa, inceased by 53%*. (*compared with O950 series), delivers a powerful in-depth cleaning experience.
6.【Carpet detection】The carpet detection technology allows your robot vacuum cleaner intelligently and automatically detect and react to carpet then choose to boost the power while vacuuming or avoid the carpet during the mopping, finding the best cleaning operation for it.
7.【Precise customized cleaning】You can draw out designated areas that need the most attention on the map of your home. Now, you can even see the exact size of the target cleaning area and let robot finish the task more precisely, with flexible area cleaning, now you can rename, divide, merge areas. And you can customize specific suction power, water flow and cleaning frequency, cleaning sequence for each room, totally clean by your wish.
| | |
| --- | --- |
| SKU: | B08V85H4YL |
| Weight: | ‎3.6 kg |
| Dimensions: | ‎48.5 x 48.2 x 39.7 cm; 3.6 Kilograms |
| Brand: | ‎ECOVACS |
| Colour: | ‎White |
| Colour: | ‎White |
---
Product Description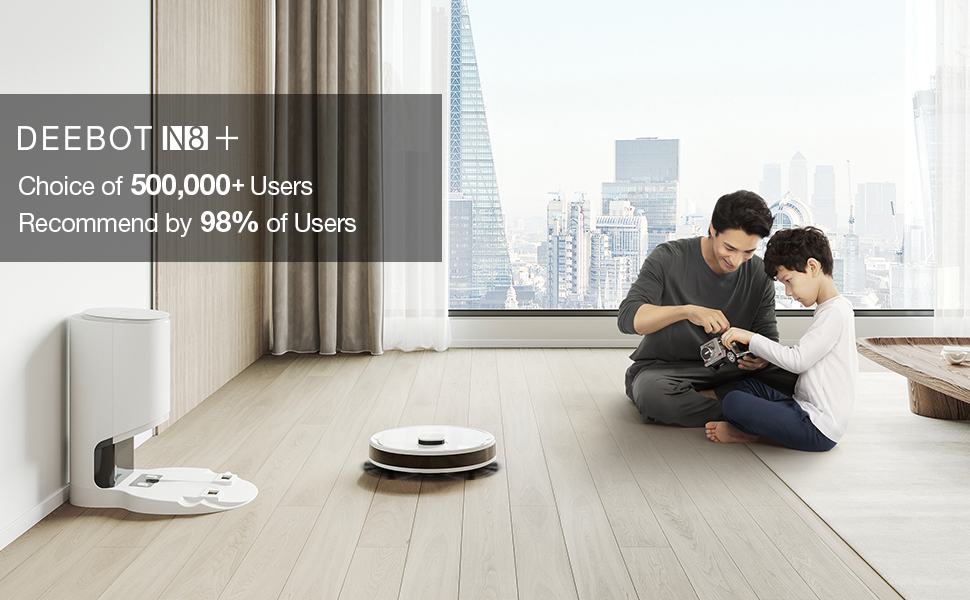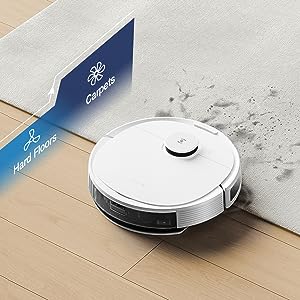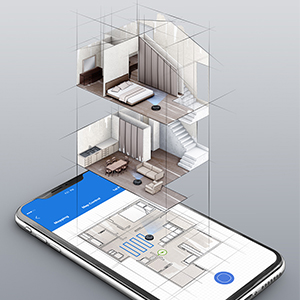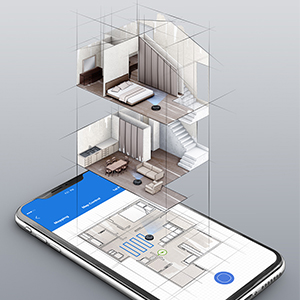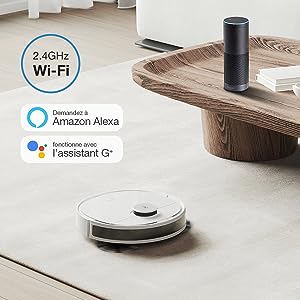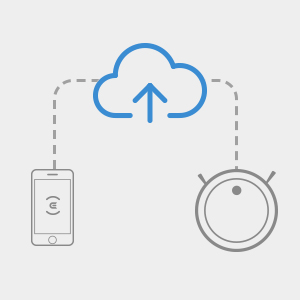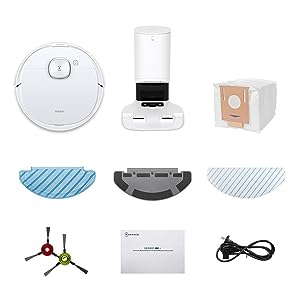 Technical Specifications
1. Suction Power: 200/600/1500/2300Pa
2. Dustbin: 420mL
3. OZMO Water Tank: 240mL
4. Water Level Adjustment: level 4
5. Water Runing Time: 150/104/86/75min
6. Obstacle crossing Ability: Max.20/13mm
7. Battery Specifications: 3200mAh/110mins
8. Weight of Robot: 3.6kg
9. Size of Robot: Φ353*93.6mm
Dust Bag: 2.5L
Automatic dust collection

TrueMapping technology, dToF laser based sensors

2300Pa for supreme cleaning

Multi-floor mapping / Virtual Boundary / Precise customized cleaning

Carpet Detection / Auto-Boost Suction / Smart Home Device Compatibility
Main Difference

Auto Dust Empty-Station(NO Auto-Cleaning Station)

Auto Dust Empty-Station(NO Auto-Cleaning Station)

Auto Dust Empty-Station(NO Auto-Cleaning Station)

ALL-IN-ONE OMNI Station

ALL-IN-ONE OMNI Station(No Auto Water Tank Refilling Function)

Auto-Cleaning Station (NO Auto Dust Empty-Station)

Auto Mop Washing/Air Drying

/

/

/

√ Hot Air Mop Drying

√ Hot Air Mop Drying

√ Cool Air Mop Drying

Auto Dust Emptying

√ 2.5L Dust Bag

√ 2.5L Dust Bag

√ 3.2L Dust Bag

√ 3L Dust Bag

√ 3L Dust Bag

/

Max Suction Power

2300Pa

4300Pa

3000Pa

5000Pa

5000Pa

5000Pa

Obstacle Avoidance

Infrared Sensor+Bumper

Infrared Sensor+Bumper

AIVI 3.0 (Camera)

AIVI 3.0+3D Structured Light (Camera)

AIVI 3.0 (Camera)

AIVI 3.0+3D Structured Light (Camera)

Control Type

APP/Alexa/Google+

APP/Alexa/Google+

OK YIKO Voice Control/APP/Alexa/Google+

OK YIKO Voice Control/APP/Alexa/Google+

OK YIKO Voice Control/APP/Alexa/Google+

OK YIKO Voice Control/APP/Alexa/Google+

Runtime/Battery/Package Weight(KG)/Station Dimension

110min/3200mAh/13 kg/430*448*441mm

300min/5200mAh/13 kg/430*448*441mm

260min/5200mAh/14.3 kg/365*360*350mm

260min/5200mAh/22.6 kg/430*448*578mm

260min/5200mAh/18.4 kg/430*448*578mm

260min/5600mAh/18 kg/430*448*441mm

All-in-One Vacuum and Mop

OZMO

OZMO

OZMO Pro 3.0 Oscillating Mopping System

OZMO Turbo 2.0 Dual Mops Spinning Pressurized Mopping

OZMO Turbo 2.0 Dual Mops Spinning Pressurized Mopping

OZMO Turbo 2.0 Dual Mops Spinning Pressurized Mopping

Mapping and Navigation Technology

TrueMapping 1.0 (DToF Laser)

TrueMapping 2.0 (DToF Laser), better than standard Laser Navigation of other brands

TrueMapping 2.0 (DToF Laser), better than standard Laser Navigation of other brands

TrueMapping 2.0 (DToF Laser), better than standard Laser Navigation of other brands

TrueMapping 2.0 (DToF Laser), better than standard Laser Navigation of other brands

TrueMapping 2.0 (DToF Laser)

Live Monitoring with Real-time Video Chat

/

/

✓

✓

✓

✓