LEGO 76414 Harry Potter Expecto Patronum 2-in-1 Set, Build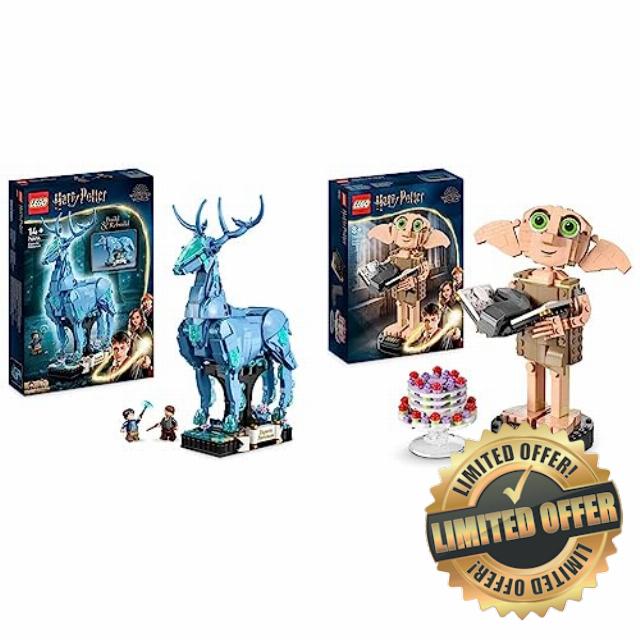 LEGO 76414 Harry Potter Expecto Patronum 2-in-1 Set, Build Stag and Wolf Animal Figures Men & 76421 Harry Potter Dobby the House-Elf Set, Movable Iconic Figure Model
LEGO 76414 Harry Potter Expecto Patronum 2-in-1 Set, Build Stag and Wolf Animal Figures, Build-Rebuild-and-Display Model, Magical Gifts for Teenage Girls, Boys, Women, Men
Build and rebuild protection from the Dementors with this spellbinding 2-in-2 LEGO Harry Potter Expecto Patronum display set (76414) for ages 14 and over. Fans can cast a powerful Patronus charm for protection against Dementors.The LEGO Harry Potter building toys set features the bricks to build either Harry Potter's Patronus or Professor Remus Lupin's wolf Patronus. Each of the animal figures features translucent light-blue elements for a magical effect, posable legs and an integrated display stand with decorative elements and space for a minifigure. The set includes a Remus Lupin minifigure and a Harry Potter minifigure with a wand accessory element – attach LEGO elements to the wand to create a 'spell-casting' effect. The LEGO Builder app guides you and your child on an intuitive building adventure with tools that let you zoom in and rotate models in 3D, save sets and track progress.LEGO Harry Potter toy building sets let young wizards, witches and Muggles role-play iconic scenes, make up their own adventures or simply display the models. This set makes a great Harry Potter decoration and a great gift for kids and teens aged 14+ years old to add to their LEGO Harry Potter collection.

LEGO 76421 Harry Potter Dobby the House-Elf Set, Movable Iconic Figure Model, Toy or Bedroom Accessory Decoration, Character Collection, Gift for Girls, Boys, Teens and All Fans Aged 8+
Delight Harry Potter fans with the first-ever LEGO brick model of Dobby the House-Elf (76421). Kids can build and display this LEGO Harry Potter set – a great addition to any LEGO Harry Potter collection!The instantly recognisable brick-built Harry Potter character figure has a posable head for different looks, and posable arms and fingers so Dobby the elf can hold the included LEGO Harry Potter accessories. There is a detailed buildable model of Harry Potter's sock with Tom Riddle's diary that Harry used to set Dobby free and Aunt Petunia's 'floating' pudding cake to inspire memories of classic scenes. This buildable Dobby the House-Elf LEGO Harry Potter figure stands over 19 cm (7.5 in.) tall. Place the Dobby figure on the buildable stand with a nameplate to complete a display piece that's sure to catch the eye of every passerby. Give your youngster an easy and intuitive building adventure with the LEGO Builder app. Here they can zoom in and rotate models in 3D, save sets and track their progress.Collectible LEGO Harry Potter building toys put favourite characters, familiar locations and magical adventures into the hands of all young wizards, witches and Muggles. This Harry Potter collectible set makes a magical gift for kids aged 8 and over and any collector of Harry Potter decorations and memorabilia.
Product 1: With this 2in1 LEGO Harry Potter Expecto Patronum figures set, fans can build either Harry Potter's stag or Professor Remus Lupin's wolf Patronus
Product 1: The Stag Patronus has posable legs, translucent light-blue elements for a ghostly look, display stand and space for the Harry Potter minifigure
Product 1: Rebuild the set into a posable Wolf Patronus and a display stand for the Remus Lupin minifigure; an eyecatching piece of Harry Potter decorations
Product 1: The LEGO Harry Potter toy set includes Professor Remus Lupin and Harry Potter minifigures with a wand accessory for a 'spell-casting' effect
Product 2: The first LEGO Harry Potter buildable model of Dobby the House-Elf – fans can build one the most beloved characters in the Wizarding World!
Product 2: The Dobby the House-Elf figure has a posable head, ears, arms and fingers so kids can change his look and he can hold the brick-built accessories
Product 2: Includes fun Harry Potter accessories including Aunt Petunia's 'floating' pudding cake and a model of Tom Riddle's diary with Harry Potter's sock
Product 2: The Dobby figure comes with a brick-built stand with a nameplate so he can be displayed as a Harry Potter bedroom accessory or decoration
›
| | |
| --- | --- |
| SKU: | B0CBVW6H4H |
| Brand: | LEGO |