Meguiar's G200416EU Hybrid Ceramic Liquid Car Wax 473ml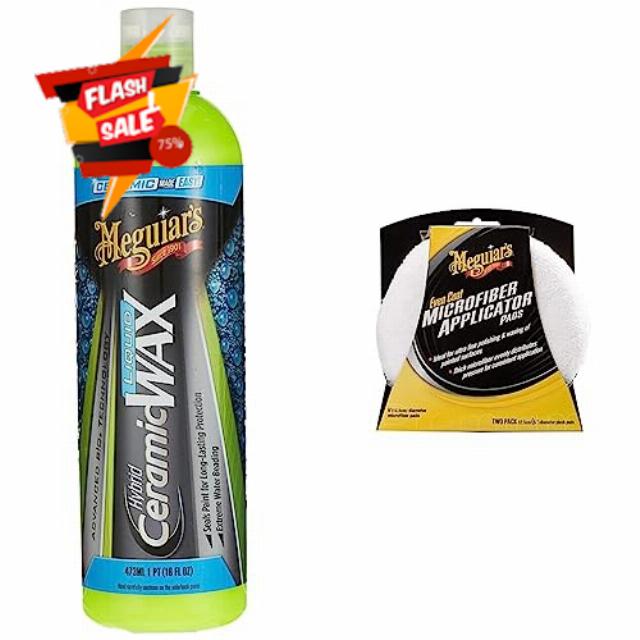 Meguiar's G200416EU Hybrid Ceramic Liquid Car Wax 473ml Advanced SiO2 Technology & X3080EU Even Coat 5 Inch Microfibre Applicator Pads (2 Pack) for Hand Applying Compounds, Polishes and Leathe
Meguiar's G200416EU Hybrid Ceramic Liquid Car Wax 473ml Advanced SiO2 Technology
Meguiars Hybrid Ceramic Liquid Wax 473ml
Meguiar's sophisticated Hybrid Ceramic chemistry makes this product as easy to apply as an ordinary liquid wax! Engineered to be applied by either hand or dual action variable speed polisher (DA polisher), this formula produces a slick, protective, water beading layer that seals your paint from the environment. And it may be used on chrome & plastic trim, or as a top coat over traditional waxes & sealants, too

Meguiar's X3080EU Even Coat 5 Inch Microfibre Applicator Pads (2 Pack) for Hand Applying Compounds, Polishes and Leather Cleaners
The ultimate microfibre applicator pad to help produce show car perfect results. Large surface area allows for fast compounding and polishing by hand with products such as Meguiar's Ultimate Compound or Meguiar's Ultimate Polish. Also suitable for working internal products such as Leather Cleaners, Interior Detailers or All Purpose Cleaners. Machine washable and reusable. Machine wash with similar microfibres only. Do not use bleach or fabric softeners. Tumble dry on low heat. 12.5 cm/5 Inch diameter. Two pack.
Product 1: HYBRID SiO2 advanced Hybrid Ceramic technology
Product 1: SEALS paint for long-lasting protection against the elements
Product 1: EXTREME WATER BEADING action
Product 1: EASY YO USE: applies like a traditional liquid wax
Product 2: COMPOUND & POLISH: Perfect microfibre applicator to work a compound or polish
Product 2: WORK A PRODUCT: The perfect applicator to work a product. If you just want to spread a product, use the Meguiar's Soft Foam Applicator
Product 2: INTERIOR APPLICATIONS: Can be used on interior surfaces such as leather, carpets, fabrics, glass or plastics
Product 2: EXTERIOR APPLCIATIONS: Can be used on glass, paint, metal, headlights or trim
›
| | |
| --- | --- |
| SKU: | B0B1N1218F |
| Brand: | Meguiar's |