PlayStation 5 Standard Console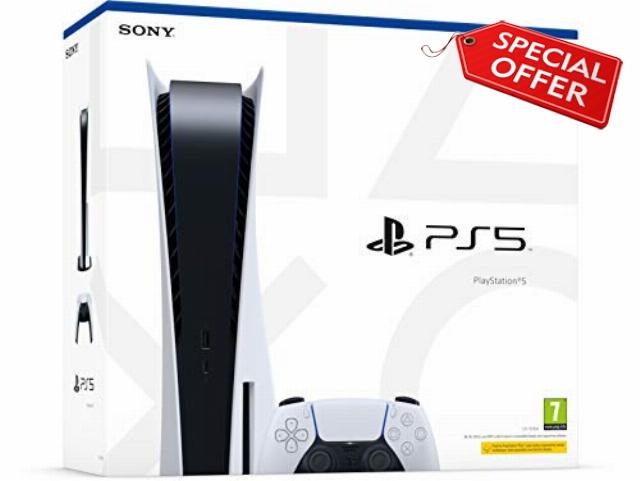 PlayStation 5 Standard Console
Experience lightning-fast loading with an ultra-high-speed SSD, deeper immersion with support for haptic feedback, adaptive triggers and 3D Audio, and an all-new generation of incredible PlayStation® games
The PS5 console unleashes new gaming possibilities that you never anticipated
Experience lightning-fast loading with an ultra-high-speed SSD, deeper immersion with support for haptic feedback, adaptive triggers and 3D Audio, and an all-new generation of incredible PlayStation games
Lightning Speed – Harness the power of a custom CPU, GPU and SSD with Integrated I/O that rewrite the rules of what a PlayStation console can do
Stunning Games – marvel at incredible graphics and experience new PS5 features
Breathtaking Immersion – discover a deeper gaming experience with support for haptic feedback, adaptive triggers, and 3D Audio technology
---
From the manufacturer

Lightning speed

Harness the power of a custom CPU, GPU, and SSD with Integrated I/O that rewrite the rules.

Ultra high-speed SSD

Maximise your play sessions with near-instant load times for installed PS5 games.

Create and share

Create screenshots and videos from your gameplay. Share with other players on PSN or social media.

Haptic feedback

Feel the effects and impact of your in-game actions through dynamic sensory feedback.

Adaptive triggers

Featuring dynamic resistance levels which simulate the physical impact of in-game activities.
Marvel's Spider-Man: Miles Morales

Travel to a snowy Marvel's New York in Marvel's Spider-Man: Miles Morales, realised in beautiful 4K and HDR.

Demon's Souls

Experience the original brutal challenge, completely remade from the ground up, all presented in stunning visual quality with enhanced performance.

Sackboy: A Big Adventure

The iconic PlayStation hero bursts back into breathtaking action with a huge, fun and frantic 3D multiplayer platforming adventure with friends.

Godfall

Godfall is a brand-new, next-gen looter-slasher, set in a bright fantasy universe filled with heroic knights and arcane magic.

Call of Duty: Black Ops Cold War

Black Ops Cold War drops fans into the depths of the Cold War's volatile geopolitical battle of the early 1980s. Welcome to the brink.

The PlayStation Plus Collection

Enjoy a selection of generation-defining PS4 games, included with your PS Plus membership at no extra cost. Access the entire collection on your PS5 at launch.
What's the difference between the PS5 console and the PS5 Digital Edition console?
The only difference between the PS5 console and the PS5 Digital Edition console is the inclusion of an Ultra HD Blu-ray disc drive in the PS5 console. The PS5 Digital Edition console does not feature a disc drive.
Are there any performance differences between the PS5 console and the PS5 Digital Edition console?
No. The consoles' performance is identical, outside the existence of a disc drive.
Can I use both PS5 console models in either horizontal or vertical orientation?
Yes, both PS5 models include a Base that allows users to adjust the console for vertical or horizontal placement. Watch our PS5 teardown video to see how it works.
Can I expand PS5's ultra-high speed SSD storage?
PS5 features an expansion port that will, in the future, enable players to add M.2 SSD storage to be used for installing and playing PS5 games.
Can I play PS4 games on PS5?
Yes. When the PlayStation 5 console launches this November, more than 99 percent of the 4000+ games available on PS4 will be playable on it.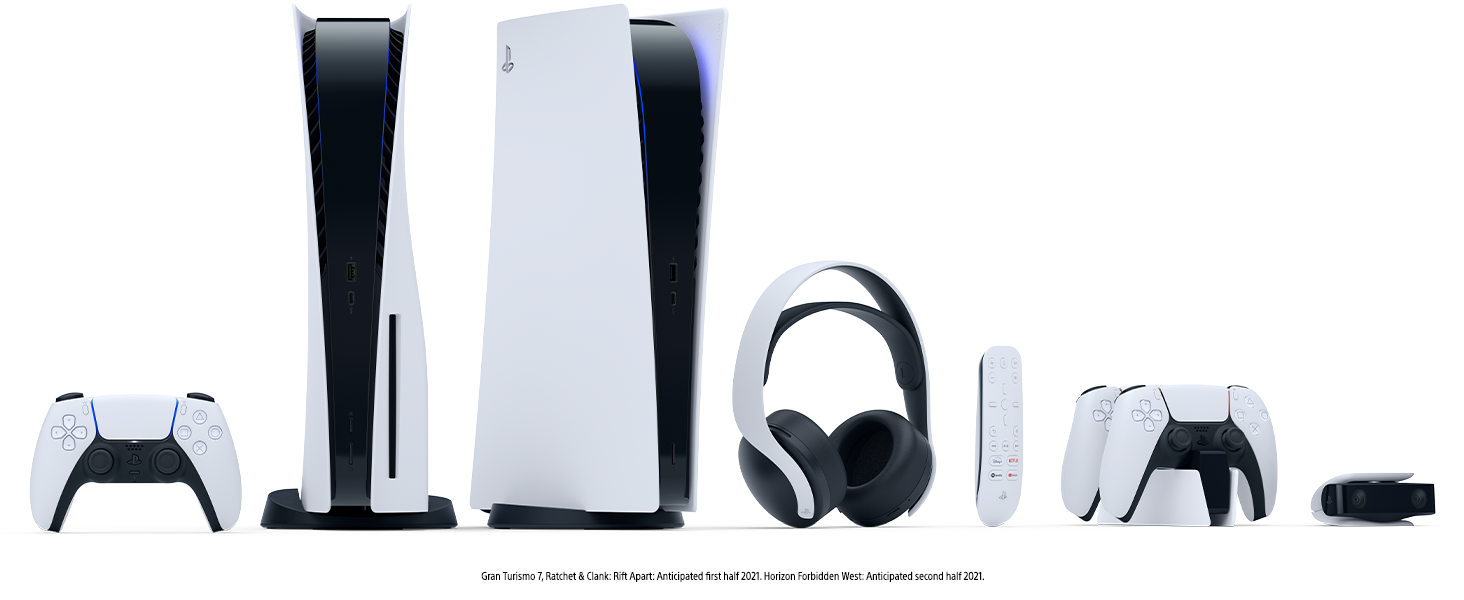 PlayStation 5

The PS5 console unleashes new gaming possibilities that you never anticipated.

" data-position="triggerHorizontal" />Media Remote

Conveniently control movies, streaming services and more on your PS5 console with an intuitive layout.

" data-position="triggerHorizontal" />HD Camera

Add yourself to your gameplay videos and broadcasts with smooth, sharp, full-HD capture

" data-position="triggerHorizontal" />
Technical specifications
| | |
| --- | --- |
| CPU | x86-64-AMD Ryzen "Zen 2" | 8 Cores / 16 Threads | Variable frequency, up to 3.5 GHz |
| GPU | AMD Radeon RDNA 2-based graphics engine | Ray Tracing Acceleration | Variable frequency, up to 2.23 GHz (10.3 TFLOPS) |
| System Memory | GDDR6 16GB | 448GB/s Bandwidth |
| SSD | 825GB | 5.5GB/s Read Bandwidth (Raw) |
| PS5 Game Disc | Ultra HD Blu-ray, up to 100GB/disc |
| Video Out | Support of 4K 120Hz TVs, 8K TVs, VRR (specified by HDMI ver.2.1) |
| Audio | "Tempest" 3D AudioTech |