Sekey Folding Wagon with 220LBS Larger Capacity,Heavy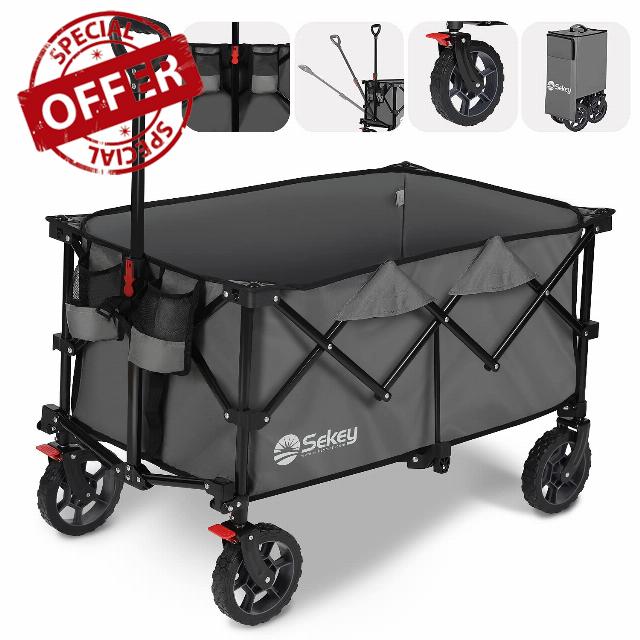 Sekey Folding Wagon with 220LBS Larger Capacity,Heavy Duty Festival Trolley on Big All-terrain Wheels with Brake, Collapsible Trolley Cart with Straps& Drink Holders,Grey
【𝐄𝐱𝐭𝐫𝐚 𝐋𝐚𝐫𝐠𝐞 𝐂𝐚𝐩𝐚𝐜𝐢𝐭𝐲】 Equipped with high quality heavy duty metal frame structure to load up to 𝟐𝟐𝟎𝐋𝐁𝐒 and possesses a much 𝐃𝐄𝐄𝐏𝐄𝐑 and 𝐄𝐍𝐋𝐀𝐑𝐆𝐄𝐃 storage space of 90x55x37cm approx. The roomy internal volume and surprise loading capacity are both increased by 𝟏𝟐𝟎% than other wagons overall. Two mesh cup holders beverages safe and sound.
【𝐒𝐦𝐚𝐥𝐥𝐞𝐬𝐭 𝐒𝐭𝐨𝐫𝐚𝐠𝐞 𝐕𝐨𝐥𝐮𝐦𝐞】:Folded size is 𝐒𝐌𝐀𝐋𝐋𝐄𝐑 than any cart on the market, with a minimum volume of space 𝟏.𝟐𝟕 𝐂𝐔.𝐅𝐓. Space saving. It is convenient to be stored at home, garage and car boot,. Labor Saving.
【𝐇𝐢𝐠𝐡𝐞𝐬𝐭 𝐐𝐮𝐚𝐥𝐢𝐭𝐲】: Folding wagon with 𝟳" diameter 𝐛𝐢𝐠 𝐚𝐥𝐥-𝐭𝐞𝐫𝐫𝐚𝐢𝐧 wheels move smoothly for any road surfaces,such as mud, grass, bumps, and curbs.The waterproof fabric is 𝟔𝟎𝟎𝐃 Oxford which won't tear when sharp objects are placed inside.
【𝐄𝐚𝐬𝐲 𝐭𝐨 𝐅𝐨𝐥𝐝 】:Set up in seconds, 𝐍𝐎 𝐀𝐒𝐒𝐄𝐌𝐁𝐋𝐘 required! With a compact design and only 9.4kg weigths you can simply lift it with one hand.
【𝐖𝐚𝐫𝐫𝐚𝐧𝐭𝐲】: Sekey wagons come with a 𝟏-𝐘𝐄𝐀𝐑 𝐰𝐚𝐫𝐫𝐚𝐧𝐭𝐲 . How to use the warranty service? Login your account > choose "My orders" > find the order ID > click "Contact seller" Note: this product is not designed to transport children!
| | |
| --- | --- |
| SKU: | B0B7MZP7HS |
| Weight: | 9.4 kg |
| Dimensions: | 92 x 57 x 58 cm; 9.4 Kilograms |
| Brand: | Sekey |
| Colour: | Grey |
| Colour: | Grey |
---
Product Description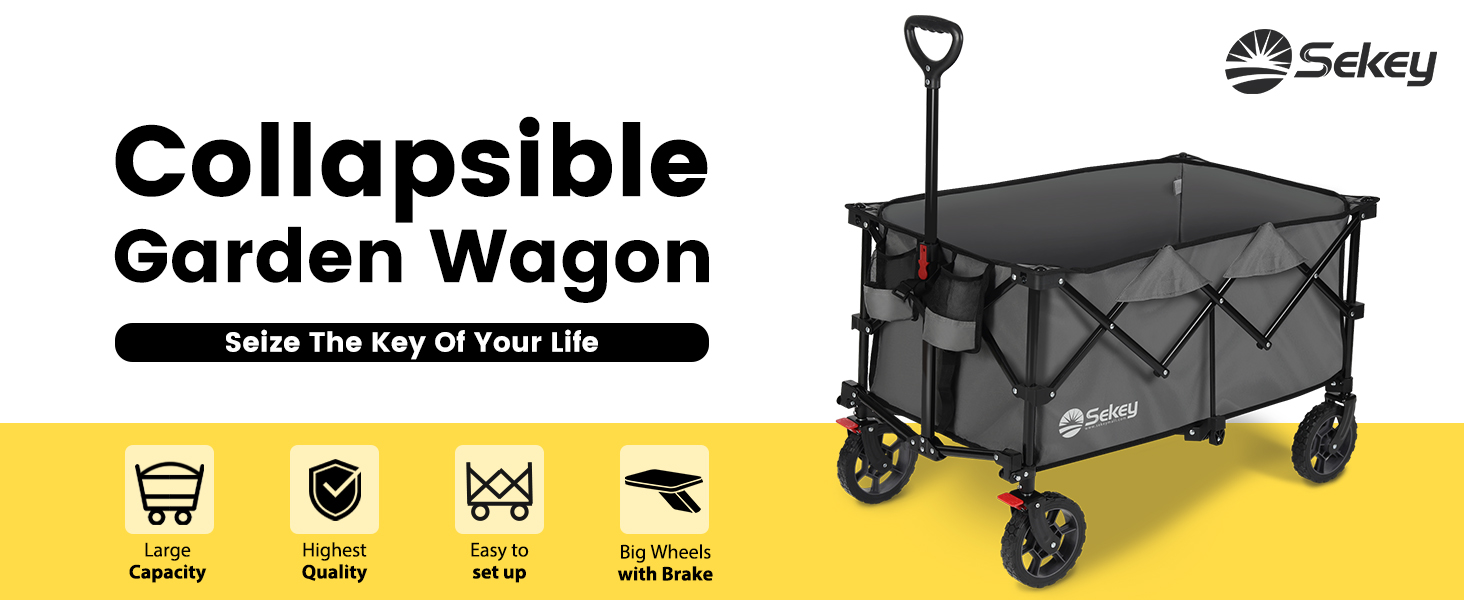 1
Beach
2
Shopping
3
Camping
4
Garden
5
Sports
𝐌𝐨𝐫𝐞 𝐎𝐩𝐭𝐢𝐨𝐧𝐬 𝐟𝐨𝐫 𝐲𝐨𝐮
𝐅𝐨𝐥𝐝𝐚𝐛𝐥𝐞 𝐖𝐚𝐠𝐨𝐧

𝐋𝐚𝐫𝐠𝐞 𝐂𝐚𝐩𝐚𝐜𝐢𝐭𝐲

Storage Capacity:4.77cu.ft Loading Capacity:330lbs

𝐋𝐚𝐫𝐠𝐞 𝐂𝐚𝐩𝐚𝐜𝐢𝐭𝐲

Storage Capacity:6.67cu.ft Loading Capacity:220lbs

𝐋𝐚𝐫𝐠𝐞 𝐂𝐚𝐩𝐚𝐜𝐢𝐭𝐲

Storage Capacity:10.59cu.ft Loading Capacity:440lbs

𝐅𝐨𝐥𝐝𝐞𝐝 𝐒𝐢𝐳𝐞

21.2''X13.39''X9.4″

𝐅𝐨𝐥𝐝𝐞𝐝 𝐒𝐢𝐳𝐞

11.41''X9.05''X22.83''

𝐅𝐨𝐥𝐝𝐞𝐝 𝐒𝐢𝐳𝐞

11.41''X9.05''X22.83''

𝐔𝐧𝐟𝐨𝐥𝐝 𝐒𝐢𝐳𝐞

35.4''18.8''X40.1''

𝐔𝐧𝐟𝐨𝐥𝐝 𝐒𝐢𝐳𝐞

36.22''X22.44''X39.76''

𝐔𝐧𝐟𝐨𝐥𝐝 𝐒𝐢𝐳𝐞

48.43''X22.4×38.19''

𝐈𝐭𝐞𝐦 𝐖𝐞𝐢𝐠𝐡𝐭

20.2LBS

𝐈𝐭𝐞𝐦 𝐖𝐞𝐢𝐠𝐡𝐭

24.2LBS

𝐈𝐭𝐞𝐦 𝐖𝐞𝐢𝐠𝐡𝐭

25.3LBS

𝐖𝐡𝐞𝐞𝐥 𝐒𝐢𝐳𝐞

4''x7''

𝐖𝐡𝐞𝐞𝐥 𝐒𝐢𝐳𝐞

4''x7''

𝐖𝐡𝐞𝐞𝐥 𝐒𝐢𝐳𝐞

4''x7''