VANTRUE N5 4 Channel 360° Dash Cam 1944P+1080Px3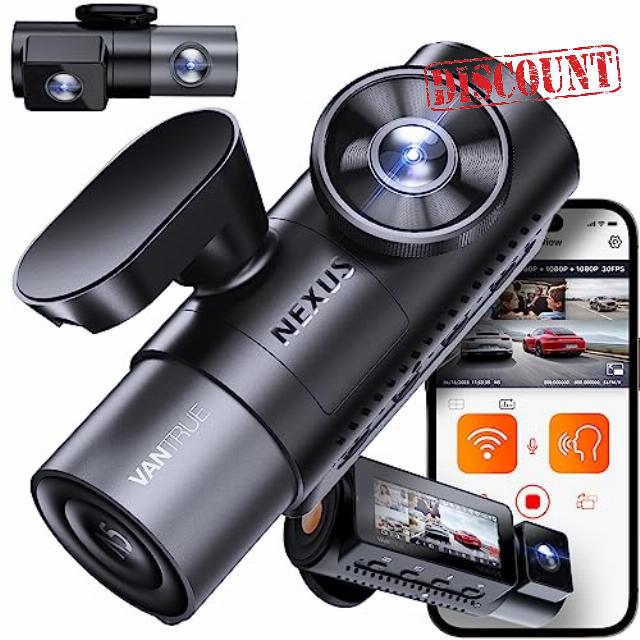 VANTRUE N5 4 Channel 360° Dash Cam 1944P+1080Px3, STARVIS 2, 5G WiFi GPS HDR Dashcam Front Rear Inside, Car Camera Voice Control WDR IR Night Vision 24H Buffered Parking Mode Capacitor, Support 512GB
First 4 Channel 360° Protection Dash Cam: VANTRUE N5, the first 4 channel dash cam with rear cabin camera, pioneer in the market, it will play a more important role than the 3 channel dash cam. With a rear camera that records the entire cabin, you can more easily take care of the baby in the back seat or guard the luggage. More importantly, the 4 cameras provide a 360° view of the vehicle, giving you a complete picture of the event from all angles.
Sony Starvis 2 Sensor/Online Upgrade OTA: N5 car camera is equipped with the latest generation of Sony STARVIS 2 sensors for a better image quality and night vision. 4 IR night vision LEDs hidden in this 4 channel dashcam 2 inside cameras, allowing you to get a clear picture even at night. Firmware upgrade can be done with one click on the App. Avoid the inconvenience of traditional dash camera hardware upgrades and enjoy the latest features and performance in time.
5GHz WiFi, GPS + 12 Voice Commands: Says "turn on wifi", this dash cam WiFi will be turned on immediately. VANTRUE N5 car camera WiFi function allows you to live preview, download, share in seconds and edit on your mobile phone. Combined with GPS, this WiFi camera can collect important information such as speed, location against traffic conflicts. Furthermore, there are 12 voice commands to free your hands, greatly improve using flexibility and driving safety.
24H Buffered Parking Mode: N5 dash cam parking mode features in the latest technology, buffered motion detection, which can be smoothly triggered and prerecord 10s before motion. In addition, you can set the motion monitoring area if you want. 4 modes are available: Motion Detection, Collision Detection, Low Frame Rate or Low Bit Rate Mode. With these features, event integrity and car owners' interests will be better protected. VANTRUE hardwire kit is recommended for parking mode.
Optional CPL/Remote control/24H After-service: The CPL filter balances the exposure and presents you with a true and colorful daytime image(need to be purchased separately), perfect for taxi/Uber owners. With the wireless remote controller, manually get useful recordings whenever you want. These accessories need to be purchased separately for this 4 channel car surveillance camera. VANTRUE R&D department has a high level of dash cam technology, all questions can be answered within 24 hours.
---
Product Description