Weber 7007 Fuel Storage Bag, Black & Grill Grate Cleaner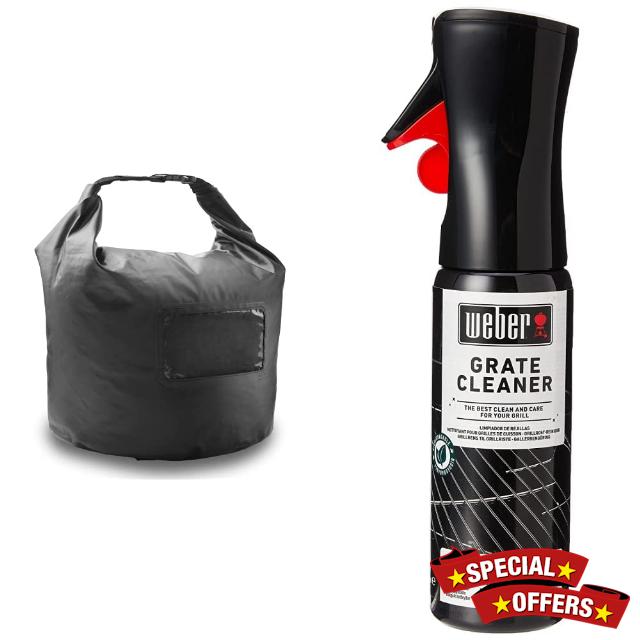 Weber 7007 Fuel Storage Bag, Black & Grill Grate Cleaner Spray | Biodegradable BBQ Cleaner | Designed for Cleaning Cooking Grates and Internal Cookbox of Any Barbecue – 300ml (17875)
Weber 7007 Fuel Storage Bag, Black
This Weber Pellet Storage Bag is a weather-resistant BBQ fuel keeper, which keeps your wood pellets or charcoal dry and BBQ ready! Its durable design holds up to 9 kg of fuel and has a handle for easy carrying. When not in use, it folds flat for easy storage. It features a handy window to label your fuel, as well as a unique bottom handle to allow best grip for easy pouring. The easiest way to up your barbecue game is to start experimenting with BBQ and grill accessories. All it takes are the proper tools to turn your garden into a fully functioning outdoor kitchen. Explore Weber's broad range of barbeque tools and let the fun unfold. • Weber Premium BBQ Fuel Bag • Holds Up To 9kg • Lightweight & Foldable When Not In Use • Weather Resistant – Keeps Fuel Dry & Stored Away • Easy Storage for Home or Travel • Material: PVB & Polyester • Sturdy Carry Handle Strap • Dimensions: 29.8 x 47.8 cm

Weber Grill Grate Cleaner Spray | Biodegradable BBQ Cleaner | Weber Barbecue Accessories | Designed for Cleaning Cooking Grates and Internal Cookbox of Any Barbecue – 300ml (17875)
Weber's collection of high-quality BBQ Cleaning Sprays are designed specifically for the upkeep of different parts and types of barbecue grills. Whilst barbecue parties are enjoyable events for friends and family, the greasy oil stains are tough for a tired chef to clean. The BBQ Grill Cleaner Spray makes it easy to clean the internal components of any barbecue grill. Clean your barbecue thoroughly with the Biodegradable Cleaner to get rid of any food or fat residue. This protects both your grill and your guests, since burnt food is dangerous to health and can be a fire hazard. The spray adds a shine so your barbecue looks brand new, all-year-round. The BBQ Grill Grate Cleaner is easy-to-use. Simply spray your grates, wait 30 seconds for the cleaning solution to work, and wipe clean with a damp cloth or sponge. With its citrus scent, your barbecue will smell fresh before you start cooking. Maintain your prized possession with this essential BBQ tool.
Product 1: PREMIUM WEBER FUEL BAG: This large weatherproof pellet storage bag is ideal for keeping wood pellets, smoking chips or charcoal dry and BBQ ready! Its durable design holds up to 9 kg of barbecue fuel
Product 1: WEBER BBQ ACCESSORIES: Made from lightweight, foldable PVB (inner/outer shell coating) and polyester (inside fabric), with a carry handle and unique bottom handle to allow best grip for easy pouring
Product 1: KEEP YOUR BARBEQUE FUEL NEATLY STORED AWAY AND DRY: The durable design is made from strong, weather-resistant material, to protect fuel from the elements, plus a handy window for labeling
Product 1: AUTHENTIC GRILLED TASTE: Enjoy flame-grilled meals in the great outdoors with essential BBQ prep, storage and serveware. Makes an ideal gift for any outdoor cooking and grilling enthusiast
Product 2: SPOTLESS CLEAN – Barbecues are no easy game, so clean up grease, dirt and food residue with the Weber BBQ Cleaner Spray, designed to thoroughly clean your Barbecue Cooking Grate and Cookbox
Product 2: BIODEGRADABLE – The Weber BBQ Cleaner is biodegradable with no hazardous ingredients, making it safe to use on your grates and interior cookbox on your barbecue where the food touches your grill
Product 2: EASY-TO-SPRAY – The BBQ Spray Cleaner is easy-to-use and sprays a fine mist from any angle, simply spray the inside and outside of your BBQ grill, wait 30 seconds and wipe clean to save time
Product 2: FRESH BBQ – The BBQ Cleaner will keep your barbecue looking and smelling fresh in the garden with its citrus scent, so you can be sure your BBQ is ready for the next party, at all times