WOLFBOX Rear View Mirror Camera:Mirror Dash Cam Front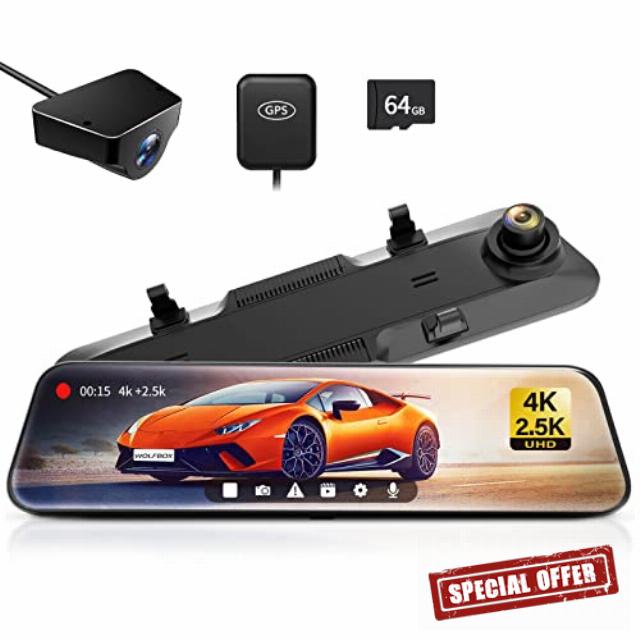 WOLFBOX Rear View Mirror Camera:Mirror Dash Cam Front and Rear 4K+2.5K for Car with 12″ Full Touch Screen, Waterproof Backup WDR Camera, Night Vision, G-Sensor, Parking Assist,Free 64GB Card & GPS
Film-level 4K+2.5K+High-Quality Audio – G900 mirror dash cam adopts real ultra-HD 4K lens which provides excellent quality of front camera 3840×2160@30fps (8mp). The rear camera is exclusively upgraded to 2560×1440@30fps (3mp), better capturing a clear view of coming cars behind for providing perfect security; the built-in microphone and speakers provide noise-canceling audio; It stands out even as a camera for image recording.
Upgraded Supercapacitor & TYPE-C – G900 rearview camera built-in special supercapacitor, compared with traditional lithium battery:①Convenience-faster charging ②Durable – the number of rechargeables and dischargeable cycles has been increased by more than 100x ③Safe – will not burn even if short-circuited ④Resistant to extreme weather (-4℉-158℉); Upgraded to a TYPE-C interface, its transmission speed can reach 500mbps, which is several times that of the traditional interface.
12" IPS & Smart Touch Screen – G900's streaming media smart dash cam mirror upgraded to the industry's highest level 1920x480P integrated screen, High light transmittance 2.5D curved glass screen and anti-glare processing,Even in the sun or the glare of the night, the shooting scene can be clearly confirmed; the most popular 12" body size is used with smooth body lines, which perfectly block the rearview mirror, provides a wider horizontal field of view than a 10" or 11" screen.
Unique Dual WDR+F1.5 Large Aperture – Customers who use other rearview mirrors" hope that the rear camera has better clarity and night vision". WOLFBOX has specially developed a 2.5K UHD rear camera equipped with WDR technology. Thanks to the excellent F1.5 large aperture, it can better adapt to various light environments and realize the starlight night vision effect of front and rear dual perspectives. Get crystal-clear picture quality, whether day and night or through tunnels.
How to Achieve 24Hrs All-Round Protection & UHD Evidence – ①Loop recording-covering the earliest unlocked videos and continuing to record ②G-sensor monitors collisions, urgently record and lock videos as evidence ③Manual Emergency recording ④Add the function of "Fatigue Reminder" ⑤Parking monitoring-continuous time-lapse video recording ⑥GPS Tracking-Record accurate speed, position, direction, and playback video through dedicated GPS player, providing reliable evidence, etc.
320° Wide-Angle + Safe Parking Assistance – The mirror camera for car supports 170°+150° wide-angle shooting, covering multiple lanes and reducing blind spots; by setting the vertical/mirror rotation rear camera angle, the traditional video image and the actual image are solved The opposite problem; the reverse mode is upgraded to two selectable modes: Panorama Display/Full-Screen Display. Helps to park safer by manually adjusting for a more suitable viewing angle.
Worry-Free Warranty – 100% customer satisfaction is our continuous pursuit. WOLFBOX supports a 12-month after-sales guarantee and 24/7 after-sales service. If you have any doubts or suggestions, please contact us.
Attention: Please note that the hardware kit needs to be purchased additionally to enable parking monitoring mode. (ASIN:B09X1L1GMX)
Installation Steps – Step1.Attach the straps to the rear-view mirror and secure them; Step2.Inside the car:attach the iron sheet and bracket using screws and 3M glue,Outside the car:attach the rear lens above the license plate with the 3M sticker; Step3.Confirm all connectors are connected and turn on the mirror dash cam.
---
Product Description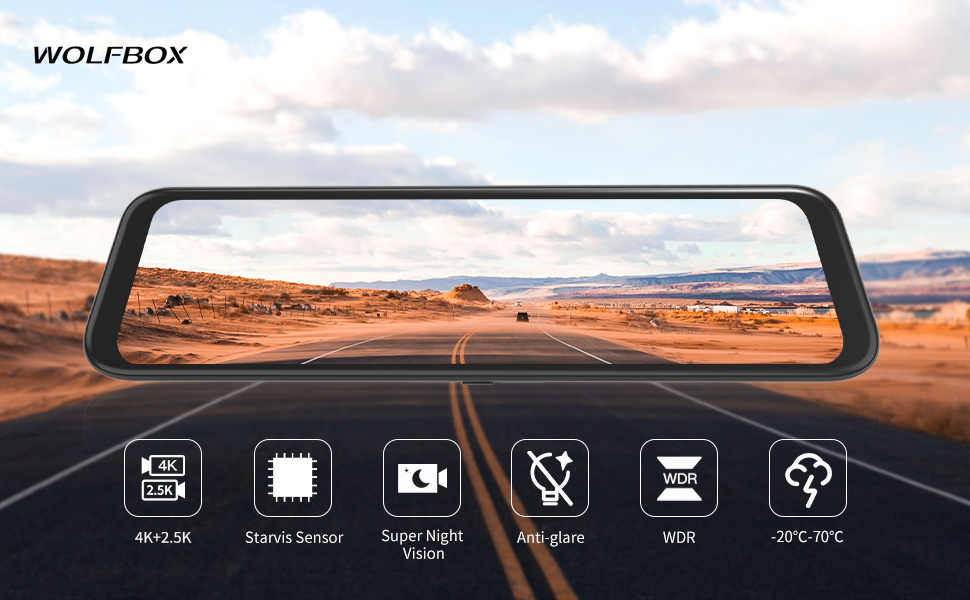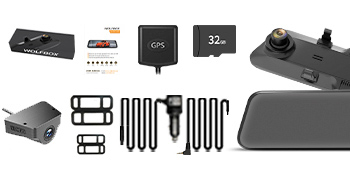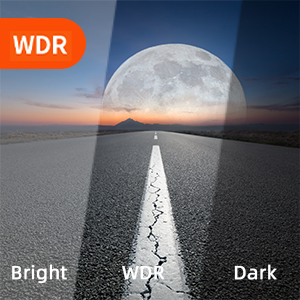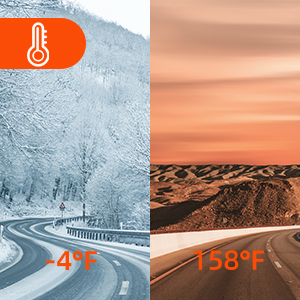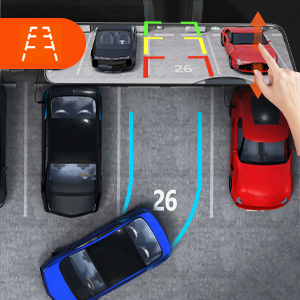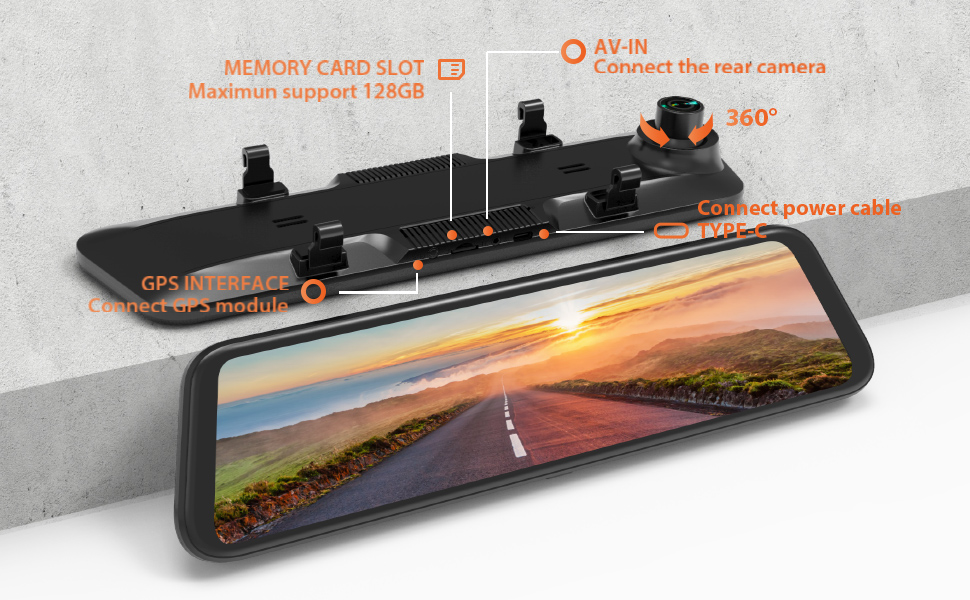 WOLFBOX G900 4K+2.5K Rearview Mirror Driving Recorder
IMPORTANT TIPS TO LET YOU KNOW WHAT TO LOOK OUT FOR:
About installation:
Please use original accessories to avoid compatibility problems after using other brands of accessories, especially using 2 or 3 in 1 cigar sockets will cause 100% insufficient current supply.

Please check the function of the driving recorder and all its accessories (especially the rear view camera) before installation
About SD card:
A 64GB SD card is included

, please

FORMAT

the micro SD card regularly to prevent the locked video from taking up too much capacity.
If you use a micro SD card with a capacity larger than 64GB, please change the format of the micro SD card [Class10(10MB/sec) required] to FAT 32 on the PC

(support up to 256GB)
About power-up:
Please confirm whether your cigarette lighter power interface is ACC (if the car is turned off, please use a hard-wired kit for continuous parking monitoring, or unplug the car charger, otherwise it may drain your car power. * This happens on some Ford/Audi cars and EVs
Other:
If your car has it's own reversing assist system, please ignore the reversing line of G900; if you need this function, please connect the red line of the rear camera line to the positive pole of the reversing light (the reversing system of the rearview mirror driving recorder can only as an aid)

Parking monitoring function requires the installation of a hardwire kit

. How to get it? Get it through

ASIN: B09X1L1GMX

or con-tact us, we can send it to you.

If you encounter any problems or difficulties during installation/use, please feel free to con-tact us and let us provide solutions.
Model

G900

G840S

G840H

G850

D07

i03

Screen

12" Touch Screen

12" Touch Screen

12" Touch Screen

12" Touch Screen

2.45"

1"

Resolution

4K(F)+2.5K(R)

2160P(F)+1080P(R)

2.5K(F)+1080P(R)

4K(F)+1080P(R)

4K(F)+1080P(R)

2.5K(F)

GPS

✓

✓

✓

✓

✓

N/A

Recommended SD Card

32GB~256GB, Class 10; (64GB included)

32GB~256GB, Class 10; (32GB included)

32GB~256GB, Class 10; (32GB included)

32GB~256GB, Class 10; (64GB included)

32GB~256GB, Class 10; (No SD Card))

32GB~128GB, Class 10; (No SD Card))

Item Dimension

11.89*2.8*0.67(in)

11.97*2.8*0.68(in)

11.89*2.8*0.67(in)

11.89*2.8*0.67(in)

2.95*0.79*1.77(in)

3.39*1.22*1.36(in)

Main Body Weight

0.83 lb

0.83 lb

0.83 lb

0.83 lb

0.22 lb

0.14 lb

WIFI

✓

✓