Bestsee Dash Cam Front and Rear Inside 3 Channel, Free 64G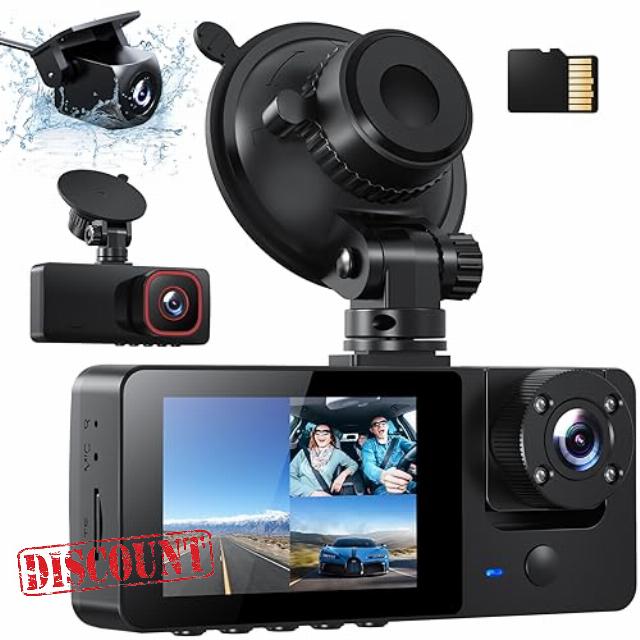 Bestsee Dash Cam Front and Rear Inside 3 Channel, Free 64G TF Card, Enhanced 4 IR Lamps, wireless Car Camera Dash with Night Vision, 2.35 Inch LCD, 24H Parking Monitor, G-Sensor, Loop Recording, USB C
3CH DASHCAM & 2.35'' LCD SCREEN — dashcam rear and front built with a triple channel system, offer 170°Front camera, 150°Cabin Inside the camera, and 150°rear camera(1080P +720p +720P). The Car camera Dashcam is equipped with a 2.35'' LCD screen, allowing you to view different angles of your vehicle on the screen. Simultaneously captures video from the front, rear, and cabin of your car as vital evidence for dispute or accident, providing comprehensive protection for your vehicle.
CLEARER NIGHT VISION & CABIN CAMERA WITH 4 IR LIGHT — The dashcam front and rear is equipped with a 6-layer lens with an F/2.0 aperture and WDR, which can automatically increase exposure in low-light conditions to capture clear images. Excellent recording quality provides stronger evidence in case of accidents (Optionally disabled). 4 IR Light face the cabin, accurately capture the driver and passengers even when the cabin is completely dark, ideal for drivers such as Uber, Lyft, and Taxi.
G-SENSOR & 24 HOUR PARKING MONITOR — When the G-Sensor detects a sudden collision, the collision video will be locked and saved; The newly recorded video on the Car camera dashcam automatically overwrites the oldest video to ensure the SD card has enough space to store emergency videos; with the 24-hour parking monitor, the car dashcam can record continuously for 24 hours with the time-lapse function in parking mode. (This feature requires hardwire-kit., If you need it, we can provide it.)
SUCTION CUP DESIGN & ADJUSTABLE BRACKET — Bestsee M22pro dashcam features a user-friendly suction cup design that offers effortless installation and removal. This design ensures easy detachment of the dashcam from your vehicle's windshield, allowing you to conveniently review recorded videos on the screen and prevents windshield film damage. The mount can rotate 360 degrees horizontally and vertically, allowing you to flexibly adjust the installation position.
EMERGENCY RECORDING & ONE-CLICK SWITCH — You can easily lock emergency videos with a single button press. With one-key switching, you can easily switch between the front, inside, and rear cameras to view different angles of the vehicle. If the screen video distracts your attention, you can easily turn off the screen with a single button. Note: The internal camera can be turned off.
12-MONTH WARRANTY & 64GB TF CARD INCLUDED— We offer a maximum of 12 months warranty. If you encounter any issues, please contact us via email or Amazon messages. Our professional team will assist you in resolving the problem as quickly as possible within 24 hours. Additionally, before recording, please format the Micro SD card. When formatting the micro SD card, remember to save important videos to your computer in advance.
---
Product Description