BuTure Cordless Vacuum Cleaner, 33Kpa 450W Powerful Stick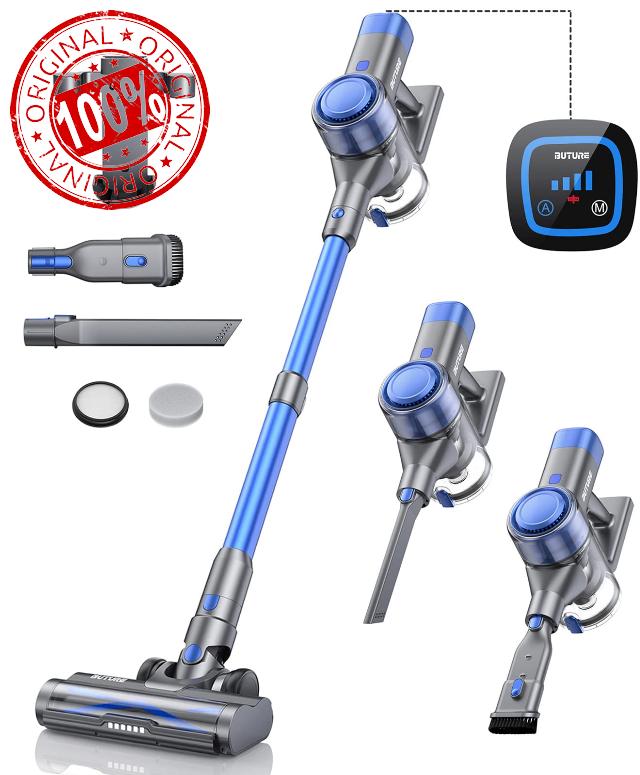 BuTure Cordless Vacuum Cleaner, 33Kpa 450W Powerful Stick Vacuum Cleaner with Auto Mode, Charging Wall Mount, 55Mins Battery, Handheld Wireless Household Vacuum Cleaner for Pet Hair/Carpet/Hard Floo
💙【𝗔𝘂𝘁𝗼𝗺𝗮𝘁𝗶𝗰𝗮𝗹𝗹𝘆 𝗔𝗱𝗷𝘂𝘀𝘁 𝗦𝘂𝗰𝘁𝗶𝗼𝗻 𝗣𝗼𝘄𝗲𝗿】BuTure VC50 cordless hoover can automatically and manually adjust the suction power. In auto mode, the cordless vacuum automatically intelligently optimising suction power based on different floor types,such as carpet,hard floors and so on. In manual mode, you just need to touch the button on smart screen, which is easy for you to use this stick vacuum cleaner and get the job done efficiently.
🔋 【𝗖𝗵𝗮𝗿𝗴𝗶𝗻𝗴 𝗪𝗮𝗹𝗹 𝗠𝗼𝘂𝗻𝘁】This vacuum has multiple charging methods. Unlike ordinary wall mount stand, BuTure VC50 cordless vacuum cleaner is equipped with a rechargable wall mount, which allows you to charge the battery of your stick vacuum driectly while you store it. Removable battery also make it easier and more convenient for your daily using of this hoover.
✨【𝗦𝗺𝗮𝗿𝘁 𝗧𝗼𝘂𝗰𝗵 𝗦𝗰𝗿𝗲𝗲𝗻】With an LED Touch Screen on the top of the removable battery, the cordless vacuum gives you more choices.You can switch Auto or Manual modes while vacuuming. The suction modes of the cordless stick vacuum can be adjusted to suit your needs. It also keeps you posted on everything from battery life to maintenance of the hoover.
🌀 【𝗪𝗵𝗼𝗹𝗲-𝗛𝗼𝗺𝗲 𝗖𝗹𝗲𝗮𝗻𝗶𝗻𝗴】With the VC50 cordless vacuum, you can easily clean your whole-home. This stick vacuum cleaner not only has advanced multi-layer filtration, but also upgraded battery life-up to 55 minutes in MIN suction mode, capturing pet dander and fine dust, expelling cleaner air and meeting your daily cleaning needs. With three speeds in manual mode: 13Kpa/23Kpa/33Kpa,and 1.2L dust cup, you can tailor it for specific tasks and whole-home cleaning.
💎【𝗩𝗲𝗿𝘀𝗮𝘁𝗶𝗹𝗶𝘁𝘆 𝗮𝗻𝗱 𝗥𝗲𝗹𝗶𝗮𝗯𝗶𝗹𝗶𝘁𝘆】Coming with multifunctional accessories, this cordless vacuum is suitable for different scenarios, such as house, car, office and so on. It can easily change to handheld vacuum, meeting your various needs. Not only can the floor be cleaned, but the ceiling can also be cleaned. With BuTure's vacuum cleaners, you don't need to worry about the warranty. BuTure offers 24/7 customer support and 36 months of protection, giving you immediate help.
| | |
| --- | --- |
| SKU: | B0BWJZ65DL |
| Weight: | 2.95 kg |
| Dimensions: | 129 x 25.5 x 22.5 cm; 2.95 Kilograms |
| Brand: | BuTure |
| Colour: | Blue |
| Colour: | Blue |
---
Product Description
BuTure VC50 Cordless Vacuum Meets Most of Cleaning Needs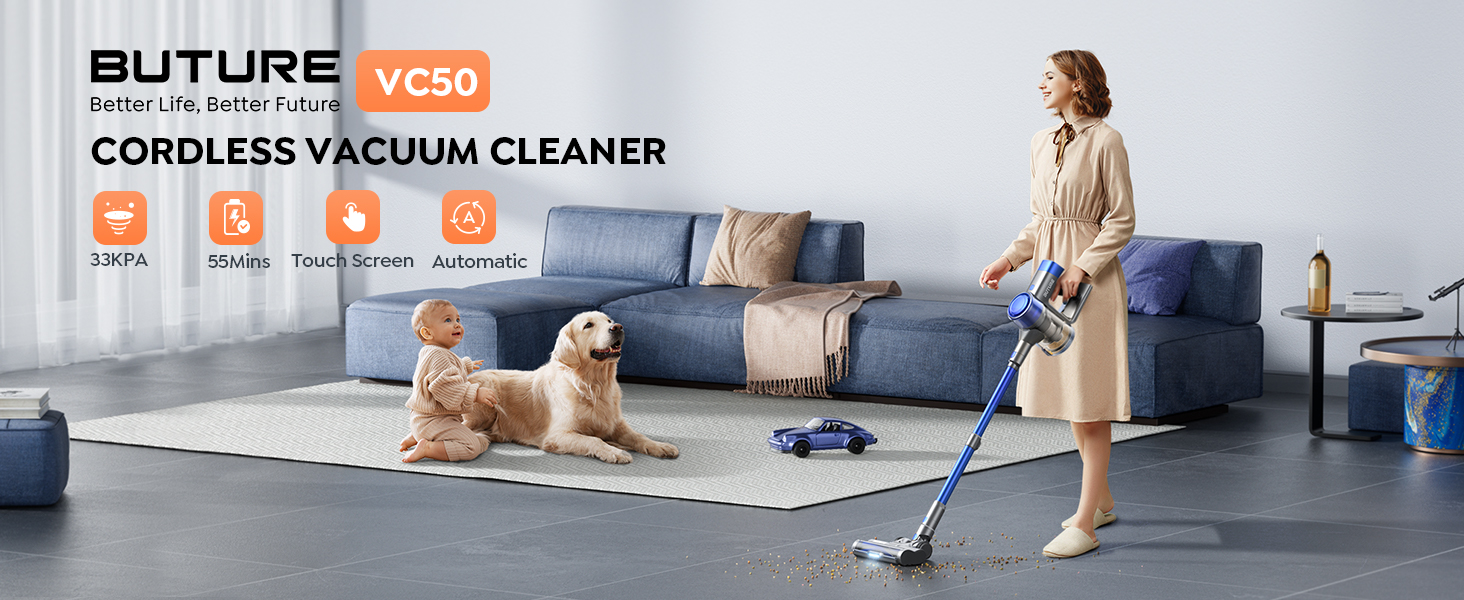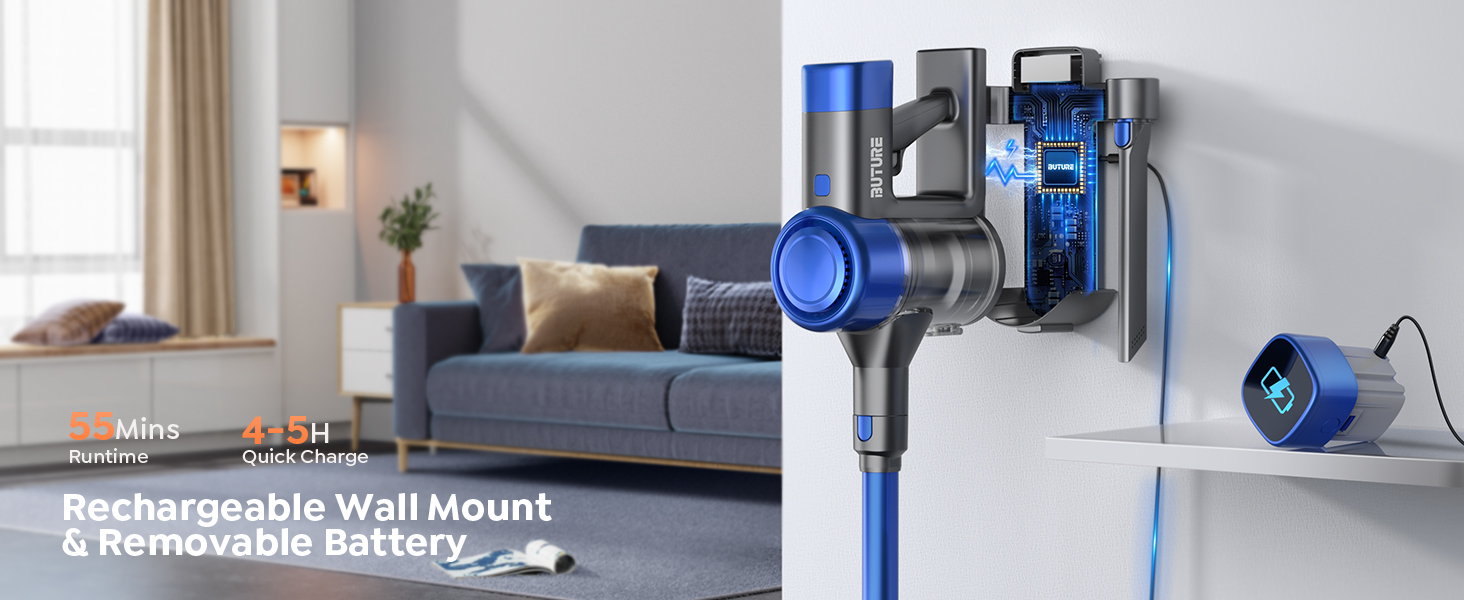 The wall mount of BuTure VC50 cordless vacuum has both charging and storage functions.

1
LED Smart Touch Screen
2
Anti-tangle Roller Brush
3
Multi-scene Use
Preview of the VC50 Cordless Vacuum
All-in-one Cordless Vacuum for Your Daily Cleaning
2-in-1 Wall Mount:

charging and storage functions for your cleaning convenience

Automatic Mode:

automatically varies the suction power, effectively enhancing the vacuuming effect

Manual Mode:

three suction power can be selected, meeting different cleaning needs

Upgraded V-shaped Roller:

anti-tangling and suitable for different flooring materials, effectively improving cleaning efficiency

Versatile Accessories:

make the hoover all-in-one for multiple cleaning scenarios
Include Various Accessories for Multiple Scenarios

Can the VC50 wall mount charge the battery directly?
Yes. When you store the cordless vacuum on the wall mount, it can charge the battery directly. Or you can choose to simply remove the removable battery and charge it separately.
What is the special point of VC50? Are there any upgrades?
BuTure VC50 stick vacuum cleaner has automatic suction mode, changing suctions based on different floor, making it easier for whole-house cleaning. This hoover also has a rechargeable wall mount, giving more charging method for you to choose.
How long is the battery life on this new model?
It depends on the suction modes and surfaces. Under energy-saving mode it's 40-55 mins, under standard mode it's 30-35 mins and under MAX mode it's15-20 mins.
Do I need to change the filter? How often should I change it?
In order to safeguard the life of the wireless hoover, we advise you clean the hoover components such as filters and dust cup regularly. It's better for you to clean the HEPA filter every 2 weeks and replace it every 2 months.