Divan Bed Headboard Rio Padded Chenille Fabric with Supplied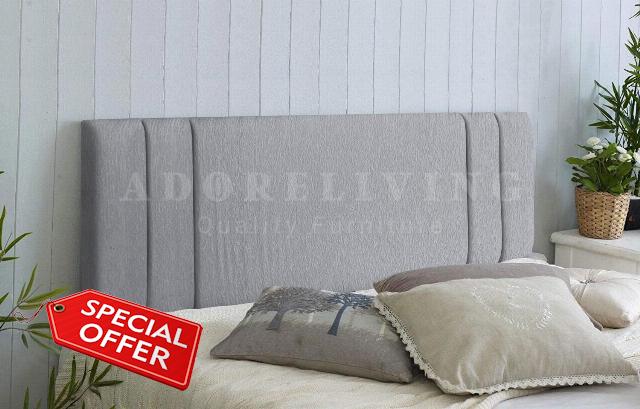 Divan Bed Headboard Rio Padded Chenille Fabric with Supplied Struts and Bolts (Light Grey, Super King 6 FEET)
DIVAN and OTTOMAN Bed Headboard Proudly British Made!
Our Adore made-to-order headboard will effortlessly blend into any bedroom interior and finish to the highest standard. This carefully priced headboard will guarantee to add luxury to your bedroom.
Modernise Your Bedroom Space Now
A headboard is the statement maker of the bed.
Inspire classic elegance and modern luxury with this Chenille Headboard. Chenille fabric creates a vintage glamour and timeless appeal. An elegant centrepiece to any bedroom.
Solidly constructed from chip wood and with dense foam padding, this headboard comes with height-adjustable struts (Two holes and a groove- you only need one of the holes and a groove for the bolts to fix the struts to the headboard).
A headboard is the statement maker of the whole bedroom and a classy accent for the most personal space in our residence. It sets the tone and tells the eye where to look, and ultimately what style the room is. It is just as important as the walls, bedding, and rug selection since it's such a large surface area of colour, pattern or texture.
Any of our headboards will fit onto divan beds and ottoman beds. So long as you make sure you get the width right — if it's a super king bed frame, naturally, you'll need a super king headboard. And as far as installation goes, our made-to-measure handmade headboards for order, there are holes you can centre and line up within your bed frame.
The headboard is supplied with wooden struts and fixed bolts to attach the struts to the headboard only. The bolts to attach the headboard to the bed base are not included.
✔Style
Rio Headboard Height 20 inches.
✔Accessories
Supplied with FREE 24-inch struts and bolts for the headboard.
✔Material
Chenille in 16 different vibrant colours.
Bed Headboard Size and Dimension
Small Single (2ft 6") 75 CM (Length), 8 CM (Width), 50 CM (Height) Approx.
Single (3ft) 90 CM (Length), 8 CM (Width), 50 CM (Height) Approx.
Small Double (4ft) 120 CM (Length), 8 CM (Width), 50 CM (Height) Approx.
Double (4ft 6") 135 CM (Length), 8 CM (Width), 50 CM (Height) Approx.
King (5ft) 150 CM (Length), 8 CM (Width), 50 CM (Height) Approx.
Super king (6ft) 180 CM (Length), 8 CM (Width), 50 CM (Height) Approx.
Rio Bed Headboard for Simplicity
A 20-inch height headboard is supplied with struts and bolts to fix the struts to the headboard free of charge. Please note screws for beds are not supplied.
If you don't find struts or bolts on the headboard, feel free to contact us to request a set of replacements.
Delivered by Amazon Recognise Couriers
This is a relatively large item so please monitor the tracking to be available to accept delivery.
Carefully inspect for any (minor or major) damage to the headboard and refuse delivery if you wish to, in order to avoid the hassle of returning and returning postage once the delivery is accepted.
Signature on delivery
Please be aware that some couriers will need signature confirmation on delivery, so please arrange to accept the delivery or direct it to the neighbour by monitoring the tracking and changing the delivery date or preferred neighbour.
PLEASE NOTE: All images shown are for illustration purposes only and are stock photos. The exact colour shade may vary as resolution varies between different screens and devices. We can provide a free fabric sample beforehand if requested. We are not responsible for any colour matching to your décor.
The headboard design size may vary slightly from the photo, depending on the size of the headboard.
We Cannot Guarantee this Special Pricing, So Be Sure to Click Buy Now!
THE CONCEPT- Serenity makes your design dreams possible with our upholstered headboard panels.
VERSATILE LAYOUTS- With Serenity, we see no limits. We took your budget, space restrictions, and personal taste into consideration and created a product that can be customised as a headboard, accent wall, or focus piece. Mix and match an assortment of striking colours, elegant finishes, and versatile sizes for a truly unique impact. We make your vision a reality.
CHENILLE RIO HEADBOARD – Made with safe and durable materials and expertly finished with quality upholstery. From passionate to subtle, every palate will find comfort and style when choosing between 16 designer colours. We promise sophisticated style and superior quality, all in one box.
SIMPLE INSTALLATION- Each piece of Serenity panels takes approximately 5 minutes to install with our simple mount system. Our screws are designed with extra care to hold Serenity headboards with any divan beds so the panels are firmly held in place. No studs or anchors will be needed when mounting your panels.
PACKAGE DETAIL- Headboard HEIGHT 20 INCHES, Small Single(2FT6), Single(3FT), Small Double(4FT), Double(4FT6), King size(5FT), Super King(6FT) sized headboards. 24 inch struts and bolts to fix the wooden struts to the headboard are supplied(THE SCREWS FOR THE BED ARE NOT SUPPLIED).
| | |
| --- | --- |
| SKU: | B07XCQXJ9X |
| Brand: | Serenity Headboards |
| Colour: | Light Grey |
| Colour: | Light Grey |